Linde Engineering Division
Feats of engineering
Linde Engineering's global success is built on its extensive expertise in process engineering and construction of turnkey process plants.
As a division of The Linde Group, Linde Engineering is a technology partner for plant engineering and construction, focusing on plants for the production of air gases, rare gases, hydrogen, synthesis gas, olefins, liquefied natural gas (LNG) as well as plants for natural gas treatment.
"Linde Engineering is a technologyoriented EPC (engineering, procurement and construction) contractor with a focus on cryogenic processes, absorption and synthesis," explains Marcus Lang,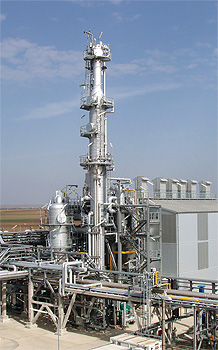 executive vice president. "We have five major product lines: air separation, hydrogen-syngas, olefins, gas processing (LNG) and absorption. In addition to the EPC business, we are one of the leading manufacturers of cryogenic heat exchangers, cold boxes and rotating equipment in cryogenic service.
"Our key strengths are that we master our technologies and core equipment, we have global EPC capabilities around those technologies, and we are adept at tailoring our solutions around challenging problems."
Aside from its proficiency in technology, Linde prides itself on its reliability, particularly in terms of planning, constructing and completing its plants. The company's 5700-strong workforce, spread across more than 25 branch offices and agencies worldwide, is committed to working with technologies and products that unite value and sustainable development.
Elaborating on Linde Engineering's activities, Marcus says: "The largest LNG EPC project is the Snøhvit project in Norway, where we acted as a main contractor and technology supplier for the first world scale Arctic LNG. The project utilised a module approach to minimise fabrication north of the Polar Circle and involved the world's largest LNG module, a 22,000-ton process module which was pre-fabricated in Spain and barged to the project site. In its natural gas and LNG business, Linde has also supplied coil-wound heat exchangers and other cryogenic core equipment to various LNG baseload plants of the world. For example Northwest Shelf is using our coil-wound heat exchangers, as is the Pluto LNG Project in Australia. We are supplying the nitrogen rejection unit for the Pluto plant and we are seeing similar projects coming up in the future."
This nitrogen rejection unit (NRU) utilised a modular design, with the modules being constructed at yards in Southeast Asia and Europe. Final assembly is due to take place onsite this year. Linde handled engineering, procurement and construction, and will provide start-up supervision. The NRU is used to upgrade boil off and flash to fuel gas quality.
He continues, discussing Linde's engagement in nitrogen rejection projects around the world: "It could be a nitrogen rejection as part of an LNG plant, as part of enhanced oil recovery or to reach pipeline specs for a reservoir that contains too much nitrogen.
"Another highlight is that we are building small- to mid-scale LNG plants around the world. Lately we have been awarded the design, basic engineering and procurement services for a 400,000 tons per day plant in China, having supplied a similar sized plant six years ago in China, which was the first of its kind. We are building a 300,000 tons per day plant in Stavanger, Norway, at present, and we are the EPC contractor to that plant.
"Linde's subsidiary, Cryo AB from Gothenburg, is also currently building a mid-scale LNG terminal in Sweden, which is a 20,000m3 full containment and the only LNG terminal in the country," says Marcus. "Our sister company AGA Sweden will become the owner and operator of that plant, so it is quite an interesting project. AGA is engaging in the value chain of small-scale LNG, in terms of producing and shipping it to the terminal, before distributing it by truck to the end clients.
"The Stavanger LNG plant was quite a demanding project from a safety and authority approval perspective because it was close to a ferry terminal, where there is public traffic. The requirements of the authorities regarding the safety studies and containment of accidents and failures were very strict, and a non-standard approach was needed. We are looking after the LNG technology, so we're covering all manner of processes; we have the full range, including pre-treatment and tanks."
Indeed, Linde Engineering positions itself in the market as a one-stop-shop supplier thanks to its large technology portfolio. It manufactures core equipment and is one of only two manufacturers of coil-bound heat exchangers in the world. Having organised the appropriate technologies, Linde Engineering ensures a smooth handover to clients, so that they can be integrated into the commissioning effort and training of operators can take place. "If necessary, we stay onboard for six months to a year in order to assess the team and to further train staff, enabling them to better run the plant later," Marcus notes. "This is certainly something we do a great deal of."
Linde's after sales services include on-site support, troubleshooting, training and operation of plants; revamps, repairs and debottlenecking; studies, plant audits and optimisation; and spare parts and components provision. And due to its excellent supply contacts, the organisation can procure any spare part and component required. As a global player in EPC services, Linde Engineering constantly aims to optimise all aspects of total cost of ownership, while working in co-operation with subsidiaries and top suppliers worldwide.
Another advantage for its customers in the field of small- to mid-scale LNG is Linde's actual operating experience, as Marcus explains: "We have smaller LNG plants that we own and operate – a micro-LNG plant in California; two under construction in Australia via a sister company; and another in Australia that's been operating for almost 20 years. We possess in-house expertise, even in operation of small and micro plants, which benefits our customers a great deal."
In terms of Linde Engineering's performance during the recession, the division was unable to reach the record levels in 2009 that were attained in the 2008 financial year. Sales amounted to 2.3
billion euros, 23.4 per cent below the prior year's figure of three billion euros. This decrease was mainly due to the different structure of the projects in the two different years. Against this background, operating profit of 210 million euros was 21.3 per cent lower than the previous year's figure of 267 millon euros. However, the operating margin was 9.1 per cent, whereas in 2008 it was 8.9 per cent, so it is significantly exceeding the target margin of eight per cent.
The market environment for the global construction of large-scale plants was characterised in 2009 by customers' marked reluctance to award new projects. This also had an impact on Linde Engineering's order intake, which at 2.5 billion euros remained below the very high level achieved in 2008 of 3.1 billion euros. Nevertheless, even in difficult market conditions, the business was able to win important new contracts and maintain its order backlog at year-end, at a very high level.
Speaking about what's on the cards for Linde Engineering, Marcus concludes: "There are some excellent opportunities and we are convinced that LNG plants from small through to large scale have a growing future for Linde. PDVSA in Venezuela has chosen our large-scale technology for its 4.7 million tons per year LNG project Delta Caribe. I am seeing that we will continue that process in other regions of the world as well. We would like to become a firm fixture on the global LNG EPC and technology industry map."
The continuing high level of Linde Engineering's order backlog forms a good basis for a relatively stable business performance in the next two years. Given the continuing economic uncertainty, it is likely that the award of some new projects may be postponed but, at the same time, there are signs of a revival in demand in the company's main operating segments: olefin plants, natural gas plants, air separation plants, hydrogen and synthesis gas plants. Against this background, Linde Engineering is expecting sales in the 2010 financial year to be at least at the same level as in 2009, and the target for the operating margin remains at eight per cent.
Linde Engineering Division
Services: Planning and building process plants