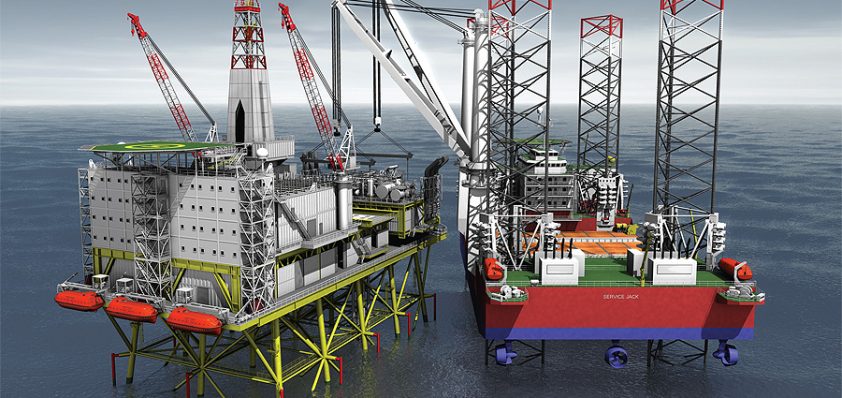 Installation innovation
Master Marine AS is an offshore service company specialising in the transportation and installation of heavy structures for the oil and gas industry.
It has recently ordered two new Jack Up Construction Vessels and has secured options for two additional units at Labroy Offshore, Indonesia. As well as increasing its operations in the industry sector, a new board of directors has been appointed, giving the company increased impetus and optimism.
The management and resources of the company has over 25 years experience in complex marine operations all over the world, working with some of the industry's major bluechip organisations,
such as ExxonMobil, Statoil, ConocoPhillips, Technip, and Bergesen, to name just a few. Looking forward the company, which is based in Oslo, Norway, has a clear vision to become the preferred and leading provider of load out, transportation, offshore installation and hook up of platform structures. It provides a safer, more environmentally friendly, time and cost effective alternative to the existing solutions of offshore field development.
The last year has been a busy one for the company; in May it completed a share issue of NOK 600 million and a convertible bond issue of NOK 420 million. Further developments took place at the group's general meeting, exactly six months later, on November 23, when a new board of directors was installed. Tom Vidar Rygh, who has experience at companies such as Carlsberg and Eniro, has become the new chairman. Tom Rotjer, an individual who has worked in the oil and gas industry for over 25 years, supports him, alongside Jetmund Hansen, Bente Thiis Thornton, and Bente Glasser Herlofsen, who is also a member of the board of Aker Yards. One of their first responsibilities will be to oversee the yard follow up, the senior financing of the 400 million "service jack" projects as well as the IPO (Initial Public Offer) that will go before the stock exchange at some point during the first six months of 2008.
The jewels in the Master Marine crown are its two jack-up construction vessels "Service Jack 1 & 2". They perform topside load out, transportation and offshore installations by either skidding, which has a 7200 tonnes capacity, or tandem lifting up to 1500 tonnes, as well as jacket installations by tandem lifting. In order to reduce offshore hook-up time the topside can be fully integrated and commissioned from an onshore fabrication site. The services include load out of topsides from fabrication site by vessels own gear, transportation to the offshore field by vessel own propulsion, positioning and station keeping at the said field by own dynamic positioning (DP) system, the elevation of the laden hull by vessel jacking system, the offshore load transfer of a whole topside in one piece by
skidding or tandem lifting and thereafter working as a tender/accommodation J/U barge during the offshore hook up phase.
The efficiency the process can deliver to a project is impressive; the jack-up reduces the need for transportation barges, lead and assisting tugs, crane vessels, anchor handling tugs, accommodation rigs and associated tug fleets used for the mobilisation and subsequent demobilisation of accommodation rigs. By delivering solutions for the entire project, the amount of parties involved in any one contract is dramatically reduced, while working with one vessel as opposed to an average of 12-15 is also advantageous to the environment. Furthermore, the downtime lost to weather conditions is decreased, as the jack-up is less sensitive to the elements compared with any competing offshore load transfer technology.
In addition, the jack-up construction vessels can perform a number of other services. The first of which is platform modification and maintenance work. The typical duration for such a project ranges from one to three months including hook up work, although there is the possibility for longer-term commitments as part of a platform maintenance or modification programme. It is also capable of sub-sea installation work in waters as deep as 300 meters, and as with topside installations, requires no support vessels.
The capability in all phases of decommissioning services, from plugging to complete removal, makes up the last area of Master Marine's core business competences. The work, which can take up to four months, is based around the following processes; well plugging and abandonment, offshore preparatory work prior to removal, surveys and underwater cutting, single lift removal by skidding or module by module removal by tandem cranes, jacket removal by lifting, subsea structure anddebris removal, and finally, transport to shore and discharging at a dismantling yard.
Master Marine's ability to offer such a range of services, while increasing a client's efficiency and productivity explains the company's prosperity to date. Under the guidance of a newly appointed and immensely experienced board, alongside visionary managing director, Per Johansson, the ambition is now to become one of the mainstays of the oil and gas fraternity. You wouldn't bet against it.
Master Marine AS
Services Load out, transportation, installation and hook up of heavy offshore structures