Fotowatio Renewable Ventures (FRV), part of Abdul Latif Jameel Energy and a leading global developer of renewable utility-scale projects, has announced the financial close for Potrero Solar (296 MW dc), the company's second solar farm in Mexico.
FRV reached financial close last March with the International Finance Corporation (IFC) and Banco Nacional de Comercio Exterior (Bancomext), and it is expected that the plant which began construction in late May, will be completed by mid-2020.
With an approximate area of 700 ha, Potrero Solar will be located in Lagos de Moreno, in the state of Jalisco, and will use bifacial PV modules, a new technology that has the ability to capture both direct sunlight from both the front and reflected light from the rear side.
Fernando Salinas, Managing Director of FRV Mexico and Central America, highlights: "Mexico is a country that offers numerous opportunities for both FRV and international investors, due to its favourable market and weather conditions for renewable energy projects. Potrero's financial close marks a milestone as the largest bifacial plant in the world and FRV's first fully merchant project in Mexico. By carrying out this flagship project that will lead the way for other large-scale bifacial PV plants and that is also one of the largest PV merchant projects worldwide, FRV demonstrates its leadership once again and its ability to be a spearhead in the wider renewable energy industry."
Solution for Hinkley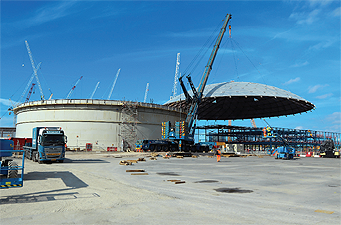 North West based specialist surfacing company, Miles Macadam, has been selected to undertake work on Britain's newest nuclear power station Hinkley Point C, in Somerset.
Ben Shaw, Director of Miles Macadam, comments: "It's a huge achievement for us to be selected to work on the Hinkley Point C project and to assist with the incredible progress being made on-site. It's great to work on such a prestigious project that will ensure low carbon energy for the future and benefits for the wider economy." 20,000m2 of Hardipave™, Miles Macadam's own BBA certified Grouted Macadam, has been chosen for the surfacing of the North Plaza, an area to be used as a bus terminal during the construction phase of the power station. Hardipave was specified as a fuel resistant surface course with a high tolerance to deformation, heat and abrasion, making it an ideal choice for the proposed scheme. The use of Hardipave also provided a 'value engineering' solution with a cost saving of over £200k when compared to the originally specified concrete design.
Super scale solar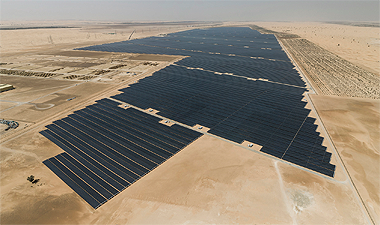 His Excellency Joao Galamba, Portugal's Secretary of State for Energy, visited one of the world's single largest solar projects Noor Abu Dhabi, during a tour hosted by a delegation from the Emirates Water and Electricity Company (EWEC), led by Othman Al Ali, EWEC's Chief Executive Officer, and other senior management. The Minister received an update on the plant, as well as a briefing on the upcoming construction of a 2000 MW solar photovoltaic (PV) power project to be located in the Al Dhafra region of Abu Dhabi emirate.
The Noor Abu Dhabi plant will offset the emirate's CO2 emissions by one million metric tons, equivalent to removing 200,000 cars from the emirate's roads. With 3.2 million solar panels installed across an eight-square kilometre site, Noor Abu Dhabi provides approximately enough power to meet the demands of 90,000 residents.
During a walking tour, H.E. Joao Galamba witnessed the progress made and milestones achieved since the completion of the Noor Abu Dhabi Plant and the start of its commercial operations in June, which collectively mark a significant accomplishment for EWEC.
In Brief
Growing portfolio
Craig International, the leading oilfield procurement specialist, has been awarded its first contract with Petrofac in the UK following a competitive tender process. This latest win comes on the back of two major contracts with Spirit Energy and BP. Under the Petrofac contract, Craig International will provide third party procurement services and the supply of general oilfield products to support Petrofac's offshore operations in the North Sea. The contract is for three years with an option to extend for a further two years.
Co-operating on renewables
Eni, the global energy company, and Mainstream Renewable Power (Mainstream), the global wind and solar development company, have signed a co-operation agreement to develop large-scale renewable assets, targeting strategically important and high-growth markets for both companies.
By signing this agreement, Eni and Mainstream will collaborate on potential developments of power generation from renewable sources across Africa and Southeast Asia, with an initial focus on the UK.
Inspection success
Leading underwater inspection provider, Welaptega, has used its pioneering optical chain measurement system (CMS), complete with new automated edge tracking software, to execute a mooring inspection campaign for BP offshore Angola.
The project saw Welaptega use its new edge tracking data system and its patented CMS technology to inspect the mooring system of BP's PSVM FPSO, which is situated in Block 31 offshore Angola. The PSVM project is the deepest deep-water project in Africa. By using its innovative CMS for data collection, Welaptega was able to provide accurate measurements in difficult operating conditions.