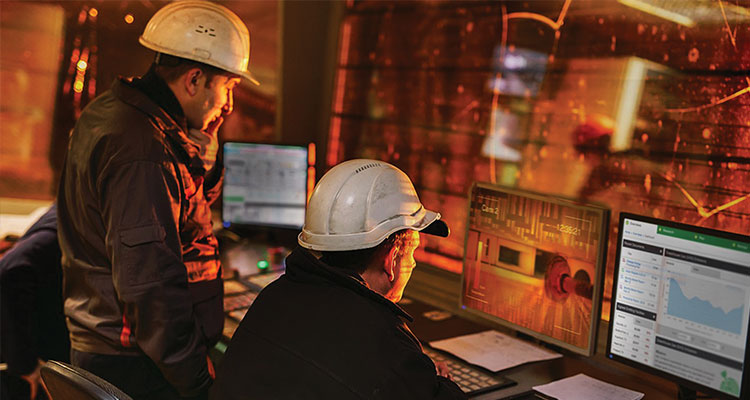 Mining for millennial talent requires fast and full digital innovation By Rob Moffitt  
The next generation will power our future industries, including mining. To ensure the survival of the mining sector, it must attract talent. To guarantee it has the minds to innovate and meet global demand, the mining sector must close the current skills gap and build a talent pipeline for the future.  
Younger generations entering the mining sector bring an entirely different set of skills and heightened expectations. For example, millennials increasingly want careers with good work-life balance and remote and flexible working opportunities. They also expect their work to be underpinned by state-of-the-art technologies. When it comes to mining, meeting these millennial expectations brings myriad benefits. 
By digitally innovating mining operations, costs can be reduced, efficiency increased, and sustainability gains realized. It can also attract the brightest talent, promoting mining as a future-forward industry with rewarding career opportunities.  
Automating remote working across mining operations  
For example, it's proving increasingly difficult for employers to attract young people to the mining industry, given the remote locations of mines worldwide. Fortunately, with today's technology and the increase in remote operating centers and increasingly autonomous operations, employees no longer have to be on-site permanently. IDC analysts as an example recently predicted that this year will see three-quarters of the top 100 miners operating remote and autonomous drill rigs.  
One major Australian mining conglomerate recently adopted this approach, establishing regional operations centers so that its mines, ports and rail systems can be operated from a single location. Digitalizing and automating this remote model has seen improvements in sustainability, as well as attracting new employees. Centralized control centers located near major population centers reduce the need for personnel to work in remote locations.  
This also helps to mitigate information silos for improved decision-making in collaborative environments, and, with employees able to view data and KPIs on smartphones or tablets anywhere, anytime, digitization also provides real-time remote control and decision-making.  
While talent can enjoy the enhanced employee experiences delivered through automated, remote, digital approaches, mining operators can realize significant savings and efficiencies and ensure greater resiliency. Mining, minerals, and metals companies are beginning to consolidate and integrate their automation and electrical operations; 91 percent plan to increase investment in digital transformation during the next 12 months. 
In creating integrated digital environments, mining operators use automation, power, and process solutions to maximize energy efficiency and optimize production. Leveraging advanced technology in IoT, mobility, sensing, cloud, analytics, and cyber security, mining is becoming a leading-edge industry that attracts the brightest talent. As well as the operational gains that can be made through digital transformation, this strategy also empowers and protects the workforce.  
Empowering and protecting the workforce 
There are numerous ways in which digital transformation greatly enhances process management and empowers all levels of the mining industry's workforce. For example, new digital approaches can deliver rapid training of new teams on safety and other best practices via immersive virtual training. Virtual and augmented reality enhances learning and development with process simulation within life-like 3D environments.  
Equipping field workers with essential data on operations and maintenance, equipment diagrams, and operating history using digital, current, and valid technical and process information, digitalization retains knowledge and eliminates information silos. For example, miners can use AR to support maintenance by superimposing real-time data on real-life equipment. This connects to another vital benefit of digital transformation; the impact on health and safety.  
In mining, worker safety remains a priority above all else. By adopting remote operations the risk to large categories of employees can be drastically reduced. Avoidable work-related injuries are unacceptable, even more so when digitalization can remove so many risks. Mines will require new technological approaches to ensure regulations are met in people-centric, cost-effective ways.  
The sustainability imperative 
Today's emerging talent is clear that they want work that is environmentally and socially responsible. Seventy percent of millennials say they want to work in a company with solid sustainability strategies and nearly half (47 percent) want to make a positive impact on society.  
Attracting millennials – and the generations to come – into the mining industry will not only take digital innovation that improves working conditions but also delivers on key sustainability goals. Research suggests that 'by 2023, eight-in-ten mining organizations will use sustainability KPIs as part of their primary operational control parameters to help achieve their organizational environment, social, and governance targets.' 
The encompassing objectives of talent attraction and retention, employee safety and overarching sustainability can only be met through innovative digitization. Great strides are already being made, but the pace must quicken if the industry is to engage, recruit and retain the workforce it needs to remain competitive, compliant and innovative in a quickly changing world.
For a list of the sources used in this article, please contact the editor.  
Rob Moffitt is President, Mining, Minerals & Metals at Schneider Electric. Schneider's purpose is to empower all to make the most of energy and resources, bridging progress and sustainability for all.  
It drives digital transformation by integrating world-leading process and energy technologies, end-point to cloud connecting products, controls, software and services, across the entire lifecycle, enabling integrated company management, for homes, buildings, data centers, infrastructure and industries.