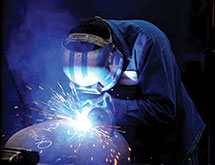 NG Resources Corp. was established out of necessity five years ago when it's sister company BCCK Engineering was unable to find a reliable fabrication facility in the Permian Basin that could offer quality cold boxes, skids and pipe racks.
The Midland, Texas-based company started in 2009 by performing all of its work for BCCK Engineering projects. NG Resources' sister company is a leader in natural gas processing and treating. "We are under the same ownership and the company was started to do work for BCCK, but we have grown the shop in a way to allow for third-party work," BCCK Engineering Vice President Greg Hall says.
Today, NG Resources operates a state-of-the-art manufacturing facility that fabricates products that conform to many codes and standards. The company offers structural steel, pressure vessel, piping, cold box and skid assembly fabrication, as well as pipe and structural steel coating. Project completion can range from four weeks to three months, depending on the size. NG Resources is unique because it can fabricate low-temperature stainless steel that is welded at negative 320 degrees.
Product Perfection
NG Resources begins any project with specifications outlined by its client. The company creates engineering drawings and performs site evaluations to provide feedback to its fabrication shop personnel and make any necessary modifications.
Its facility consists of three fabrication shops with a total of 50,000 square feet on 40 acres to handle any pipe, structural steel or pressure vessel manufacturing job. "We have a newer shop, which allowed us to put in better welding technology," Hall notes. "We have a lot better setup and we are efficient. The reason we built [NG Resources] was because we couldn't find the quality we wanted and a shop that could do things in a timely manner."
To ensure its fabrication facility continues to run efficiently, NG Resources operates on lean manufacturing principles. "Production and quality are monitored daily," Shop Manager Chase Johnson says. "Our system uses a barcode scanner that allows us to see real time man hours that are being used for each job."
Standing Proud
A majority of NG Resources' third-party work is gained through word-of-mouth because it is still viewed in the industry as a shop exclusively for BCCK Engineering. In the future, NG Resources is hoping to change that perception and become more self-reliant.
Quality and reliability are the founding principles of NG Resources and it strives to offer the same work ethic to outside companies in the oil and gas industry. "People perceive the shop to be for BCCK, but we have dedicated space for third-party work and that won't be displaced," Hall notes. "It's our biggest challenge to separate NG Resources from BCCK."