Riding the waves
With a mission to provide advanced offshore vessels and high quality management services to the oil and gas industry, NSS strives to lead the way in vessel innovation, technology, HSEQ and customer satisfaction.
Owned by the Klepsik and Okland family, the company was founded on the principles of a family business in 1984, which has thus resulted in a highly experienced organisation with a tradition for delivering competence, flexibility, consistency, loyalty and openness between staff and customers; values that have ensured excellent safety records, reliable operations and long-term clients.
"We are a small company with the ability to adapt to meet our clients needs. We are also leaders towards innovation and new thinking and are always searching for new solution that makes us better than our competitors. We have a very high focus on delivering quality so even if we are a small company with a small fleet we have three state-of-the-art vessel that are among the best vessel in their class when it comes to capability, reliability, redundancy and capacity," begins Sveinung Okland, operations manager at NSS.
Providing a wide range of services based around vessel ownership and the operations of its fleet, as well as the management of the vessels of other owners, NSS operates all vessels according to the modern ISM code, with a focus on experience and quality seamanship. All operations the shipping firm is involved in are in accordance with the Total Safety Management Concept. This applies a variety of quality controls, in which its quality assurance system run in UNISEA marine software (based on ISO 9001/14001) has a central role.
Since it was previously featured in European Oil & Gas magazine in September 2013, the Austevoll headquartered firm continues to have two vessels in operation and one vessel under construction. "Over the last ten months our core developments have been on the contract side of the business; we have extended the contract with ElectroMagnetic GeoServices (EMGS)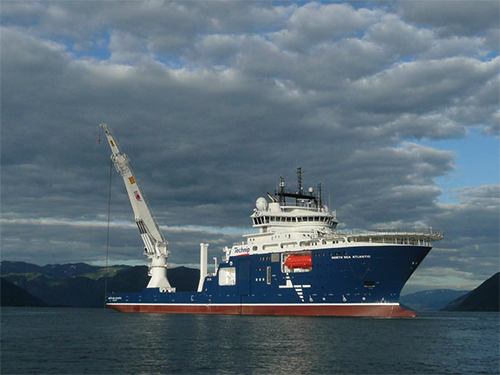 for Atlantic Guardian with three years firm and the option for four x one years. We have also extended the contract for North Sea Giant and she is now on firm contract with Technip Norway until mid 2018 with Options till 2021," says Sveinung. "Meanwhile, the North Sea Atlantic is on a seven year firm contract with Technip, which will start once the vessel has been delivered."
Due for delivery in August 2014, when it will begin its seven-year contract with Technip, the North Sea Atlantic is a state-of-the-art offshore construction vessel that has been customised to meet both the client's and market's needs. "The North Sea Atlantic is equipped with an 550 tonne active heave compensated Offshore crane, carousel under deck, heavy gantry ROV LARS system, and the deck is reinforced to be able to hold an carousel on deck + and big vertical lay tower + reels on deck. The vessel is very high tech standard where all solutions are of the newest and best technology that is on the market today," highlights Sveinung.
Designed by Skipsteknisk, the 141 x 27 metre multipurpose offshore construction vessel will be outfitted and prepared for pipe laying/cable laying projects from carousels with VLS through moonpool or over stern as well as subsea installation works through moonpool and over shipside, ROV operations such as pipeline/route survey and crane operations. Specially designed to operate under extreme weather conditions, the Ice-Class North Sea Atlantic can reach a maximum speed of 15 knots at six metre draft and boasts high manoeuvrability thanks to its diesel electric propulsion plant and two azimuth propellers, with an output of 4.5 megawatts each. Furthermore, with a dynamic positioning system that includes a dual redundant dynamic positioning system, two acoustic pos units, a HAIN system with heading outputs, and the seapath 3000, the vessel has superior station keeping capabilities.
Equipment on board the deck include one 400 tonne/13 metre boxboom crane with 3000 m wire, one 50 tonne/15 metre AHC offshore crane, one aux crane, stb 6 tonne/15 metre four capstans, each five tonne, two cranes for provision handling, each at two tonne/16 metre and one 21 metre under deck carousel, with 2000 tonne capacity. "Throughout 2014 we will focus on getting the North Sea Atlantic delivered and up running 100 per cent for our client and to continue to deliver top quality on all our vessels. We will also have focus on increase the efficiency of operating our vessels. We will also have a focus on our strategy of growing further," says Sveinung.
Indeed, operating in an evolving industry has always had its challenges for NSS, which has used its ongoing tradition for innovation to continue turning these issues into opportunities, as Sveinung notes: "Yes, the market is always challenging, but we have had some good years where we have got contract on North Sea Giant and contract on the new build North Sea Atlantic. There will still be a need for specialised vessels in the market, but it will be more challenging to get long firm contracts with reasonable day rates. This is because the key players in the market such as Statoil are now looking at every possible opportunity to save cost; this influences everybody in the market, but we view this as a positive development because it forces us to think differently to our competitors and to improve our product."
One way the company aims to improve its fleet is through investment, with the Atlantic Guardian due for upgrades to dramatically enhance fuel efficiency and station keeping abilities. However, with Atlantic Guardian now involved in new projects in the Gulf of Mexico, these modifications have been postponed until October 2014. "The yard stay is now scheduled to be 5th October and it will take place at Westcon in Florø. Yard stay is estimated for 40 days. She will return to the Barent Sea after her stay in the yard," says Sveinung.
Well-established as a forward-thinking, technologically-savvy shipping firm, NSS has developed an impressive fleet that will ensure it continues to lead the way in delivering innovation and first-class construction services, as Sveinung concludes: "We will continue to deliver top-class quality services to our clients through adaptability to the changes in the market and innovative solutions."
North Sea Shipping
Services: Vessel owner and operator