Panalpina World Transport Ltd
Gaining a foothold
Since last appearing in European Oil and Gas Magazine in February 2012, intercontinental air and ocean freight services provider Panalpina World Transport Ltd has enjoyed ongoing growth and success, as Mark Woodhouse, strategic development manager of the UK oil and gas business, elaborates further:
"We now have a new CEO and have seen a big rise in our share price, which can be seen in our recently released third quarter figures. Gross profit has increased by six per cent to CHF 403 million. There has also been quite a bit of investment; we have added two 747-800 freighters to our aircraft fleet, one of which flies from Houston to the UK, and have spent £1 million on new trucks for our UK based transport fleet."
Against the backdrop of a slow market, Panalpina's overall results for the third quarter are in line with expectations, with market share gained in both ocean and air freight in terms of volumes. On top of this, logistics showed double-digit growth in gross profit terms, which is due to the group's investments in value-added services, and consumer/retail, healthcare and the oil and gas industries displayed higher than average volume growth.
"Generally speaking, the industry is still quite weak as far as freight forwarding goes; however, for us in the oil and gas market, business has been buoyant," enthuses Mark. "Working in oil and gas, the biggest issues for Panalpina by far are space constraints and trying to recruit new people. It's a general issue for the oil and gas industry at the moment, whether it is engineers or roustabouts, you just can't get the staff. To deal with this issue we do a lot of in-house training and are increasingly having to bring staff in from our overseas offices just to fill the gap."
With a superior network of 500 branches in over 70 countries, and partnerships in a further 90, Panalpina World Transport is a truly global organisation. Panalpina's origins can be traced back to 1895, since which time the group has strategically expanded its service offering over recent years through a number of pivotal acquisitions. One of the more notable purchases for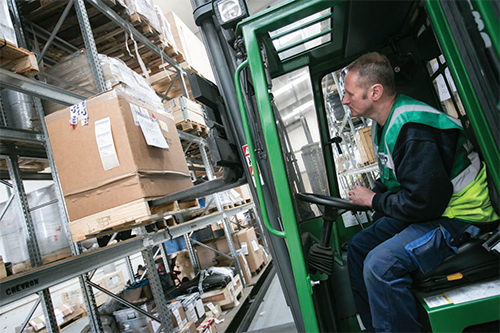 the group was Norwegian Grieg Logistics, a leading logistics provider to the Norwegian oil and gas, maritime and shipping industries, in February 2012, which further cemented its position within the global oil and gas sector.
Over four decades and counting, Panalpina has proven its long-term commitment to the oil and gas industry, with a particular focus on the highly challenging upstream sector. Previously talking to European Oil and Gas Magazine in 2012, Mark elaborated on this side of the organisation: "The Aberdeen facility works purely within the upstream aspect of oil and gas. We service our customer's requirements by concentrating on managing the whole supply chain through an end-to-end approach, as opposed to just putting cargo onto a ship or plane, such as distribution, customs clearance and freight capacity management."
To deliver superior solutions that go above and beyond the demands of its customers in a challenging and ever changing industry, Panalpina offers more than the shipping of homogenous containerised cargo within known consumer goods trade lanes. Dealing with volatile requests, the division transports freight such as sizable capital equipment, subsea installations, pipes, rig components, related chemicals and electronics equipment to or from extremely remote locations that include the Siberian tundra or shore bases along the coast of West Africa.
"One of our core services is a combined air/ocean/road transport concept called the African Star; we fly our own aircraft into the Congo, which we use as a hub for our own coastal vessels that operate up and down the West African coast delivering cargo to the oil supply bases," explains Mark. "We have all our own offices in Africa and approximately 400 personnel working for us out there at the moment." Specifically designed for the oil and gas industry, this unique cargo service delivers freight directly to shore bases along the coast, which avoids issues such as bottlenecks and customs delays.
Having developed a strong presence in West Africa, with over 50 years experience within the region, Panalpina is now setting its sights on burgeoning oil and gas areas such as Morocco, Iraq and East Africa. "Throughout 2013 we have been focused on emerging markets, with new developments in Iraq as well as Morocco, where we have a lot of projects coming up with service companies and drilling contractors. On top of this, we have also worked on further expanding into the Caspian area and East Africa, where we have recently established our own free trade area in Kenya. We can offer just-in-time services to our customers enabling them to hold stock whilst waiting for call-off without being registered in country," highlights Mark.
With third quarter results meeting expectations and a recent global contract win with a major multinational oil and gas firm, the future looks positive for Panalpina as it gains a stronger foothold in emerging markets while continuing to deliver globally integrated, tailor-made, comprehensive solutions to its customers around the world.
Panalpina World Transport Ltd
Services: Freight logistics