Real power
Set up in 2001, Protea Sp. z o.o.'s main aim was to fulfil foreign – especially Scandinavian – companies' needs for cheaper industrial production.
After three years of continual growth, in 2004 Protea and NTD Olesno merged, which resulted in an extension of design scope and added strength to the company's calculation capabilities.
Following this change to the company's structure it began to develop rapidly. As a result of a constant increase in the amount of orders for different types of equipment, Protea recognised there was a need to make the company independent of subcontractors, as this approach offered the possibility of cutting production costs.
In 2008 a new manufacturing and assembling factory for the production of offshore, marine and onshore cranes and winches was opened by Protea in Ligota Górna by Kluczbork, Poland. This 2000m2 modern fabrication facility has a production capacity of 1000 tons of steel construction per year. It features multiple test stands for load and functional testing of pedestal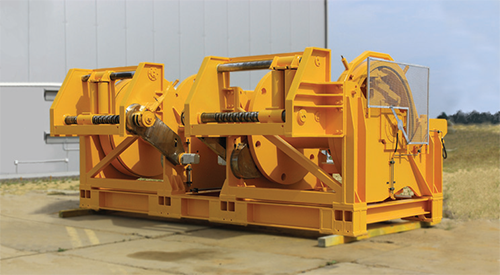 cranes, BOP gantry cranes, overhead travelling cranes and high capacity winches, in-house cranes with a capacity of up to 100mT, an in-house, state-of-the-art grid blasting shop (28 x 7.5 x 6m) and a painting chamber of the same size, mechanical, hydraulic and electrical assembly workshops and a hydraulic power unit HPU-1 for flushing, pressure and functional testing, as well as additional sophisticated production machines and equipment. The opening of this plant resulted in further significant growth in sales and profit, and additionally, Protea obtained many overseas orders from Russian, Norwegian, European and Asian companies. Indeed, so important has this new factory been to both Protea and to the local community that in February 2013 the company received the 'Honeycomb' award from the Mayor of Kluczbork. This is given for outstanding achievements in the development and promotion of the district of Kluczbork. It recognised the company as the most dynamically developing in the region and it also received an honourable mention in the category of 'business'.
Just five short years after this factory was built, another new assembly workshop was opened on site in April 2013, as an extension to the fabrication hall. This is dedicated mostly to heavy lift cranes and BOP cranes assembly. The new part of the factory is 26 metres high and the company gained approx. 900m2 of indoor assembly area, which increased assembling and testing capabilities, even in difficult weather conditions.
After its years of evolution and development, today Protea is able to deliver a wide range of offshore and marine equipment such as:
Offshore pedestal cranes
BOP and X-mass Tree cranes
Offshore winches
Huge Floating Cranes
Trolleys and other equipment
Mud systems
Underwater Handling Systems equipped with Passive and Active Heave Compensators
In addition to these products, it also delivers complex engineering solutions including logistics, warranty assistance and post-warranty services/repairs, electrical and mechanical services, modernisations and renovations, technical services including inspections and production supervision, and audits of manufacturing companies and the release of independent analysis on the
Polish industrial market.
All of these products, systems and services are offered with the assurance of extremely high quality. Achieving this target is only possible through the effective co-operation of the whole Protea team, as well as a responsible and conscious approach by individual members of staff. An additional element that increases overall quality levels is the ability to fabricate, assemble and to test everything practically under one roof.
As early as 2004 Protea implemented and accredited its quality management system to the ISO 9001:2000 standard. The system is applicable to the 'supply of engineering solutions for design, manufacturing and assembly of lifting, winching and similar material handling equipment, as well as the provision of the related technical assistance'.
However, maintaining this quality system is not enough to sustain the company going forward and Protea acknowledges that it must focus a lot of attention on two areas: OH&S – care for assuring safe and comfortable work conditions in accordance to the international standards; and environmental protection – care for the natural environment and its resources. In order to achieve these OH&S and environmental protection targets, the company decided to upgrade its integrated quality management system according to ISO 9001:2008 and also achieve the ISO 14001:2004 and OHSAS 18001:2007 standards.
Since its small beginnings Protea has steadily grown to be recognised on the world stage as an independent and dynamically growing company, with its own subsidiary, Protea Norge AS in Vestnes, Norway and representatives in the UK, Venezuela, the US, Brazil, South Korea and Singapore.
In recent years Protea has entered into a very important partnership with international engineering company GMC ltd, with a main office in the UK. By harnessing the power of established relationships such as this, embracing a continuous dedication to improvement and adopting a flexible approach, Protea has developed into a respected name in the market. Going forward, it will continue to strive to achieve further success for both itself and its local community.
Protea Sp z.o.o
Services: Manufactures heavy machineries cranes, winches and underwater handling systems