A collaborative approach
Established in Fosnavåg in the final quarter of 1975, the Remøy Shipping brand today is active in the offshore, seismic, coastguard and chartering markets and currently operates 15 vessels. Within its fleet are 11 platform supply vessels (PSVs), two seismic support vessels, one coastguard vessel and one research vessel. Remøy operates in accordance with national and international laws and regulations, paying particular respect to health and safety, environmental and quality assurance (HSEQ) practices. It is ISM compliant and holds ISO 9001-2008 (quality management) and ISO 14001- 2004 (environmental management) certification in accordance with the Norwegian classification society Det Norske Veritas (DNV GL).
"Remøy Shipping is a management company servicing primarily the oil and gas sector with platform supply and seismic support services. The vessels operated are a mix of owned vessels in the group and vessels owned by third parties. The company also operates one vessel for the Norwegian Coast Guard and one for the Norwegian Defence Research Establishment," begins Karsten Saevik, CEO of Remøy Shipping.
Discussing the company's strong customer base and areas of operation, he continues: "The key customers of Remøy Shipping have over decades been Statoil, Western Geco and The Norwegian Coast Guard. In addition we would like to mention that we as ship managers have established a very good and successful relationship with amongst other Apache North in Aberdeen with two vessels having served on already long term charters. The major part of the fleet operates in the North Sea, whilst the seismic support vessels presently trade in Persian Gulf and the Gulf of Mexico."
Benefiting from long-term close relationships with its customers and the world's growing need for energy solutions, Remøy Shipping has continued to remain in demand since it was previously featured in European Oil & Gas magazine in January 2014. "In today's market we are extremely pleased to see that strategy to set for long term contracts prior to ordering new vessels has been sustainable. The major part of the fleet operates on multi-year contracts and performs good and long lasting services in close co-operation with the charterers. This, we believe, has created added value for our customers as we in joint collaboration learn from each other better to know what it takes to act safely and perform efficiently in our day-today operation."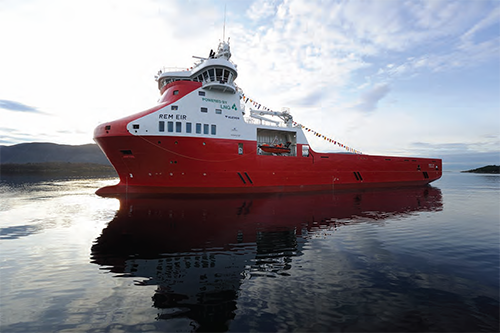 Previously the manager of three third party owned vessels, Blue Guardian, which is a PSV currently chartered to Statoil, as well as Blue Fighter and Blue Prosper, two PSVs that are chartered to Apache and are operating in the UK continental shelf, Remøy Shipping announced it had expanded its fleet in March 2014 with ship management contracts for three more Nordic American Offshore (NAO) owned PSVs: Blue Power, Blue Thunder and Blue Protector. Following this development, the company was awarded a contract to manage the Norwegian Defence Research Establishment's (FFI) vessel, H U Sverdrup II. The contract became valid in July 2014 and will continue for two firm years, with options available for two additional years.
One example of the company's close collaborations with customers that have resulted in tailored, high quality solutions is its project with Statoil and Ulstein in 2008. The three businesses worked together to develop two PSVs that were among the first to successfully handle drill cuttings as liquid bulk; these innovative vessels were delivered in 2011. More recently, Remøy Shipping took over its first LNG fuelled PSV, as Karsten highlights: "As far as we know, this LNG fuelled PSV is the largest in terms of deck area size in the world. The Rem Eir is now on a long-term contract with Statoil, three years plus options, and is operating in the North Sea."
Delivered to Remøy Shipping by Kleven Verft on November 26th, 2014, the LNG powered PSV boasts a length of 92.5 metres and a deck capacity of 1080 metres squared; she was built in Norway and designed by Wärtsilä Ship Design. Aware that company development is an integral part to ongoing success, this new vessel not only meets the increasingly higher expectations of customers and shareholders of Remøy Shipping, but also helps ensure the company maintains its excellent reputation for maintaining highest environmental standards and operating all vessels in accordance with national and international laws and regulations.
In addition to working closely with customers, Remøy Shipping also works in collaboration with other companies operating within Norway to develop training facilities that will help current personnel remain up-todate with current practices and teach the next generation of offshore workers. By co-operating instead of competing, the companies have established an offshore simulator to train its crewmembers in all areas of shipping and offshore operations. "We are a proud co-owner, together with four other shipping companies in Fosnavåg, of the fabulous new simulator that just opened. Fosnavåg Ocean Academy is a place where innovations and skills can be tested prior to implementation, in other words risk management at highest level."
With a proven track record in operating in challenging environments in a range of industry sectors, Remøy Shipping is certain to flourish in a market that demands a strong, modern fleet, experienced and highly competent staff and a collaborative work environment.
Remøy Shipping AS
Services: Offshore supply
Issue 122 July 2015