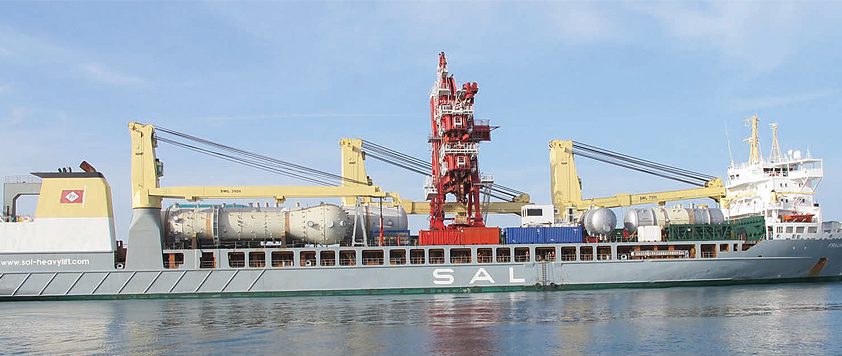 Innovative approach
Through its fleet of 16 heavy lift vessels, SAL Heavy Lift provides customised and reliable sea transportation solutions for all types of project cargoes, including equipment for the oil and gas industry, heavy machinery, wind energy, cranes and floating cargo.
Its in-house engineering department has become renowned for its ability to develop innovative approaches to complex transportation needs and the way it provides follow up services from the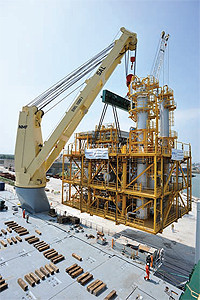 planning stages to successful project completion.
Amongst the many trademarks of the company's fleet is its high crane capacity, of up to 2000 metric tonnes, and their high service speed of 20 knots. With this SAL is able to offer extremely short transit times, something that is imperative for time-sensitive cargoes. Today these vessels can be found active in many of the most prominent offshore regions, from Europe and the Far East to the rapidly developing markets of Brazil and Australia.
Able to guarantee fast arrival into any major port on the planet, these vessels' competitive advantage further lies in their ability to call at more remote ports, facilitated by their high degree of maneuverability and on-board handling equipment. Furthermore, all SAL's vessels are fully equipped with an inventory that includes forklifts, spreader bars, lifting beams, lashing and securing materials. All of this equipment is approved and classified by the world's leading certification and classification societies.
"The biggest development within the company in the last few years is the delivery of its two new Type 183 vessels, each boasting a lifting capacity of 2000 tonnes," explains Toshio Yamazaki, executive officer of SAL Heavy Lift. "By utilising vessels with such capacity the company is making strides into the super heavy lift market, where it envisions itself occupying a leading position. Boasting the largest lifting capacity in the heavy lift vessel segment, these units have allowed SAL to introduce a greater degree of healthy competition into this market.
"In the time since they were brought into service these new vessels have been extremely well accepted by customers having carried out a number of outstanding jobs, including the ocean transportation of super heavy lift cargo, assisting in offshore construction and with the installation of modules to vessels under construction in certain shipyards. In addition to the delivery of these new vessels, the company's flagship, MV 'LONE' was upgraded to DP2 status this past December as SAL continues to expand into the offshore sector."
In another major development, one that took place in June 2011, SAL Heavy Lift is now a 100 per cent owned subsidiary of K Line, an organisation with the desire to develop new business opportunities outside of its traditional shipping stream. By becoming a part of the K Line group, SAL has found itself better equipped to provide more flexible solutions to its clients by utilising the assistance of K Line Offshore and other K Line subsidiaries.
As the size of its fleet has grown in size, so to have the number of projects that SAL has been involved in. For example, in March 2012, SAL's MV 'FRAUKE' performed a shipment of a Tiltable Lay System (TLS) tower from Singapore to Flushing for Subsea 7 – Offshore Resources. Despite the extraordinary height of the TLS tower, the company offered to lift the piece in its fully assembled state. For this purpose its engineering division had to develop a precise lifting and rigging arrangement due to the narrowed space between lifting beam and tower.
To support the big loads on the hatch cover beams, the engineering team designed a complex grillage as well as a sea-fastening system as it was not allowed to do any lashings on the cargo. The TLS tower was fastened to the grillage with a pin connection only. Due to that, the lowering of the tower had to be performed with utmost precision in order to get all pins properly inserted.
Since October 2011, SAL has performed a substantial number of project cargo shipments for the SHAH Gas Project in Abu Dhabi and for the Borouge 3 expansion project in Ruwais, the United Arab Emirates. A particular highlight of this project occurred in May 2012 and saw the MV 'LONE' successfully load two HP absorbers weighing 1350 metric tonnes from ports in Italy and transport them to Mussafah.
Such examples of the work carried out by the company highlight some of the strengths and qualities that Toshio reveals have appeared in a recent survey of its customers' satisfaction: "The overwhelming majority of SAL's customers are drawn to work with the company because of a number of things, not least of all its high standards of quality, its well skilled, efficient and dedicated crews, and the advanced, innovative technical support provided by its engineering department. These customers also benefit from SAL's excellent commercial support mechanisms that allow it to meet the highest levels of satisfaction."
With the problem of over capacity in the light and medium heavy lift vessel market still present, SAL finds itself in a position where it must remain cost conscious in these fields. However, on the other side of the spectrum, the super heavy segment and that which is related to the offshore oil and gas industry continue to remain busy, leading SAL to invest more resources into these areas of its operations.
"While the uncertain economic conditions of the last several years have made for uncomfortable times for SAL, the company has remained committed to the continued, careful, investment of capital into areas of the business that will be essential to its future growth. The offshore sector is one such area and, together with K Line, SAL will be working hard over the coming months to further improve its capabilities in this field," Toshio concludes.
SAL Heavy Lift GmbH
Services: Heavy lift vessels