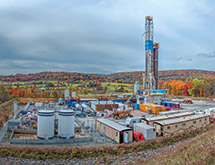 Stallion Oilfield Services
Stallion Oilfield Services' mission is aptly described in its slogan, "Stay Well Focused." Oilfield workers face a demanding job that requires their complete attention and concentration. While they work, Stallion Oilfield Services will handle all of their ancillary needs safely and efficiently, says Chief Tauzin, vice president of sales.
Those needs are varied and include housing, communications, wellsite construction, drilling support, onsite water purification, fluid services, solids control, transportation and equipment rental. Stallion Oilfield Services offers varied solutions in each of these categories, but its core business is providing semi-permanent camp complexes for workers — a market that has grown and evolved over the past several years as demand increases, Tauzin says.
Comforts of Home
"In the old days, you had guys sleeping offsite or in their trucks," Tauzin recalls. Today, Stallion Oilfield Services provides housing that features many of the comforts of home, including fully furnished living quarters complete with televisions, kitchens that include all the necessary equipment and appliances, washers and dryers, Internet access, workout equipment, office space and satellite communications. "Communication is definitely key to the operation," Tauzin says. The company's standard communications package includes VoIP, fax service, broadband data and an integrated IP network.
Stallion understands the specific communication needs of onshore and offshore operations, Tauzin says. That's why it offers Stallion Wellsite Communications, or StaRComm, to provide scalable service packages to accommodate the exact demands of its clients.
StaRComm's VSAT satellite services provide uninterrupted coverage no matter where the job is. When users need to relay the critical data that keeps their well sites connected, StaRComm's range of satellite network options are up to the challenge
"The houses are very nice," adds Dave Ramage, operations manager. The features and amenities are designed for oilfield workers who typically are on 14-day rotations.
"In the last 10 to 15 years, temporary housing has come a long, long way," he says. The 300-square-foot wheel and skid-mounted quarters are available in a variety of layouts, allowing companies to customize them based on job size, terrain and weather conditions, he says. Customization coupled with an array of amenities proves that Stallion Oilfield Services puts its clients first, Ramage says. "Our model is customer service," he says. "We're not just in it for the rental."
Stallion Oilfield Services met a significant need for temporary accommodations and other oilfield services in Colorado, North Dakota and Wyoming by establishing six offices in those states. But the company has expanded to other parts of the country as well and maintains 40 field offices throughout the country, including eight facilities in Texas. The company also has locations in Mississippi, Louisiana, Oklahoma, Pennsylvania and Ohio. "We've definitely expanded," says Ramage, noting the company has a national footprint.
Numerous Offerings
Housing is at the core of Stallion Oilfield Services' business, but it is only one of the company's many offerings. The company also offers transportation services designed to quickly move temporary housing and equipment from one location to the next, Ramage says.
The company's rental division provides a variety of important supplies and equipment, including forklifts, light towers, pumps, trash containers, generators and compressors, man lifts and water and sewer systems. Fluid transportation, pumping and disposal services are also offered.