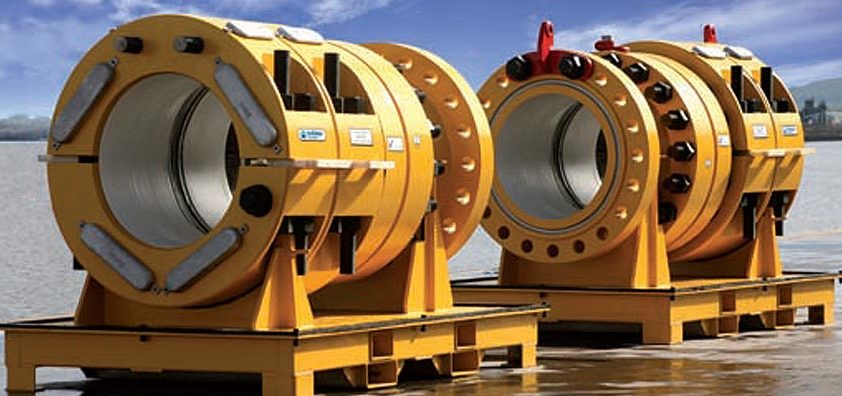 Subsea Innovation Limited
Expanding into the future
Formed in 1985 by a team of experienced engineers and diving professionals Subsea Innovation is a company dedicated to delivering state-of-the-art engineering products to the offshore oil and gas, and energy industry throughout the world.
Phil Heathcock is finance director at the company and he noted that it was after relocation to Darlington in the North East of the UK in 1995 that the business really went from strength to strength, and has gone on to develop an extensive product range that can be split into the following categories: offshore equipment handling systems, pipeline repair/recovery systems and subsea sealing systems.
He gave more details on the products: "We have developed a range of ROV launch and recovery systems and tether management systems with over 100 of these operational all over the globe. Moon pool systems have been developed for use with a wide variety of subsea tools and all of this equipment is designed, constructed and tested according to DNV's Standard For Certification Of Lifting Appliances No 2.22."
In addition to product supply Subsea Innovation provides supervision services to oversee the successful deployment and installation of its equipment. The company provides an aftercare service and can supply spare and replacement parts for the full range ofits products.
Much of the company's success can be attributed to a significant increase in orders of one of its products – the Launch and Recovery Systems (LARS). "These systems are used in the deployment of remotely operated vehicles (ROVs) into subsea environments all over the world. We completed the manufacture of 20LARS in 2013, doubling the previous year and taking the company total to over 100 fabricated systems in service," said Phil.
To accompany the LARS, Subsea Innovation has also designed and manufactured numerous tether management systems (TMS). The TMS is deployed together with the ROV and provides power, hydraulics and communications with the vessel enabling the ROV to operate in the water at distances up to 1000m from the TMS andwater depths of 3000m.
Thanks to innovative products such as this, Subsea Innovation achieved a record turnover of £10 million in 2013. It has also built up a reputation for excellent customer service and innovation. Phil identified what he sees as thestrengths that set the company apart from the competition: "The major one is that we aim to produce a quality product first time," he said. "Clients are invited to the factory to complete factory acceptance testing and are given a warm welcome, a clean environment and staff that are willing to listen to their input and act uponit. We are a flexible organisation and are able to react to client queries and requests quickly to assist in resolving issues that they may have in the field. A complete aftersales, training and installation programme is available and we pride ourselves on not just supplying a product but assisting throughout its working life."
He was also keen to emphasise the company's dedication to employing highly skilled designers, engineers and technicians: "We have a staff training programme in place with staff studying towards NVQ, HNC, HND, CIPD and degrees at the Open University," he said. "We are dedicated to attracting and retaining the highest quality of staff to our company and offer a fantastic working environment, so we see ourselves as an employer of choice in the North East engineering sector."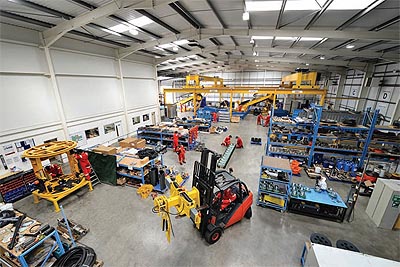 In January 2014 the business began work on the construction of a new HQ in Darlington and it is hoped that the expansion, due for completionin August, will see the workforce double to more than 70, equipping Subsea Innovation to meet the future needs of the oil and gas sector, as well as the wider energy industry.
"The new 40,000sq ft site will be twice the size of our current Faverdale North base and will include extra factory and office space," said Phil. "It has been designed by Darlington's Architects Design Group and is being constructed by the town's J & RM Richardson. The new building will allow us to build bigger machines and carry out increased testing, without the use of external facilities. It will have extra height allowing larger cranage, and will also enable us to dedicate space for research and development (R&D).
"Specific projects are already being set up with a dedicated manager to develop our existingproducts, and also to innovate and introducenew products and technologies to the market that will see us remain at the forefront of the subsea industry. An annual budget is allocated to R&D and managers are given targets to achieve within this budget.
"Investment in the new facility and tripling the working area will allow R&D projects to take place away from the main production and allow larger and additional contracts to be taken on where previously they would have had to be declined due to capacity."
The move to the new premises is a largeproject that will be completed in 2014 and Subsea Innovation regards this as a greatopportunity to move into new markets andattract new customers, and over the next 12 months it is also looking to consolidate on thesuccesses of 2013 and continue to develop and grow as a company. "A new operating system is being implemented during 2014 to improve the operational effectiveness of the company – another significant step towards establishing ourselves as a global force," added Phil. "We hope to complete accreditation for ISO 14001 and 18001 to back up our credentials as a safe and environmentally conscious company. Over the next five years we want to drive the company forward and develop additionalincome streams from our existing products and also bring new equipment to the market."
He concluded: "Overall the oil and gas market has been buoyant all over the globe. We are seeing new vessels being built to operate in the sector and additional pipelines being laid and extended to take advantage of the huge opportunities that exist. Oil remains the top provider of energy to the world and with growth in this arena set to continue we are pleased to be involved in this vibrant sector."
Subsea Innovation Limited
Services: Supplier of subsea equipment