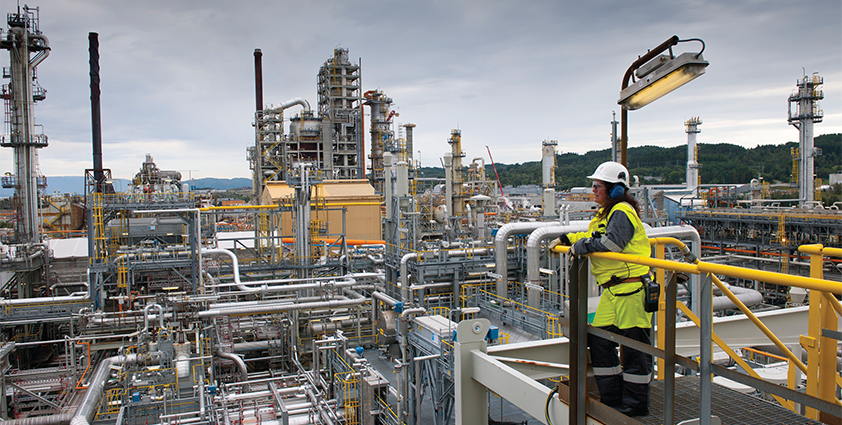 Refined tastes
With an annual capacity of ten million tonnes of crude oil, the Mongstad Refinery is the largest oil and gas refinery in Norway.
A number of different businesses operate within the complex including the refinery itself, the Vestprosess natural gas liquid (NGL) fractionation plant and a crude oil terminal. The modern refinery is owned by Statoil and Shell, with Statoil controlling 79 per cent of shares and Shell the remaining 21 per cent. Approximately 60 per cent of the oil products produced are exported to other countries including customers across Europe, the US and Asia.
"The refinery was established in 1975 and has been expanded several times since then," explains Jon Halstein Tjore, manager of communications and public affairs at Statoil. "It is a medium sized facility, in terms of European sites, with a workforce of approximately 800 Statoil employees as well as 300 modification and maintenance contractors. We also have about 70 apprentices in the workforce, which totals about 1200 people working on site everyday. The harbour at Mongstad is the second largest European oil and product port in terms of tonnage, visited by almost 2000 ships each year."
All of the crude oil refined at Mongstad comes from the Norwegian continental shelf with petrol, diesel oil, jet fuel and other light petroleum products among the main outputs. The refinery operates a petroleum coke (petcoke) unit, which uses crude oil components to produce petcoke, an important raw material used by Norway's aluminium industry. Another key facility located at the site is the Mongstad crude oil terminal, which is operated by Statoil and owned by Statoil and Petoro. The terminal receives crude oil from two pipelines that are directly connected to the Troll oil field. The facility provides intermediate storage for exports and gives Statoil greater flexibility in the timing and volume of crude oil shipments. It also provides an ideal location for ship-to-ship (STS) transfers of crude oil.
Another prominent feature is the Vestprosses transportation system and separation plant for NGL, which Jon describes: "The Vestprosess NGL system is co-owned by a number of oil and gas companies – Petoro 41 per cent, Statoil 34 per cent, Exxon-Mobil ten per cent, Shell eight per cent, Total five per cent and ConocoPhillips two per cent. The system is linked to the offshore fields such as Troll, Tune and Oseberg through a natural gas liquid pipeline, which is piped into the plant and then split into propane, butane and naphtha. We use some of the naphtha at the refinery and the rest of the products are exported mainly to the petrochemical industry in Europe, US and Asia."
Recently a major new investment project at Mongstad for the construction of a combined heat and power plant was completed. The plant is fully integrated with the Statoil refinery and is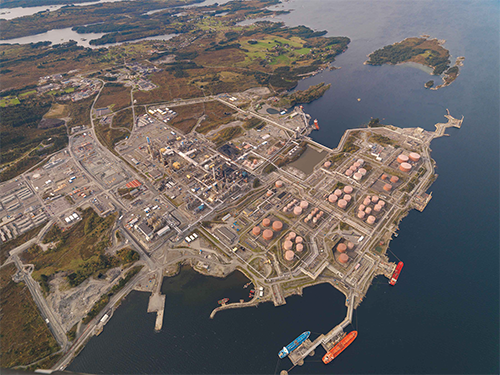 owned and operated by DONG Energy. At present the power plant is still in the commissioning stages but is due to become operational during this month. "The plant is a combined heat and power facility, which will help to increase the refinery's energy efficiency and provide an energy supply to both the refinery and Statoil facilities offshore. This includes supplying the Troll A platform, the gas treatment facility on Kollsnes and the Gjøa platform with electricity. A natural gas pipeline has been built from Kollsnes to Mongstad to power the plant, which will require approximately 700 million cubic metres of gas a year at full operation. Most of this will come from the Kollsnes pipeline, but we will also use surplus gas from the refinery to help increase energy efficiency," explains Jon.
At maximum utilisation the power plant can deliver 280 megawatts (MW) of electricity and about 350 MW of heat energy. The plant consists of two gas turbines each of which is connected to an electricity generator and a facility for recycling flue gas heat. A steam turbine and generator have also been installed. Jon elaborates: "Crude oil will be sent from the refinery to the power plant where the heat energy extracted from the flue gas will preheat the oil, which will be sent back to the refinery for further processing. High pressure steam will also be produced which will then be used by the refinery as an energy carrier."
Statoil is continuously investing in upgrading and developing its facilities to ensure quality and safety standards are maintained and that it meets any changes in legislation. Jon highlights how a particular focus at present is on the increasingly prominent concerns of environmental protection and energy efficiency: "Over the last year we have invested in a number of projects, particularly focusing on how we can make our facilities and processes more environmentally friendly. At the end of 2009 our nitrogen oxide (NOx) treatment plant became operational, which is helping to reduce our NOx emissions from almost 2000 tonnes a year to 1300 tonnes. These will be further reduced once the combined power plant is operating. In 2008 we launched the largest volatile organic compounds (VOC) recovery unit in the world as part of the Mongstad oil terminal. Naturally when we fill the oil tankers a lot of VOC vapour is released into the atmosphere, but with this unit we can collect and reprocess this."
Other measures to reduce environmental impact include a new sulphur recovery unit and a sour water stripper for gas and processed water, and earlier investments in desulphurisation plants for diesel, gas oil and petrol and a facility for reducing benzene content.
Mongstad is also an important centre for developing technologies for post combustion carbon capture. Statoil owns a 20 per cent share in the C02 Technology Centre at Mongstad, the world's largest facility for testing and improving CO2 capture technologies. The centre will be ready for operation at the end of 2011, and will capture about 100,000 tonnes of CO2 from flue gas from the combined heath and power plant and the residue catalytic cracker. The technologies and knowledge developed in this project can be used in a planned full scale CCS-project at Mongstad, as well in other CCS projects worldwide.
Certainly, developments of this nature seem set to continue into the future, with Statoil taking advantage of the challenges following the recession to strengthen its facilities, and ultimately its position. Jon concludes with the main plans for the refinery going forwards: "The financial crisis has meant that the refinery industry is facing a difficult time with much lower margins and reduced levels of activity. We have used this time to benefit the company by focusing on investing in our capabilities and improving our operations. Our focus for the year ahead is an improvement programme designed to increase efficiency and reduce costs and of course to continue to concentrate on secure and safe operations."
The Mongstad Refinery
Services: Oil and gas refinery