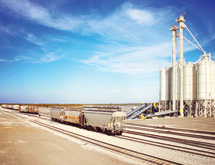 For Trident Structures, taking a project from design through construction to start-up is just par for the course. And for this vertically integrated company, it's all about doing it with safety, efficiency and profitability in mind, and delivering projects on time and on budget.
"Being in the market we are in and given the size of our company, we have the ability to respond to customers' requests," says Ryan Kynard, senior project manager. "We are efficiently sized and integrated enough so our staff listens to customers and is in tune with their needs. We understand budgets and schedules and our customer service makes us shine."
Of course, for some firms, design, construction and operations are three distinct departments with separate objectives. Trident Structures has found bringing it all under one roof makes sense and improves efficiency.
In fact, the company believes that it is imperative that a person designing a facility has a complete understanding of the end-use of the facility, the goals of the client and the experience to know what works efficiently, safely and profitably.
By employing key players with 15 to 20 years' experience in design, construction and operations from multiple industries, Trident Structures says it has its clients' sites up and running quickly and before their competitors would be able to.
Trident Structures also has the ability to custom-design each facility for every customer, Kynard says, and that is something not every company can do. "Everybody has a silo system design and we do, too, but we can design any kind of facility to fit any needs," he says.
Specializing in Bulk
Founded in 2009, Trident Structures specializes in the construction of facilities to handle bulk materials, such as frac sand transload plants, frac sand vertical storage yards and cement bulk plants. Trident Structures provides custom solutions to the transportation and storage needs of its dry bulk customers.
In the oil and gas sector, the firm's transload facility projects included work in south Texas, west Texas, New Mexico, Arkansas and northern Louisiana. Trident Structures also recently completed projects in Montana and North Dakota, the company says.
As a design/build construction company that specializes in the construction of frac sand plants, mining facilities, transload facilities and other industrial structures, the Fort Worth, Texas-based general industrial contractor knows that the key to its success is a workforce that consists of people with experience in equipment manufacturing, construction, steel fabrications and installation. Indeed, Kynard says there is great demand for a company that understands the structural aspects of a plant, including the automation controls systems. Few companies have such broad understanding and knowledge of foundation and structural design, mechanical systems, traffic flow, rail layout/operations, and control and inventory systems, but Trident Structures has managed to "wrap all that up and construct it all within one company."
In addition, Trident Structures can continue to provide its expertise even after a project is completed, such as through plant maintenance and operations guidance services.
Company Pride
"Every project [is] unique," Kynard says. "It's great being with a company we can be proud of. All the projects are pretty special." With several transload conveyor projects underway in addition to a sand storage and flat ground vertical storage site, Trident Structures has "had a great success providing customers with quality products that work for years," he says.
As a senior project manager, Kynard handles everything – proposals; estimates; meeting with customers; working with design staff, subcontractors and customers – basically, "managing everything beginning to end." With that much responsibility, he says being a good listener is of prime importance.
Whatever the client's industry, Kynard says Trident Structures is there to listen to what the company wants to accomplish and then make it happen.