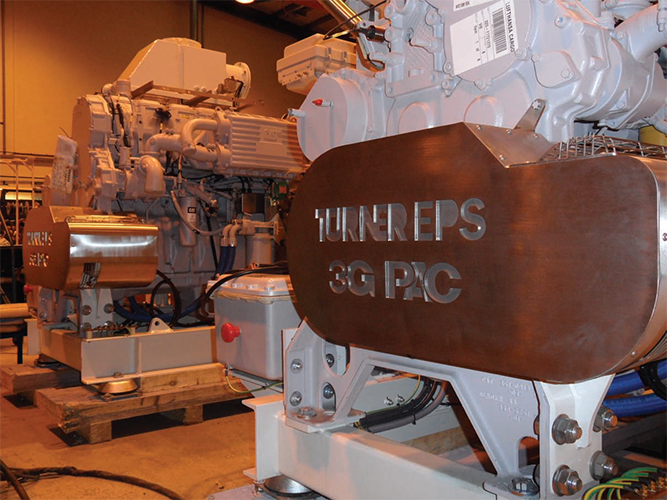 Together we're strong
Turner EPS was officially formed during 2009 by the merger of four sister companies into a single entity, providing world-class products and services to a wide range of industries within the global marketplace.
Today Turner EPS delivers its diverse portfolio of bespoke products and services through four divisions that service the power generation and support markets. The formation of Turner EPS reflects the wider Turner Group's corporate philosophy that 'together we are stronger' and allows Turner EPS to offer far reaching turnkey solutions.
The four operational divisions that make up Turner EPS include Turner Engine Powered Services, Turner Engine Powered Solutions, Turner Explosion Protection Systems and Turner Engine Control Solutions, and together the Turner EPS divisions represent one of Europe's largest single-source providers of maintenance and repair services, bespoke design as well as build solutions and control systems for power generation systems
Although all of the four divisions operate underneath the Turner EPS umbrella, each brings with it its own history and area of expertise. Specifically, Turner Engine Powered Services was formally known as Turner Diesel Limited and provides a comprehensive and diverse range of diesel engineering and support services from basic, pre-planned and response maintenance of standby or emergency generators and UPS systems to the installation, maintenance, overhaul and repair of prime power units in both on and offshore applications.
Alternatively, previously operating as Tisley and Lovett Ltd, Turner Engine Powered Solutions is recognised as a European market leader in the design and supply of bespoke special project engines and power generation systems for the offshore oil and gas industry, as well as the specialist industrial marine market. Commenting on the services that have made the solutions division a market leader, business development manager Gary Peacock says: "We have unrivalled and extensive experience in the design and build of continuously rated emergency standby generator sets, as well as fire pumps and generators for offshore applications. These are normally unmanned installations with extended internal service requirements and typical design and build packages range from 20 kilowatts to three megawatts."
Turner Explosion Protection Systems offers comprehensive conversions for category 2G and 3G equipment with its 2G PAC and 3G PAC diesel engine passive protected equipment packages to a range of industries. Within the offshore sector the explosion protection division provides 3G PAC engine packages that incorporate exhaust gas cooling, flame arrestors and ex rated electrical control and safety shutoff systems. These also incorporate diesel and gas pump and compressor drivers, including generating sets for a range of engine brands that are selected for their suitability and compatibility for hazardous environments.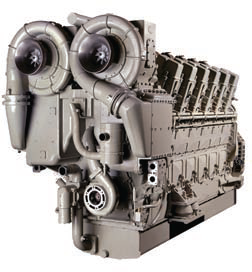 Turner Engine Control Solutions is the fourth division within Turner EPS and is based in the Netherlands with operations within the UK, Abu Dhabi and soon to be Saudi Arabia in the Middle East. It offers complete turnkey solutions for control and power management systems for electrical and mechanical governors, gas and steam turbines, compressor, engines and pumps for the offshore and petrochemical industries. It has many years of experience in the upgrade of all kinds of electrical and mechanical control systems that includes the design and fabrication of control panels and cabinets, which is all carried out in-house.
The management of the four divisions under one brand enables Turner EPS to deliver a broad range of turnkey products and services as Gary elaborates: "The power generation market is a very competitive environment and there is no question that some companies have found it difficult since 2008 to make a profit and manage their costs. However, Turner EPS has kept ahead of its competitors by continually investing in the business and diversifying the products and services that it can offer."
Furthermore Turner EPS enjoys the benefits that are provided through its membership of the wider Turner Group, which has a long history and great deal of experience on hand to support all of its ventures. "The Turner Group is a third generation family-managed group of companies," says Gary. "The background of the group is that it was originally founded in 1912 and since then it has grown organically as well as through acquisitions. It enjoys a turnover of around £270 million and a reputation for profit retention, which gives it a solid financial base from which to operate. There are 24 Turner companies at last count and although they are an incredibly diverse group of businesses, the focus is always to push for first-class service to all of its customers in every activity."
A huge benefit to both Turner EPS and its clients are the close relationships that it enjoys with some of the biggest suppliers and manufacturers throughout all of the markets in which it operates. Turner Engine Control Solutions for example, has a close relationship with Woodward and is able to provide bespoke retrofit and new build solutions to meet the diverse needs of its clients. "Turner Engine Solutions is one of only five global channel partners for Woodward and we have specific responsibility for the UK, Benelux and Middle East," Gary explains. "Our Woodward business is growing in the Middle East. We are opening another office in the region to deliver Woodward control solutions via our agent distribution network."
Additionally, Turner EPS also supplies Capstone microturbines as an alternative solution that compliments its extensive range of diesel engines. Capstone microturbines offer a vast range of benefits given that they can be powered using only minimal wellhead gas to provide continuous loads. Additionally, they are available in cost-effective stainless steel packages, suitable for operation in hazardous environments. The turbines also offer a number of energy cost-reducing benefits and are designed to be light, compact and quiet, operating at only 65 decibels at ten metres (C65 Model).
Capstone microturbines will be an important focus for Turner EPS during 2014 as the company sees them as a highly beneficial product that, within the UK certainly, have yet to be fully taken advantage of. As well as raising the profile of Capstone's impressive technology, Turner EPS will seek to expand its business in all markets although the Middle East is currently a very interesting and buoyant region.
The Turner Group recently celebrated its hundredth year in operation and commenting on the breadth of service on offer from Turner EPS and the wider group, Gary concludes: "We can think of no other comparable group operating within the same market sectors that embrace a greater diversity of service."
Turner EPS
Services: Power generating products and services