UMW Helmsion Engineering Pte Ltd
On a high
Having entered the market in a relatively small role, UMW Helmsion Engineering Pte Ltd has followed very much a step-by-step path to growth where, at every point, the company has strived to ensure that its services match its clients' demands.
As a result, UMW Helmsion Engineering Pte Ltd has built itself into a leading total provider of equipment and services for the mechanical handling and hoisting business.
Formed in 1993 as a small enterprise trading crane-related spare parts, customer demand meant that crane servicing quickly became a natural extension of the business. The growth this development generated meant that the then Helmsion Engineering found the need to establish its own engineering department to cater to these demands. By the mid 1990s, the company had also ventured into selling hoists through a relationship with German hoist manufacturer SWF Krantechnik, where Helmsion Engineering acted as exclusive regional distributor in Singapore.
It was at this time that Helmsion Engineering deepened its own engineering and technical expertise in-house through the sale of new cranes, and steel fabrication of lifting structures. Having started off supplying just industrial cranes the company widened its scope into cranes for all sectors, with particular emphasis on the shipyards, and oil and gas rig builders locally in the region. In testament to the success of the business, in 2007 United Motor Works (UMW, a public listed conglomerate in Malaysia) acquired a stake in the business in order to move it into the next phase of development with its new corporate name, UMW Helmsion Engineering Pte Ltd.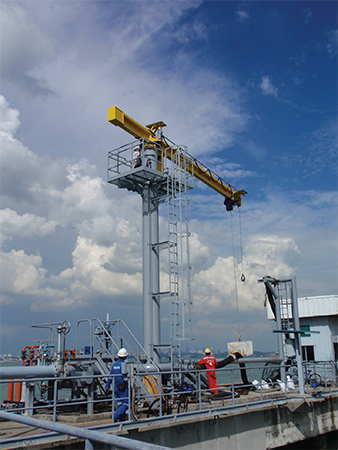 Today UMW Helmsion Engineering Pte Ltd is described as a lifting solutions provider, with capabilities in everything from design, procurement and fabrication, to modification, installation, and maintenance of cranes, hoists and other lifting equipments. This ranges from gantry, overhead and luffing cranes right through to Goliath cranes of up to 1200 tonne lifting capacity.
"We are not just a normal off-the-shelf hoist or crane supplier," notes Mr HL Kang, director of UMW Helmsion Engineering Pte Ltd. "We pride ourselves on providing lifting solutions, which means that we have to sit down with and understand the needs of the customers, both short and long-term. To this end we look at existing resources and the potential reach of each particular clients' requirements to create a solution that is individual to them."
Although based in Singapore, UMW Helmsion Engineering Pte Ltd is far more than just a local player having supplied equipment into numerous other global regions such as the US, Philippines, central Asia, Kazakhstan, Azerbaijan and Brazil. Looking at those markets where the company is currently active HL says: "Even withstanding the fact that Singapore is quite restricted in terms of space for large industry to be established, we have an order of 19 cranes from an engineering subsidiary of international conglomerate the Punj Lloyd Group. We have supplied the engineering subsidiary in Singapore that has ordered 19 cranes for the construction of a water treatment plant.
"Further afield, we are currently nearing the end of a major project to supply 36 cranes to a rig construction yard in Azerbaijan. This particular client is actually owned by the State Oil Company of the Azerbaijan Republic (SOCAR). We expect to see the cranes delivered to site in early 2013, and anticipate the potential for us to expand the services we offer when Phase 2 of the yard development begins."
Whilst much of the Western world was impacted as early as 2008 by the global recession, UMW Helmsion Engineering Pte Ltd found that it wasn't until 2010 that this had filtered through to its local economy. Despite this, the company was able to maintain growth at a minimal level through a combination of loyal customers and effective services. From 2011 the business redoubled its efforts as the market picked up and has been rewarded with contracts throughout 2012, with a number of others on the horizon for 2013
"With the development coming up in other countries in the region such as Indonesia, which has not grown very quickly over the last three to five years, we see a lot of infrastructure springing up. We believe that this will create an opportunity for us to supply cranes into these developments. Likewise, there are some other areas that have just started to open up for foreign investment, so these are markets where we will also be focusing our attention," describes HL.
UMW Helmsion Engineering Pte Ltd is also keenly pursuing opportunities created through its relationship with UMW, and the other subsidiaries that this partner holds. "We want to tap into this group network as we believe with our niche market offering we can continue to grow on the back of this. Longer-term I see the potential for UMW Helmsion Engineering Pte Ltd to expand beyond just our core crane-related activities, towards more of an engineering business model providing complete global material handling solutions," he concludes.
UMW Helmsion Engineering Pte Ltd
Services: Lifting solutions