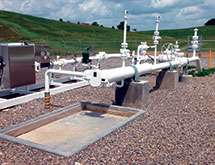 Bill Tomko and his wife, Martha, likely did not imagine just how much the plumbing business they founded in their Hazelwood, Penn., home in 1954 would grow. For their first 10 years in business, Bill Tomko and a small staff of plumbers worked tirelessly on every contract the company could secure while Martha performed and managed the administrative and bookkeeping side of the business.
By 1970, the company had grown enough to relocate twice and have a staff of 35 employees. At that time, the Tomkos' son, Bill Jr., joined the company, by then known as W.G. Tomko & Son. Under his guidance, W.G. Tomko & Son over the next four decades would greatly grow its capabilities beyond plumbing to include HVAC, site utility work, excavation, paving, concrete and sheet metal fabrication. The company serves as a specialty contractor to general contracting and construction management firms on projects in a variety of sectors including oil and gas, healthcare and commercial construction.
Growth remains a major focus for the company, now known as W.G. Tomko Inc., and in its third generation of family leadership. The company in 2014 celebrated its 60th anniversary. "I'm proud that we've remained a strictly family owned organization and that we treat the people we work with and who work with us accordingly," says Bill Tomko Jr., today the chairman of the company's board of directors. "We've gone from being a one-truck shop to having hundreds of employees, but it didn't happen overnight – it took 60 years to get where we are now."
The company now operates from a 107,000-square-foot facility in Finleyville, Penn., a suburb of Pittsburgh. Tomko's son, Bill Tomko III, serves as the company's CEO and president. Company co-founder Martha Tomko, now 84, is also still involved.
A Well-Rounded Operation
The oil and gas industry has become one of the company's largest growth areas in recent years. The sector accounts for roughly 20 percent of W.G. Tomko Inc.'s total business, a figure Bill Tomko Jr. expects will increase within the next few years because of exploration activity in the Marcellus Shale.
W.G. Tomko Inc.'s oil and gas industry work includes fabricating and installing pipe for pipelines and fabricating sheet metal for compressor and meter stations.
The company performs in-house design and engineering work on all of its projects. It employs 14 people in its computer-aided design department, and also uses building information modeling technology to generate three- and four-dimensional drawings.
W.G. Tomko Inc. recently enhanced its productivity and the quality of the pipes it fabricates by adding semi-automated welding and cutting machines to its production facility. The facility also utilizes a number of specialized welding processes including shielded metal arc, gas metal arc, gas tungsten arc and flux core arc weld processes. The company uses large pipe positioners that allow it to weld pipe sizes up to 48 inches in diameter and 42 feet long.
Entering the oil and gas market required the company to attain special qualifications. "You can't just go in and start doing this sort of work," Tomko says. "We spent two years developing procedures to get into this field."
The company is a member of the National Certified Pipe Welding Bureau, which allows it to develop the procedures required for oil and gas and other specialized work. W.G. Tomko Inc.'s welders are ASME, API1104 and American Welding Society certified. The company maintains those certifications by working with third-party inspectors and performing radiography, ultrasonic, liquid penetrant, magnetic particle, visual and positive material identification testing.
W.G. Tomko Inc. also operates a fleet of 20 trucks to ensure on-time delivery to its oil and gas and other clients. "I would say that our well-roundedness really sets us apart," Tomko says. "We have our own equipment and a very up-to-date facility, and in order to continue to keep up with our competitors, we're planning to add 40,000 square feet to our facility to handle demands we expect over the next 10 years."