Exploration and beyond
'Exploration and Beyond…' is a tagline that captures perfectly the vast operational expertise possessed by WGP Group (WGP) – a marine geophysical services company, whose bespoke project management capabilities and knowledge of geophysics have made it a reputable partner throughout the global upstream oil and gas industry. Having operated in the market for 25 years, WGP is a proven leader in the exploration sector, boasting a significant role in a number of key discoveries of new hydrocarbon reserves. Further to this, the company has developed production related technologies as a speciality, providing contemporary services to the industry to increase the value and output of active reservoirs.
Driven by modern technology and supporting new methods, WGP has been actively involved in a large number of seismic projects, thus keeping its position at the forefront of the industry. WGP's mission is to deliver bespoke operational solutions, the demand for which is anticipated to grow immensely in the future as exploration continues to move into ever more challenging frontiers.
WGP's strength lies in its core of vast technical knowledge and operational experience coupled with an in-depth comprehension and adherence to the requirements of the industry. This has helped the company to establish itself as a reliable business partner and has resulted in the successful transformation of its clients' ideas into safe and achievable operations.
2018 proved to be an eventful year for WGP. In July, it was awarded the permanent reservoir monitoring acquisition contract for Johan Svedrup Field. The Equinor-operated field, which is one of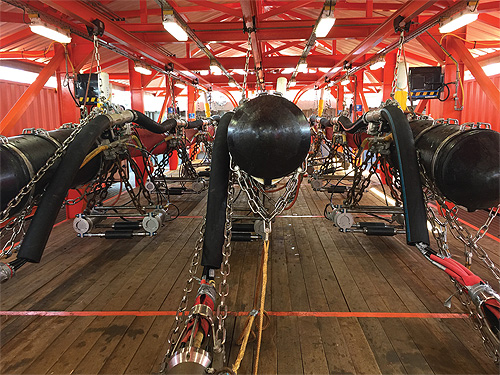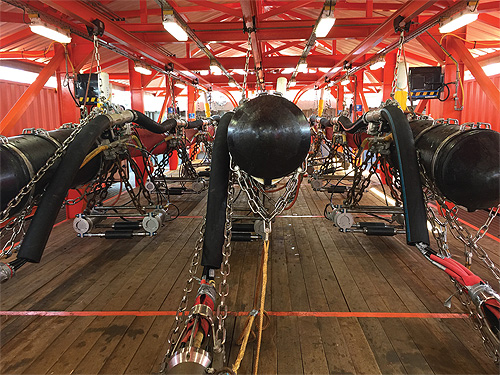 the five largest oil fields on the Norwegian continental shelf, will make use of a new containerised seismic source system that is being designed, built, and commissioned by WGP. The system in question can be configured for dualor triple-source operations and features swift mobilisation and demobilisation to accommodate the variable demands in timing and scope of developing oilfields.
The Sverdrup system is the sixth generation of portable source designed and built by WGP. Per Christian Grytnes, CEO of Magseis Fairfield, understands the value WGP brought to its recent acquisition of Fairfield Seismic Technologies. "With more than 15 years of experience, WGP is known for operational excellence and project execution around PRM (permanent reservoir management). Their technology will be crucial to our ability to help our customers realize the full potential of their reservoirs."
WGP's CTO, Terry Hibben also expressed his satisfaction with the commencement of the contract, saying: "We are very pleased to be part of Equinor's commitment to PRM as a means to manage and improve overall recovery from Johan Svedrup. The contract demonstrates full confidence in the technique and the responsible attitude Equinor maintains in operating their assets."
The contract award for Johan Svedrup Field came on the back of the ongoing work WGP is delivering to ConocoPhillips for the latter's Ekofisk project. WGP was selected for that project to develop a PRM system, once again highlighting WGP's heightened interest and involvement in the field of PRM. Further evidence of this was WGP's presence at the first-ever EAGE (European Association of Geoscientists and Engineers) PRM Workshop held in March 2017 in Amsterdam. The workshop highlighted the benefits of PRM on existing fields. The event also provided insights into exciting potential future developments to help reduce the costs and exposure in PRM acquisition, thus broadening the global appeal of this type of acquisition.
WGP's participation in the Eldfisk project also led to a prestigious recognition from ConocoPhillips in the spring of 2018. The world's largest independent E&P company, honoured ten of its suppliers as part of its 2017 Supplier Recognition Award Programme for exhibiting exceptional leadership that celebrates ConocoPhillips' SPIRIT values. WGP, alongside Magseis Operations, won in the 'Doing Business Better' category, courtesy of its contribution to the 2017 Eldfisk seismic campaign.
Mr Hibben commented that WGP's 'One Team' ethos was to be praised for ensuring the close working relationships between the client and other contractors in the efficient delivery of a safe, and high-quality project. Tom Scoulios, Magseis Fairfield's Western Hemisphere COO, added that 'WGP's background of innovation and leadership in high-quality source systems coupled with their ability to provide technical solutions to a wide variety of difficult problems, makes them a natural addition to the Magseis Fairfield group. Going forwards, the aim is to expand WGP's capabilities into new areas of operations and to continue to leverage improved geophysical technologies to provide bespoke solutions.'
In late 2018, the Norwegian geophysical company, Magseis, announced its intention to acquire Fairfield Seismic Technologies, including WGP. The deal closed in December 2019 and Magseis Fairfield ASA was formed. Magseis Fairfield now operates with the industry's largest marine nodal inventory, a combination of the industry's two leading technology platforms, which will allow Magseis Fairfield to capitalise on exciting growth opportunities in the marine seismic industry.
Whilst there is no doubt that becoming part of Magseis Fairfield ushers in a new era for WGP in terms of opportunities for synergy and growth, the company will stick to the basic principles that have steered it to the dominant position it occupies at present. Adhering to its 'One Team' approach that emphasises narrow collaboration between team members and working as one tight unit.
WGP enters this new exciting era with a wide portfolio of offerings to the market including:
Building and operating portable single, dual and triple modular Source systems
Applications of P-Cable technique offering high resolution bespoke 3D and 4D seismic solutions
The ability to field a cost-effective, smallscale node crew where larger crews are not economically viable
WGP will also continue to seek out new disruptive technologies – a commitment that reflects its desire for continuous improvement. What is more, the business is determined to maintain a line of clearly defined processes, so that it can run efficiently and serve its clients in the most optimal way possible.
Last but not least, recognising its responsibility to the community within whose boundaries it operates, WGP will strive to fulfil its CSR obligations, in order to retain and foster the positive relationships it has built with various stakeholders in the years to come.
WGP Group
Services: Project management and geophysical services