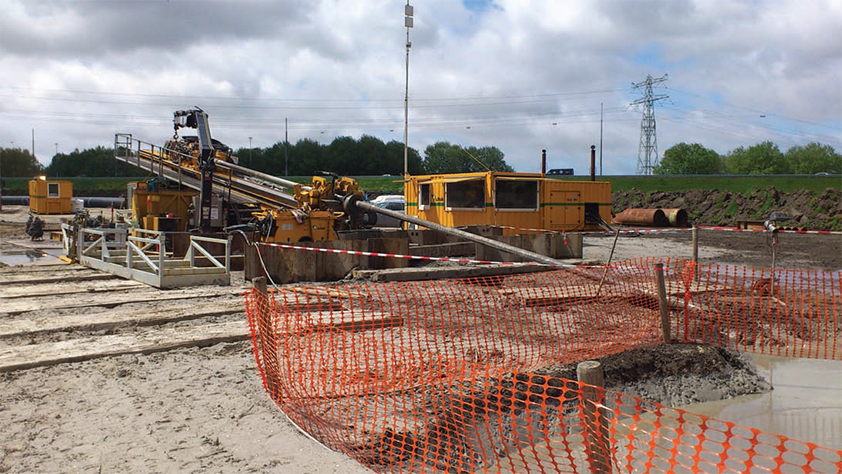 A family company
A.Hak Drillcon BV is a specialist in horizontal directional drilling (HDD) crossings, direct pipe drilling methods, micro tunnelling, and auger drilling. Typical applications for A.Hak Drillcon's services include pipelines for gas transmission, kerosene and oil transportation, fresh and wastewater, telecommunications connections, heat transport systems, landfalls, culverts, inverted siphons, drainage systems, and low-, middle- and high-tension connections.
The company is focused on providing a full service to its clients, which means as well as maintaining its own engineering department, A.Hak Drillcon also operates its own fleet of in-use designed rigs. These vary in terms of size and application, from the three-tonne HDD mini drill rig up to the 500 tonne HDD mega drill rig, allowing A.Hak Drillcon to execute a wide scope of projects whether large or small.
Ronald van Krieken, managing director of A.Hak Drillcon, highlighted that the 500 tonne rig mentioned above is a very new investment, which was only delivered at the end of June 2013: "This is our newest HDD rig end and it is one of the largest rigs in the world," he said. "In addition last year we made an acquisition and invested in five other new rigs, this time of 400 tonne pull back force."
He continued: "It is one of our unique selling points that we have a lot of HDD rigs, and thanks to our history in this industry we also have a team of very experienced and skilled people to operate them. Many of our employees have over 15 years experience in HDD and this gives us a big advantage, especially on contracts for difficult and large crossings. So for example, we worked on a job in Columbia a few months ago, where we created a very large crossing of 1500 metres for a 42-inch gas pipe in very difficult soil conditions, on budget and on time. After finishing that job our client give us several other jobs to do in Columbia, and in fact we still are drilling over there now."
This sort of large project is where A.Hak Drillcon can really shine and in May 2013 it started another significant project, this time working with A.Hak Leidingbouw, building a 60-kilometre high-pressure transport pipeline. Said Ronald: "This is in the north west part of Holland, close to the city of Amsterdam so comes with a lot of infrastructure challenges. We have to make 12 HDD crossings with drilling lengths of about 800 metres to 1250 metres. The first crossing on that project has been completed, and that was the largest one, of 1250 metres from Amsterdam harbour to the North Sea."
Ronald was also keen to highlight a very special design and construct project for A.Hak Drillcon, which is called the Shore Approach, also located in the north west of Holland. "This is a unique contract so we are responsible for the engineering and the supply of the pipe, as well as the drilling," he explained. "We will drill a PE plastic pipe of 42 inches with a length of 1000 metres into the sea. This incorporates new environmental challenges as we are drilling from the beach and so we have to take into account all local activities – from people to animals."
This required some creative thinking and as Ronald explained, A.Hak Drillcon came up with an original concept: "Normally we would have several trucks transporting pipe over the beach and then we would need to weld the pipeline into one straight one km length on the beach as well. Instead we negotiated with the supplier of the pipeline to make it in one piece of 1000 metres and it's coming on a boat from Norway directly to our jobsite."
From looking at all these new contracts, it is clearly an exciting time for A.Hak Drillcon, but nevertheless the company is always looking for new opportunities. Ronald agreed, and highlighted that the business had very recently set up a drilling company in Nigeria, together with a local company that is specialised in pipeline work. "We will have our own yard and rigs very shortly in the south of Nigeria and we will be drilling a lot of oil and gas pipelines over there."
He continued: "There is a lot of work in Nigeria, for pipelines and river crossings, so for example, Shell is considering using HDD methods for all its installations instead of normal dredging, because there have been issues in the country with pipelines being damaged when people steal oil. When we use HDD we are at a depth of at least 15 metres so nobody can come into contact with the pipeline." A.Hak Drillcon will be using this new division to gain more contracts in Nigeria in the future, as well as in the wider West African region.
"This will be one of our key areas, alongside Europe and South America," added Ronald. "Europe is where we are based so is of course very important to us, and we are always enhancing our presence across the region – so for example we exhibited at the No-Dig exhibition in Germany, and we are already working on a very exciting 1000 metre crossing in France, which for us is a real breakthrough to the French market."
Ronald previously mentioned working with Shell, and he noted that A.Hak Drillcon is very keen to work in close partnership with clients. In fact, the company and Shell are now working together on a new drilling technique, which will make it possible to do longer drillings in the future.
"Shell had already undertaken some research and now we have a joint venture," he said. "We will work together over the next two to three years and hopefully create a drilling technique that should make it possible to do longer crossings than are possible at the moment. This will mean we can achieve a drilling length over 3000 metres."
Since last appearing in European Oil and Gas A.Hak Drillcon has gone from strength to strength, always supported by its parent company, the A. Hak Park Group. As Ronald concluded, this backing has contributed to its impressive development: "A.Hak is a family company and this makes it much easier to invest in people and equipment," he said. "After a simple phone call or meeting with the owner of the company, we can move quickly with our decisions and that has really helped in our success."
A.Hak Drillcon BV
Services: Specialist in trenchless technologies