Reaching new heights
Working on the deck of a ship can be a dangerous and hazardous environment at the best of times.
But in the hostile environments of the seven seas, maintaining high health and safety standards becomes even more of a challenge. The lives of personnel or passengers can be easily endangered if the equipment used is faulty or not operational in these crucial situations. Helping to overcome this challenge, ACTA provides an extensive range of cranes, life saving equipment, such as davits, and deck equipment, which all perform to a high standard when required.
Established in 1954, the company's role is to be a key partner to ship owners, consultants and shipyards, helping them to increase the profitability of their ship, offshore platform or industrial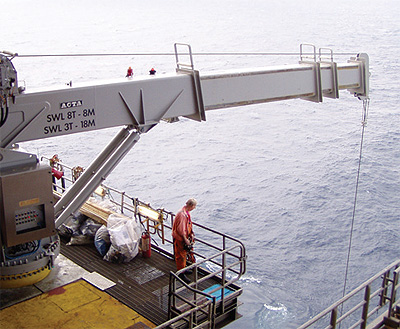 application. In the early days, ACTA produced a wide range of products, which could be used on the deck of a ship, however, today, the business has specialised its services to include three specific solutions. As a result, the depth of its knowledge in these three key areas is second to none.
Thoke Flamgaard, managing director for the company comments: "About three years ago we started to look at new ways to expand the business and we quickly realised that companies nowadays are not only looking for a high quality product, but they also want excellent after-sales services. Therefore, we set about improving our service offering. Our concentration on just three product areas enables us to offer a wide array of specialised knowledge. Today, we can fulfil all our customers' requirements with regards to maintaining equipment both quickly and efficiently."
For ACTA, the start of any project, which uses its equipment, is also the start of a long-term relationship with the business. This relationship starts with the very first idea of building a ship, offshore platform or industrial application, and lasts until the equipment is worn out and needs to be replaced. This time period can last over 30 years and from start to end, ACTA is dedicated to providing the best customer services available.
Thoke continues: "There are many benefits to building strong relationships with our clients. Firstly, it means we are able to tailor our products to meet their exact needs, as we understand what kind of solutions they are looking for. Secondly, by working closely with ACTA, our customers learn to trust us and know that we will deliver a high quality product every time. Lastly, by being in direct contact with ship owners and builders, we remain at the front of peoples minds when they have any deck equipment enquiry."
To complement the company's after-sales services further, ACTA has also developed a philosophy of 'the art of being local, globally'. Through this philosophy, the business is focused on providing a
high quality customer service on a global basis. This is done through a partner network, which sees ACTA represented in more than 35 countries around the world. By providing this local point of contact the company has the ability to be at the customers' site within eight to ten hours when problems occur.
In addition to this network, the organisation's main manufacturing base is located in Denmark. Here, the business uses the best materials available, a thorough equipment testing process and a highly knowledgeable workforce to ensure it produces the highest quality products. Furthermore, ACTA has two other production facilities, one in China and one in Poland, and has plans in place to start up two more production facilities over the next one-to-two years.
Over the past 50 years, ACTA has delivered thousands of cranes to customers around the world. Through this experience, the company has worked on a number of different applications, and therefore has the ability to tailor its products to any customer requirement. Looking at the oil and gas sector, Thoke comments: "Until this century we have not been that involved in the offshore industry, however over the last few years we have expanded into the FPSO market. We have developed a number of cranes for use on projects, including conversions of old oil tankers into FPSOs, and on new FPSOs builds. We believe there are a significant amount of growth opportunities in this market and we hope to expand into it further in the future."
He continues: "Before entering the offshore industry we were, and still are, primarily involved in producing cranes for the development of offshore windmill farms. In order for us to move across to a new market we had to look at the size, weight and capacity of our cranes to ensure they were suitable. In addition, one challenge we are facing at the moment, with regards to weight, is rising steel prices. Therefore, we are now looking at new designs to see how we can minimise the weight of our products so we do not have to increase our prices."
Looking to the future, Thoke concludes: "Over the next few years we want to increase our presence in both the offshore sector and in the offshore windmill market. However, this will be controlled growth, as we do not want to lose touch with our customers. In order to achieve this, we will continue to improve our after-sales services to ensure that we can support our customers wherever they are in the world."
Acta AS
Products: Cranes, deck and life saving equipment