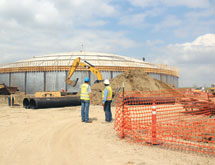 Advanced Engineering and Environmental Services Inc.
Great opportunities can often bring great challenges. For many of the communities surrounding the Bakken Shale, the growth of the local oil and gas exploration industry presents many economic advantages as well as strains on local infrastructure and resources.
One result of the population growth in the region is an increase in new housing, needed for the many oil and gas personnel working the shale. With these new homes comes a need for basic utilities and services, not the least of which is a clean and reliable water supply.
Advanced Engineering and Environmental Services Inc. (AE2S) specializes in meeting the challenge of helping municipalities provide potable water, wastewater and stormwater management for its residents and businesses. Water consulting makes up the vast majority of revenues for the civil and environmental engineering company, which has headquarters in Grand Forks, N.D., and offices in Williston, Bismarck, Dickinson, Fargo, Minot and Watford City, N.D.
"Most of our clients are municipalities that are being directly impacted by the influx of people brought here by the Bakken play," says Russ Sorenson, the company's regional manager for western North Dakota. "Water is a very big issue for them."
AE2S's main services include master planning, capital improvement planning, designing, bidding and construction administration. The company also provides support services including surveying, mapping, geographic information systems, general civil engineering, information technology and financial consulting. "We encompass a lot of functions that civil engineers don't typically do," Sorenson says.
The company regularly works with city officials as well as legislators on water-related issues. "We interact with everyone from water plant operators to mayors and up to the government offices helping leaders on multiple levels understand what the impacts of oil and gas activity are and helping them get a handle on it," he adds.
A New Supply
AE2S is taking a leading role in one project that will serve the needs of several Bakken-area communities as well as the oil and gas industry. The company serves as a consultant on the Western Area Water Supply Project, an effort to supply drinking and other water to a projected future population of 75,000 people in parts of five western North Dakota counties.
The massive project, funded in part through $110 million in loans approved by the state legislature, includes building treatment facilities and water lines which will be overseen by the newly-established Western Area Water Supply Authority.
"Regional aquifers in the western area of the state of North Dakota cannot handle the amounts of water needed to supply the oil industry and the growth in the region," the authority explains. "In addition, some systems in the region are faced with poor water quality and insufficient quantity."
In addition to supplying water for residents' basic needs, the authority will sell surplus water to oil and gas companies for fracking purposes. Sales to oil and other industrial users will help repay loans from the state. Water sold through the project will supplement private sources such as ground wells.
AE2S expects continued growth as the oil and gas industries expand their work in the Bakken. The company has increased its staff from 93 in 2009 to 187 full and part-time employees in the last three years. "The exponential growth effect we've encountered here will continue to be around for a while," Sorenson says. "I expect a long, sustained growth period until they get a handle on how much of the speculated population potential here is real." EMI