Disruptive innovation
It will not be an exaggeration if we say that Airborne Oil & Gas has stormed through the oil and gas industry with its highly innovative thermoplastic composite pipe technology, which is gathering speed and popularity among some of the biggest names in the market. The company was founded in October 2007 and was originally a business unit under the wider Airborne group before it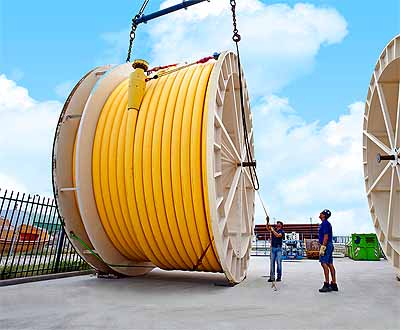 became a fully independent organisation in 2014. Energy, Oil & Gas spoke with Martin van Onna who started the business and is now the Chief Commercial Officer of Airborne Oil & Gas, to find out more about the successful exploits of the company, as well as the thermoplastic composite pipe concept itself that is shaping up as a veritable disruptive market force.
"As the name suggests, the pipe consists of a thermoplastic inner liner; a fibre laminate consisting of either glass or carbon fibre, which is impregnated with the same plastic as the liner; and a protective outer coating. All layers, including the outer coating, are melt-fused together ensuring a bond between them that results in a very strong and light pipe, which can be used in deepwater and ultra-deepwater," Martinexplains. "Because it is plastic, the pipe does not corrode and is also quite flexible. We can spool the pipe onto big drums and it can be manufactured in lengths of over 3000 metres per spool. This enables its effective transportation and easy installation, thus reducing both installation and maintenance costs."
Airborne Oil & Gas has adopted a 'fit-forpurpose' design approach when it comes to choosing the materials needed to build a pipe. "Depending on the application, we always select the most cost-effective material combination. Like I mentioned earlier, we work with both glass and carbon fibres, and, as you can imagine, carbon is more expensive. We also work with three different polymers – polyethylene, which is extremely cost-effective, but also PVDF and nylon (PA12). As it stands today, the glass fibre-polyethylene combination is proving especially popular with clients. When it comes to the higher end of the market, however, we mainly employ the combination of carbon fibre and PA12 or PVDF," Martin discusses.
"We developed and proved the thermoplastic composite pipe technology during a major joint industry programme in 2009, which included global playerslike Petrobras, Shell, Total, Chevron, and others. We were the first to demonstrate that the product has a very big potential in deepwater riser applications," he recounts. "Following our establishment as a single company, we took the initiative to have a standard written, because it was a new technology and it was difficult for operators to use without it being qualified. We engaged DNV – a Norwegian certification body, and, together with some competitors and operators, had the technology qualified."
Only a year later, Airborne Oil & Gas won a contract from Chevron to install the world's first thermoplastic composite pipeon a permanent installation in the North Sea, and late in 2017, it supplied a flowline to Petronas, who installed the first ever composite pipe in a hydrocarbon flowline in the South China Sea. "We were also recently awarded a project where we are supplying a high-pressure thermoplastic composite pipe well jumper in the Gulf of Mexico. It will be installed at a more than 2000 metres depth and is likely to be the first composite pipe in the region, which means that our client has convinced the US regulators that our product meets all technical requirements. Given that we are working for one of the biggest operators on one of its flagship projects, I am led to believe that our technology is really breaking into the market and becoming very successful," Martin enthuses.
Continuous development
Airborne Oil & Gas has been co-operating with one of the largest trading companies worldwide – Sumitomo Corporation, since 2016, and earlier this year, the thermoplastic composite pipe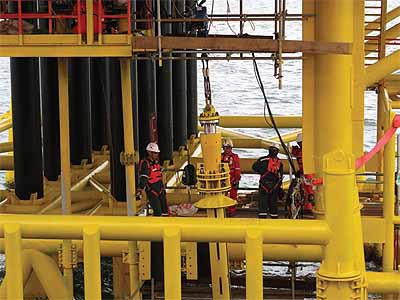 manufacturer announced that Sumitomo had placed a significant investment in the business, aiming to support the development of the technology and its popularisation globally. Martin comments on the partnership: "Sumitomo believes that our thermoplastic composite pipes can play an important role in subsea architecture projects, because, while steel flexible pipes will remain an attractive option, the thermoplastic composite ones are seen as a viable alternative that might replace some flexible pipe products. Therefore, Sumitomo is interested in working with us, in order for it to expand its own portfolio and be able to offer a total package solution to its clients.
"The corporation has a very strong and reputable project organisation, which we are now able to take advantage of. When you develop a new technology, the first thing you need to do, is focus hard on getting qualified to find new clients. We have already taken this step, so it is time for us to start looking at winning new business everywhere we can, and partnering Sumitomo should help us secure new contracts," he reasons.
The commercial rollout of its thermoplastic composite pipes has moved to the top of the agenda for Airborne Oil& Gas, as the company is beginning to reap the fruits of the long years of product development and test works. "We are seeing the early success of our technology, particularly in the brownfield area in the oilfield industry," Martin comments. "At the same time, we continue to develop and qualify our riser solution that we expect to add to our portfolio within the next two years. We aim to complete our product offering to include jumpers, flowlines, and risers in all temperature and pressure classes."
Martin is also confident that the oil and gas industry has learned its lessons from the economic downturn the sector experienced a while ago. "Before the downturn, costeffectiveness was being disregarded. It was a difficult time for us, because new technology was being conceived as a risk and the operators were unwilling to try it. However, when the decline happened, many businesses realised that it is technology that can bring costs down and make offshore and subsea oil production competitive in the years to come. It is a trend that is strengthening now, because a lot of operators fear that if oil prices go up, costs will rise. Since our products offer reduction of installation and maintenance costs, we feel the market conditions are very favourable to us, at the moment," he concludes.
Airborne Oil & Gas
Products: Thermoplastic composite pipes