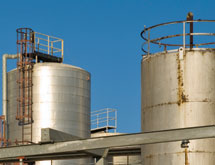 ALCO Gas & Oil Production Equipment Ltd.
In the oil and gas sector, the ability of an equipment manufacturer to deliver as much of the total package as possible is a plus for operators. That's a large part of the reason why ALCO Gas & Oil Production Equipment Ltd. has been in business so long. For more than 40 years, the company has produced packaged equipment for use in gas processing plants and petrochemical systems around the world. According to the company, its ability to serve customers with complete solutions for their facilities has been the foundation of its success.
"ALCO Gas & Oil Production Equipment Ltd. designs and manufactures oil and gas processing equipment for both the Canadian and international marketplace," the company explains. "[Our] product lines cover surface production equipment from wellhead to pump line. [We] specialize in packaged equipment, ranging from single-skid units to interconnected multiple-skid modules for larger gas-processing plants and petrochemical systems."
Since the company's inception in 1972, ALCO Gas & Oil Production Equipment has designed and fabricated more than 6,000 production and process packages for its customers in the oil and gas production sector. As the Edmonton-based company moves into its fifth decade of operation, it continues to adhere to the principles of hard work and dedication that have carried it to its current level of success.
Full Capabilities
No manufacturer can be successful without the proper space in which to work, and ALCO Gas & Oil Production Equipment boasts a production facility with myriad capabilities. Located on seven acres in Edmonton, ALCO Gas & Oil's total plant area measures approximately 45,500 square feet, with an additional 8,000 square feet of warehouse space.
Within that space, the company's facility includes a 50-foot-high assembly bay that features two overhead bridge cranes capable of lifting up to 15 or 20 tons and a clear hoist hook that is capable of extending 100 feet outside of the building. The company's fabrication bay has an overhead clearance of 30 feet, and features equipment such as an 80-ton press brake, a 50-ton punch press, plate rolls, band saws, friction saws, flame cutters, welding equipment and power turning rolls.
The company's extensive roster of equipment and its expansive space allow ALCO Gas & Oil to provide a variety of services beyond pure manufacturing. Among the in-house services ALCO Gas & Oil says it is equipped to provide for customers are hydraulic testing, compressor and engine test runs, instrumentation pre-commissioning, airless painting, sandblasting, insulation, electrical installation and thermal stress relieving.
In addition to these services, ALCO Gas & Oil also features an in-house quality assurance/quality control program that ensures every piece of equipment it manufactures is made to the highest possible standards. Among the processes that make up the company's program are gamma ray radiography, ultrasonic inspections, hardness testing and CSA-certified welding inspection.
Wide Selection
It is through the company's manufacturing capabilities and quality-control systems that ALCO Gas & Oil is able to produce a wide selection of equipment for the oil and gas sector. The company says its product line encompasses a variety of functions related to the processing of oil, natural gas and water.
For example, the company designs and produces systems commonly used to separate solids from liquids, gas from liquids or liquids of different weights. "ALCO Gas & Oil offers a complete range of custom-designed separation packages for use in the production of oil and natural gas," the company explains. "We have designed and built these packages in a wide range of sizes for all operating conditions."
ALCO Gas & Oil says its custom-designed heater units are known for their high-efficiency designs, and can generate between 100,000 and 15 million BTUs per hour. The company says its products in this area include indirect-fired and direct-fired heaters as well as specially designed heaters for use in the regeneration of glycols and sweetening chemicals. It adds that it can add features such as stainless steel liners, fuel gas scrubbers or pilot gas driers to extend and maximize firetube life on this equipment.
The company says its experience in developing and building dehydration units make its units the ideal choice for customers seeking solutions for removing water vapor from a natural gas stream. With more than 2,000 dehydration units already in operation in the field, ALCO Gas & Oil says it knows what it is doing: "ALCO Gas & Oil has established a worldwide leadership role in the engineering, design and fabrication of dehydration systems and many other products designed specifically for the energy industry."
Dehydration units built by ALCO Gas & Oil range in size from 100,000 standard cubic feet per day to more than 120 million standard cubic feet per day, according to the company, and they have been engineered to operate effectively in practically any environment. "They have been installed all over the world, from the Arctic Circle to the tropics, and from an offshore to a desert environment," the company says.
Fully Customized
ALCO Gas & Oil also has the capability to build custom units. "Specifications are computer-analyzed and many variations and combinations of equipment are examined," the company says. "All systems check capital investment, operating costs and efficiency to provide the optimum package for [customers'] specific requirements."
Another area of expertise for ALCO Gas & Oil is the design and manufacture of glycol regeneration units used to regenerate glycol injected into chilled gas streams. "The units range in size to meet customer requirements utilizing systems of heat exchangers and direct-fired fireboxes, hot oil or steam bundles," the company says.
ALCO Gas & Oil also has designed and fabricated more than 200 plants for the purpose of removing liquefied petroleum gas. "Liquefied petroleum gas in your gas stream can be a nuisance if the hydrocarbon dew point is slightly over specification, or a significant source of revenue if the gas is rich in heavier hydrocarbons," the company explains. "ALCO Gas & Oil has over 25 years of experience in the engineering, design and fabrication of plants designed to remove these hydrocarbons."
The company also points to its experience in building plants designed to sweeten natural gas by removing hydrogen sulfide through the use of amines. "We can custom-design a plant utilizing the amine that best suits [customers'] process conditions," the company says. "There are more than 100 plants designed and fabricated by ALCO Gas & Oil Production Equipment Ltd. in service at this time."
Beyond Products
However, ALCO Gas & Oil's services go beyond the manufacture of such equipment. The company says it complements its products with other services aimed at helping the oil and gas industry.
For example, "ALCO has available a wide range of pipes, valves, fittings, filter cartridges and instrumentation to supply [customers'] spare parts requirements," the company says. "We can also manufacture replacement components, such as firetubes and firetube gaskets for [their] existing equipment."
Custom fabrication is another specialty area in which ALCO Gas & Oil brings added values to its customers. "ALCO offers custom fabrication of code and non-code vessels and tanks," the company says. "We also are able to provide pre-fabricated spooling from carbon steel, stainless steel and alloys."
In the field, ALCO Gas & Oil provides services aimed at helping customers get their plants up and running and keeping them running in the event of trouble. "ALCO offers complete turnkey field installation of our packaged equipment," the company says. "Our skid-mounted module packaging concept allows for considerable savings in field construction time, and less exposure to unfavorable weather conditions.
"Technical support is often required for re-erection, commissioning, start-up or troubleshooting of production equipment," ALCO adds. "Our fully qualified service personnel are used extensively by our many satisfied customers, and their assistance has frequently been requested for equipment supplied by others." EMI