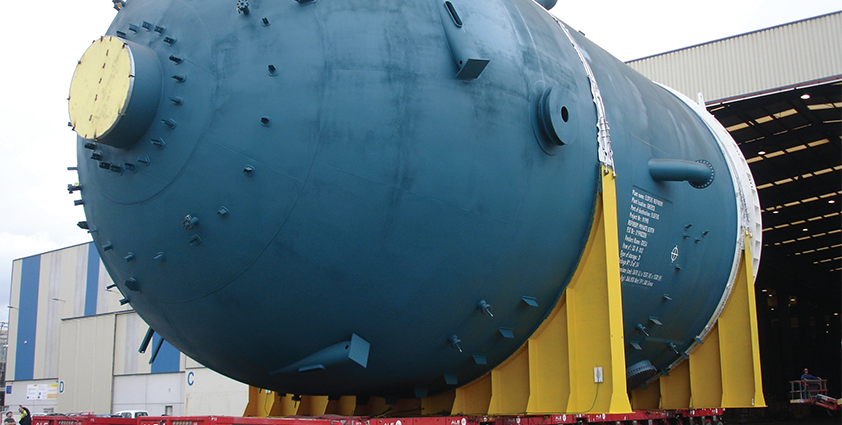 Raising standards
With a presence in all the major oil and gas centres in the world, leading heavy lift and transport specialist ALE is renowned the world over for delivering a highly tailored, end-to-end service to the industry.
Offering a global network of operating centres and a large fleet of heavy cranes, specialist transport and installation equipment, the company has a reputation for both engineering intelligence and market-leading innovations.
With engineering principles at its core, ALE has extensive capabilities for the lifting and positioning of reactors, convectors, furnaces and other elements during revamps and shutdowns, and manoeuvring them with precision often within restricted spaces and timeframes. In addition to trailers and gantry lift systems, its fleet of heavy cranes has enabled it to engineer schemes such as lifting from 'off the plot' that were previously impossible.
ALE's success can be largely attributed to both the expertise of its personnel and its strong portfolio of equipment, most notably the technologies its R&D team has developed in-house. One such innovation is the AL.SK190, undisputed as the world's largest land-based crane, capable of lifting and installing ultra-heavy loads up to 4300te.
But it's not just for lifting record-breaking loads, as ALE executive director Michael Birch explains: "The AL.SK190 has a high outreach capacity, which means it can lift, move and install multiple pieces from a single location, avoiding the expense and time associated with de-rigging, re-rigging and re-locating."
It also incorporates a 600te 'quick winch' system, explains Michael, which allows loads of varying weights to be lifted by the same crane: "The AL.SK190 operates with two hook blocks. The main block is used for ultra-heavy loads up to 4300te, whilst the auxiliary block can be used as a 'quick winch' for installing loads of up to 600te over 160m radius. This capability makes it incredibly cost effective for projects across the offshore, petrochemical and power markets, where multiple items of varying loads need to be lifted and relocated from one position."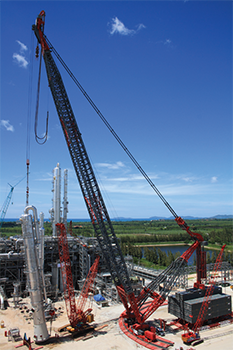 On the back of the success of the AL.SK190 crane, ALE has invested in a second machine in this model. "Aside from some very minor modifications, this new crane is an identical unit to the first AL.SK190 crane," explains Michael. "At present we are well into the construction and assembly phase of the system and are looking to begin the testing process in summer this year. This second crane is a significant investment and is representative of the success of the AL.SK190 concept, and the high demand from clients for this product."
Over the last year ALE has integrated John Gibson Projects (JGP), a weighing and ballasting specialist acquired in 2007, into its new global brand, re-launching it as ALE – Offshore Services. The unparalleled experience provided by Offshore Services has meant ALE is the world's leading contractor for the load-out of platforms and jackets for offshore fabrication. As technical advances in offshore lifting capabilities have made the fabrication of topsides weighing in excess of 30,000te possible, ALE has responded by developing systems to safely load-out such structures using self-propelled modular transporters.
Certainly this enhanced scope has been beneficial in the construction of ALE's new large jacking system – the Mega Jack. "The Mega Jack system is designed for lifting heavy structures, with some of the primary motivations behind its development being the lifting of offshore topsides for the installation of load-out support frames, and for lifting semi-submersible decks to install caissons. The basic Mega Jack design has a 50,000te lifting capacity up to heights of 50 metres, but this weight capacity can be increased further by the addition of further jacking units, as clients look to utilise its ability to lift much heavier structures than ever before," notes Michael.
With worldwide operating centres in Europe, the US, South America, Africa, East Asia, and the Middle East, ALE is considered a truly global company. Having this global spread also provides the business with a stable position in the face of any peaks and troughs in specific areas or markets. Recently ALE secured a contract to load out 56 caissons weighing up to 3800te for the LNG jetty at the Gorgon project in Australia. This prominent project will provide the business with an ideal base upon which to further expand its operations within the region. ALE has also invested in its company structure with the formation of a new division dedicated to marine engineering services. Towards the end of 2010 the business added a world record hydraulic skidding load-out to its name during the Gazflot topside project in South Korea.
This year has seen ALE climb to second place in the International Cranes and Specialised Transport global transport index, from its fourth place position in 2009. Key factors behind this increase have been the company's increasing workforce and investment into new equipment. Shedding light on plans to continue to progress ALE, Michael concludes: "In terms of innovation and engineering expertise we are a market leader and have seen significant growth in this aspect of the business, as clients look to us for lifting solutions for larger and heavier items. We have consolidated our base markets, which provides us with a strong platform to invest in new equipment, and continue to grow in the oil and gas, and offshore industries in line with developments into areas such as LNG."
ALE Heavy Lift
Services: Heavy lift transport & engineering