Quality as standard
Alfsen og Gunderson AS is a Norwegian trading and engineering company, which delivers products and solutions to the local and international industrial firms, municipal services, shipping, marine and offshore markets.
The company's roots date back to 1926, since which time pumps have always been a part of its core business, but overtime have become more and more important. Today, Alfsen og Gunderson is considered a specialist in water, air, drying and filtration technologies. As well as its own products and systems, the company also represents leading European brands of equipment.
Alfsen og Gunderson operates in the industrial and municipal sectors, but has seen that the market that is growing fastest is the offshore area, which it has been active in since 2006. The company started out with centrifugal pumps, and cooling and braking systems for offshore use, but chemical injection is increasingly a growing area. This is an important market for Alfsen og Gunderson, since it has its own in-house drawing, construction, fabrication, and electric and instrumentation capabilities, as well as its own documentation department.
"With more and more installations offshore now being upgraded for additional life-length, either via tie-ins of subsea installations, or added use of chemicals, our long experienced engineers can do special adaptations for these new well technologies even if space is limited on-board older rigs. By using well-known suppliers of equipment combined with in-house know-how, we can often do the 'impossible'," describes Gard Christensen, manager of Alfsen og Gunderson's pump division. Alfsen og Gunderson's construction department first began to use 3D models in solidworks back in 1996, as one of the first in Norway, and today has eight skilled CAD operators that also support it in the bidding process, by making it possible to visualise for the client the potential options in a given project.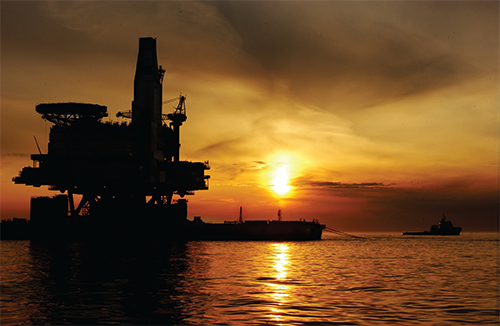 At present, Alfsen og Gunderson is engaged in the prestigious Goliath FPSO project, where it is supplying the world's largest chemical injection package for offshore use. The contract was won in international competition with a total of eight bidders, four of them Norwegian. Whilst this has been a major boost for the business, in 2010, when Alfsen og Gunderson first started working on the Goliath project, the reservoir data was not fixed. New knowledge about the reservoir situation has since forced both the rig owner ENI and operator Statoil to adjust the production parameters. Both chemical and physical parameters have changed throughout the contract period, which has then required Alfsen og Gunderson to adjust the design on the chemical injection system to handle the latest input.
"Since the Goliath platform is an FPSO, all the way through the project there have been limitations, both on space and on weight. This put great stress on the project team, which had to work in parallel with the rig owner ENI, adapting latest information into the chemical injection system," notes Gard.
The main modules for the chemical handling system to the Goliath FPSO measure 19-by-fourby- five metres and ten-by-four-by-five metres, and weigh 85 and 50-tonnes respectively. Alfsen og Gunderson will also deliver four separate skid mounted pumps, tote tanks and ten air driven diaphragm pumps in super duplex for bilge water. "Time, space and the complexity of the project have been challenging all the way, putting stress on both our internal resources, but also on our sub-suppliers. Without the full support of them, this project could not have been realised. Most suppliers that we have used are represented in Norway, making communication lines short. This has been a key factor, making communication fast, reliable and precise. Especially when the project started to grow out of its original scope, we were 100 per cent dependent on making changes to previously ordered equipment, that in some cases was already in production," elaborates Gard.
All fabrication is being carried out by Alfsen og Gunderson's sub-supplier Inrigo AS at Vanvikan in Norway. Gard continues: "Various suppliers, both domestic and international have worked with us for over two years to realise this prestigious, but also challenging project. Our project engineers and also people in fabrication have worked almost around the clock at some stages, to be able to satisfy the customer's need to keep to schedule, even due to fact that the project has increased in complexity and scope from the initial proposals."
In late 2012 the whole system will be shipped to Korea for installation on-board Goliath, the large FPSO that HHI is building for ENI and Statoil. The plan for Goliath is then that the complete unit will be put into production in 2014, after towing from Korea in summer 2013.
Alfsen og Gunderson
Products: Water, air, drying and filtration technologies