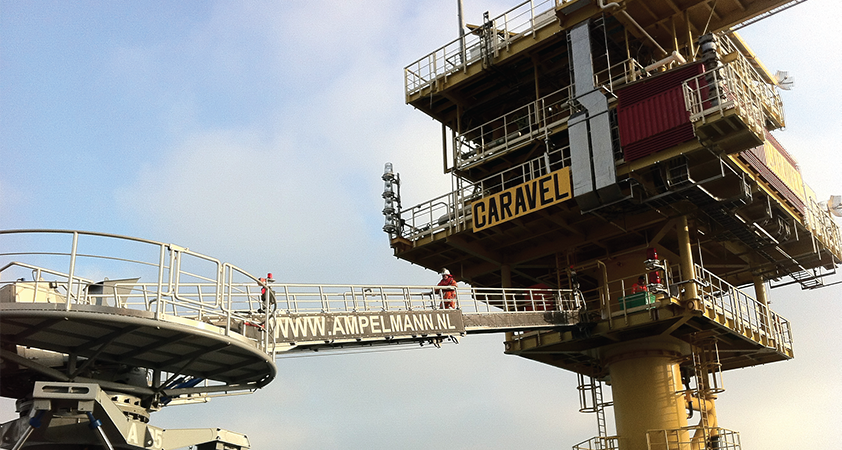 Bridge over troubled waters
Ampelmann was born out of a desire to tackle the problem with offshore access systems.
It was founded by Jan van der Tempel in 2002 as he wrote his PhD thesis on offshore wind energy: during a conference in Berlin he understood there was a gap in the technological market for reliable, safe offshore gangways and decided to apply his knowledge to realise a system that would overcome this issue. Five years later the prototype was born. It was engineered in conjunction with Delft University for Technology and financed by sponsorship from several names in the offshore market including Boskalis, Shell and SMIT.
The Ampelmann A-type is a self-stabilising platform that uses a height-adjustable, six-axis motion-compensating base with topside gangway. The base is mounted to the deck of a vessel and can be raised or lowered to enable a perfect fit for the platform to its recipient structure, thus allowing safe crew transfer. A-type can carry up to 25 tonnes to heights of up to 30 metres whilst compensating for motion of up to 2.5 metres. It requires no modification to the offshore platform, and can be installed on a vessel within eight hours. Fields tests have subsequently shown improved accessibility in 90 per cent of dockings.
Within five years the Ampelmann fleet has grown from a single A-type platform to 15, seeing production nearly doubling every year. Jan explains why it has been such a big hit in the offshore industry: "The biggest reason is the improved cost and operational efficiency it offers. Because it can work 24 hours a day, the ship can simply be parked next to the structure and left so that a lot more manhours of actual work are achieved. The platform basically turns the ship into a very versatile working hotel directly next to where the crew are working."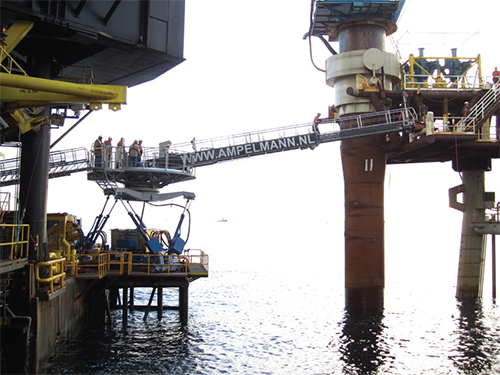 Ampelmann's offshore access system has found applications in both the oil and gas and offshore wind indsutries. Already it has gained the custom of some of the world's biggest oil majors including BP, Shell, Total, NAM, and Origin Energy as well as contractors working within this sector such as Saipem, Seaway Heavy Lifting, and SMIT. It is a similar story in the offshore wind market where Dong Energy, Siemens, Ballast Nedem, and Bard have used the platform solution.
Most of the projects that the A-type has been used on are located in the North Sea, with vessels leaving out of Aberdeen. It has achieved worldwide appeal, though, and also featured in regions as diverse as Southeast Asia, southern Australia, and the Caribbean. "Demand has been booming and by the end of 2012 we will have about 20 systems," Jan says. "Many in the industry now understand what our product can do to make their projects more cost efficient."
Development has continued on the platform system and, at ONS 2012, Ampelmann exhibited a new version of its product: E-type. It will be physically larger, work in seas of more than three metres, and offer heavy lift capabilities up to 500 tonnes. These new capabilities will mean functionality not just for crew transfer but for equipment transfer as well, making it an ideal accessory for offshore construction work. Ampelmann has worked on the E-type with an unnamed partner but interest from throughout the offshore oil and gas industry has already been displayed. The first working E-type will be delivered in 2013.
"Innovation is key to our ongoing success," explains Jan. "When a product enters the market, that is not the end of it. Once it is out there, clients give us feedback such as wanting a higher reach or to carry more cargo – leading to the E-type. We are also particularly interested in developing client-specific applications for the system. Innovation has been the key to the extremely rapid growth we've had over the past five years. Innovation is where we see our business and now that we fully understand the core of our technology, we can continue pursuing that."
As Ampelmann continues to improve its technology, one of the core areas it will be looking at is the way the platform handles extreme temperature conditions. The oil industry is now moving into Arctic environments such as Greenland and Alaska where standard mechanisms often fail so the platform's manufacturer is now researching into making it a viable option for vessels and platforms above the Arctic circle.
Having had a very successful start up, Jan is excited by what the next few years hold for Ampelmann: "What we see is the oil and gas industry continues investing money in the development of new oil fields as well as in the redevelopment of existing fields. From that perspective we predict growth for our company much as we have seen it over the last few years. Building on this, we want to have a more equally spread presence around the world. Although we have had projects in Singapore, Australia, and Trinidad, we are hoping to open offices here in order to gain more projects and equal the presence we have in Europe."
Ampelmann
Product: Innovative offshore access system