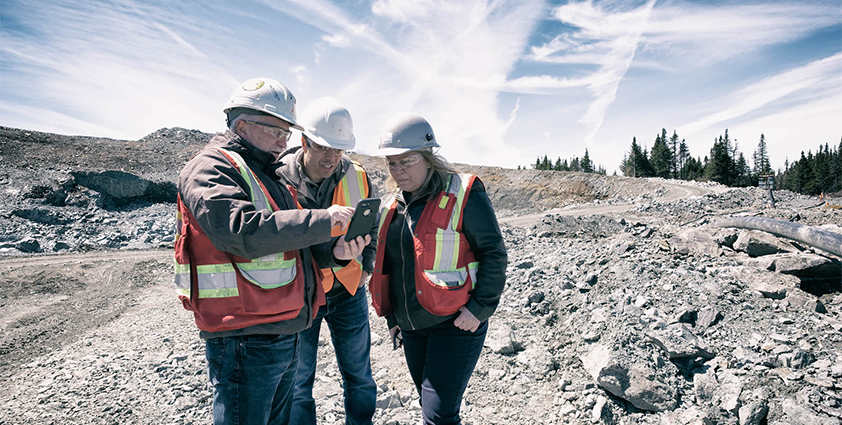 Anaconda Mining expands its reach into Nova Scotia and explores other projects in the region.
The future's so bright that Dustin Angelo needs to buy himself a new pair of shades. The president and CEO of Anaconda Mining is watching his company make significant strides in its gold mining initiatives.
The Toronto-based gold mining, development and exploration company is snaking its way into Novia Scotia and prepares to explore other territories in the Atlantic Canadian region.
"We've been the only consistent gold producer in Atlantic Canada for the last eight years," Angelo says. "And we're looking to grow by expanding our current projects and acquiring others in the region."
Presently, the company mines between 16,000 and 18,000 ounces of gold per year. If all goes according to plan, it will increase that number to 60,000 ounces per year by 2021 – aiming for 100,000 a few years after that.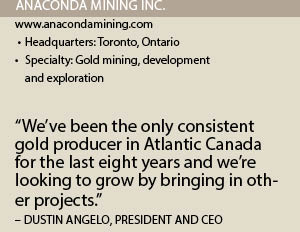 Goldboro Gold
A large part of that predicted growth is due to Anaconda's development the Goldboro Gold Project in Nova Scotia, an advanced exploration and development project located on tidewater roughly 115 miles northeast of Halifax within Nova Scotia's Eastern Goldfields District.
Anaconda acquired the project in 2017 as part of a merger with Orex Exploration Inc. It has been completing geotechnical, hydrogeological, baseline environmental studies and community and aboriginal consultations since the acquirement.
In August, Anaconda registered the project with the Nova Scotia Department of Environment. It's a significant milestone for the company, which is scheduling to start pre-production in 2020.
"For us, this project is significant because it is our first major transaction related to our initiative to consolidate gold assets in Atlantic Canada," Angelo says. "And it brought us to a new province – Novia Scotia."
Once in production, the Goldboro Gold project is estimated to produce around 40,000 ounces of gold per year for 9 years, he adds.
"It's a significantly large project for a company of our size," Angelo says. "And it had all the criteria for us to immediately move into a development stage."
In The Pipeline
Aside from Novia Scotia, Anaconda operates in Newfoundland and New Brunswick. The company also operates the Point Rousse and Tilt Cove Projects located in the Baie Verte Mining District in Newfoundland, comprised of the Stog'er Tight Mine, the Pine Cove open pit mine and the Argyle Mineral Resource.
In addition, it includes the fully-permitted Pine Cove Mill and a tailings facility, deep water port and more than 35 square miles of prospective gold-bearing property. "The Baie Verte Peninsula is a big mining district," Angelo says. "Our focus is on our Point Rousse and Tilt Cove projects where we think we can build sustainable and profitable operations for many years."
The Point Rousse project, in the northern portion of the Baie Verte Peninsula, is located northeast of the town of Baie Verte. It produces roughly 16,000 to 18,000 ounces of gold per year.
The area encompassing the Point Rousse Project includes five mining leases and 24 mineral licenses. The project covers three prospective gold trends: the Scrape Trend, the Goldenville Trend and the Deer Cove Trend.
These trends have approximately 20 kilometers of cumulative strike length and include three deposits (Pine Cove, Stog'er Tight and Argyle) and numerous prospects and showings located within 8 kilometers of the Pine Cove Mill.
Anaconda has been mining at the Pine Cove open pit mine continuously since 2010. It has produced in excess of 118,028 ounces of gold and has been growing the project infrastructure and mill capacity since 2010.
Anaconda has sufficient Probable Mineral Reserves to continue mining until the fourth quarter of 2020. Mining has transitioned from the Pine Cove Mine to Stog'er Tight, although there is some Pine Cove ore still to be processed. Anaconda also has recently discovered the Argyle Deposit, an advanced exploration asset located within 4.5 kilometers of the Pine Cove Mill.
"There are other projects within Atlantic Canada that fit into our acquisition criteria," Angelo says. "Other companies are not advancing them, but we believe if we can acquire them and put them under our corporate umbrella, we can leverage our team and infrastructure to develop them and create a much larger gold producing company in the region."
Innovative Solutions
When it comes to innovation, Anaconda is investing roughly $3.5 million into developing a new narrow vein mining method. In addition, it turned some of its waste rock into profit and is working on developing a commercial product out of its tailings.
The company is working with the faculty of engineering at Memorial University of Newfoundland to develop a new innovative approach to mining, an economic solution to mining for challenging deposits.
"We are developing a technology to more economically mine single narrow vein underground deposits," Angelo says. "There are certain deposits in Newfoundland where because of their geometry and size, they are not amendable to conventional underground mining methods."
Known as the Narrow Vein Mining project, its objective is to develop, prototype and optimize new technology to facilitate the mining of steeply-dipping narrow veins, including the Romeo & Juliet Deposit and Deer Cove Deposit, located at the Point Rousse Project.
Millions of ounces of gold are not being mined. Although there could be many reasons for this, Anaconda believes that some of these deposits could be idle due to the lack of an economic mining method.
"Even though we are a small company we are working on special research and development projects that also have an environmental component to them," Angelo adds.
That included a partnership with Shore Line Aggregates and Phoenix Bulk Carriers to supply roughly 3.5 million tons of construction aggregate, using the waste rock from Anaconda's gold mining operation, to a construction project on the eastern seaboard of the United States.
With water export access at Port Rousse, Anaconda's waste rock is now a competitive product in the seaborne aggregates market, resulting in an additional revenue stream for the company while also reducing mining costs.
"We also have our tailings which has been ground up to a fine particle size," Angelo says. "We have been evaluating the tailings to see if we can make an agricultural product out of it, such as a fertilizer enhancer to help with plant growth."