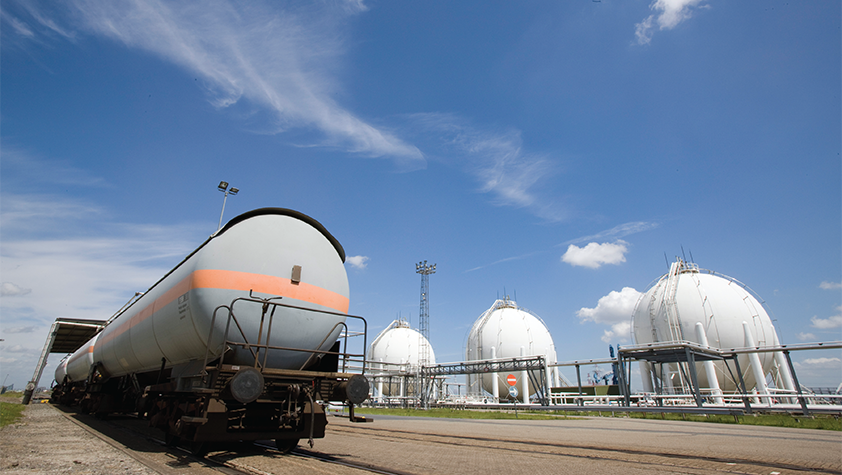 Independent standing
Antwerp Gas Terminal (AGT) is one of the largest independent terminals in northwest Europe for the storage, throughput and distribution of LPG's and petrochemical gases.
With the port of Antwerp, Belgium, recognised as the largest and most diverse petrochemical centre in Europe, AGT's location within the new deep-sea harbour area is a major benefit to the company. Fully owned by the Belgian ACP Group, AGT's independent status enables the company to service a vast network of LPG producers, traders and petrochemical companies. The company's commercial strategy combines customer focus with expansive service capabilities to become the partner of choice for many clients across the European petrochemical industry.
As way of an introduction, Walter Faes, director, says: "The safe storage of LPG and petrochemical gases is a very specialist and expensive field, so many of our clients prefer to focus on their core business and outsource the storage aspect to specialists like us. Approximately 80 per cent of the business is focused on the industry through the storage and supply of LPG as a feedstock to produce ethylene, propylene and other petrochemicals. The rest is within the classic domestic market for residential use such as heating. Currently we have eight dedicated pipelines in place providing a direct supply of LPG to industrial clients such as Borealis, Total Petrochemicals and Ineos."
The company's storage facilities are split into three separate areas – pressurised, refrigerated and earth covered storage (ECT), enabling it to provide services across the full petrochemical gas industry. AGT's pressurised storage consists of eight pressurised spheres each with a 3300 cubic metre capacity, which is 26,400 cubic metres in total, for the storages of various gases. These include propane and refinery, chemical and polymer grade propylene. The company's two refrigerated storage tanks are each capable of holding 50,000 cubic metres (27 kilo-tonnes) of liquefied gases such as propane, at a temperature of -48 °C. In 2006 the second of these tanks, T02, was converted for the refrigerated storage of polymer grade propylene, and with a capacity of 27 kilo-tonnes is one of the largest cold propylene storage tanks in the world. AGT also maintains four earth covered pressure storage tanks, which can hold 3000 cubic metres each, of butadiene, and C3 and C4 fractions.
As well as storage, AGT also offers dedicated transport, whether via tanker or boat or direct pipeline. The Antwerp petrochemical industry is inter-linked with an extensive network of pipeline systems, with more than 50 pipelines within the port area for the transport of chemicals, liquids and gases. Direct connections are not only made to plants within the port, AGT also operates pipelines to major facilities throughout the Benelux. Although pipelines remain the most cost-effective and safe means of transport, AGT maintains four truck and four rail tanker loading stations and, drawing on Belgium's extensive waterway infrastructure, transportation by barge can also be undertaken. The company's facilities include three jetties for the discharging and loading of vessels. The main jetty can accommodate vessels of up to 80,000 cubic metres in capacity and is equipped with two discharging and loading arms for refrigerated products and one for pressurised products. In addition, the second jetty is designed for smaller vessels up to 12,000 cubic metres with refrigerated and pressurised loading arms and a barge jetty, which can be used simultaneously on both sides.
Since its inception in 1983, AGT has developed a strong reputation as Europe's leading independent LPG and petrochemical gases terminal. "The technical reliability of the installation is key to the business," explains Walter. "In our 30 years of operation we have never had a single operational or safety incident, so we have an immaculate track record. Bearing in mind the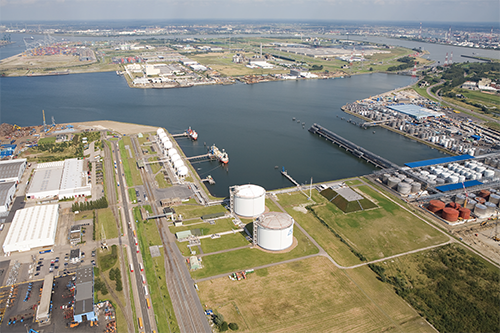 running costs of petrochemical facilities is extremely high, every day of lost production causes millions of euros in losses, and so for clients such as Borealis, SHV and Ineos reliability is key. As part of this we are able to supply our customers with LPG 24 hours a day, 365 days a year."
With the potentially hazardous nature of petrochemical gases well known, safety is a primary concern for AGT. Walter explains how the company regularly invests in updating its safety and efficiency capabilities: "Maintenance of the installation is quite an expensive operation and there is very stringent legislation which must also be met. Our strict safety policies are supported by technical certification regarding safety. Wherever possible we also work to implement the best technology available at that moment to ensure we remain abreast of new developments in safety and operational efficiency." Each component and piece of equipment within the installation has been specifically selected to maximise quality and safety. AGT is committed to the continuous improvement, expansion and optimisation of its storage and distribution facilities, to meet the developing needs of its clients.
AGT's first priorities of safety and environmental protection are present through all aspects of the business, with fail-safe operational modes in place for every conceivable circumstance. Appreciating that it has a responsibility of care regarding its operations, AGT is an active member of the Society of International Gas Tankers and Terminal Operators (SIGTTO), which is committed to supporting best practices that contribute to safe operation, environmental and economic policies. The company is also certified by the International Safety Port Security (ISPS) and to the OHSAS 18001 standard. A continuous training programme for all AGT personnel is in place and rigorously applied.
Looking at the long established petrochemical market of north-west Europe, Walter describes how the maturity of the market has led to fewer new developments and greater competition: "Although the north-west Europe petrochemical industry specialises in high-quality products, cheaper commodities such as packing materials are often imported from elsewhere. Whilst our position is ideal for supplying these companies with LPG as feedstock, over the next five to six years we expect the majority of commodity plastics to come from the Middle East, China and India to the cost of the northwest European petrochemical industry. Currently we are seeing enormous expansion projects taking place in Saudi Arabia, the United Arab Emirates, Qatar and China for petrochemical facilities, which are likely to have an impact on the already saturated market of north-west Europe."
Bearing this in mind, Walter concludes with how AGT is focusing on expanding its horizons for the future: "Over the last ten years particularly, we have been very successful at the terminal, however we are aware of the challenges of the market going forwards. We have substantial long-term contracts in place with clients for up to the next six to ten years and have the capacity for moderate growth within our current established operations, with sufficient available land for expansion if required to support this. In terms of the long-term future though, we are looking to new geographical areas for more substantial growth potential, such as Russia, Kazakhstan and Eastern Europe. We certainly see potential for the possible export of LPG's from these markets into northwest Europe. Naturally, with regards to new markets, we will continue to focus on petrochemical storage facilities where we have built up considerable expertise. Our goal for the future is to be the first choice for storage, logistics and distribution services for the petrochemical and oil industries of Europe and to that end there will always be room for a terminal at Antwerp."
Antwerp Gas Terminal
Services: Storage of LPG and petrochemical gases