Right first time
Anzett is a leading designer and manufacturer of hydraulic control systems, chemical injection equipment and fire fighting solutions to the oil and gas industry.
The company is based in the Norwegian suburb of Forus, which lies just outside the city of Stavanger – the country's oil capital. Boasting a UK subsidiary in the coastal town of Lowestoft, Suffolk, the business' name is an adaptation of the Norwegian word for 'highly esteemed' or 'reputable', thus encapsulating the organisation's vision and philosophy.
Jan Narvestad, managing director for the business comments: "Anzett continually strives to be recognised as a customer-oriented company, which, through a successful process approach, develops the best solutions. We deliver complete systems within our main business segments, which are tailored to meet our clients' needs."
Currently one of the largest growth areas within the offshore market is subsea systems – this development will be even more apparent over the next few years. "Anzett is one of the leading suppliers of control systems in this field. The company was one of the first to supply hydraulic power units for ultra deep-water applications," Jan comments. The business currently supplies a wide range of systems specially designed and developed for subsea operations, including electro-hydraulic control systems, hydraulic power units and electrical junction boxes.
In addition to its standard product range, Anzett offers a wide range of portable units for rental or leasing. These units are designed to operate with all production chemicals on the market today. A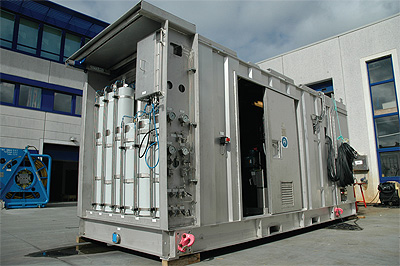 typical application would be the testing of chemicals where high accuracy and repeatability is required. Other benefits of using Anzett's units include ease of operation and low maintenance costs.
Founded in 1994, Anzett also provides comprehensive customer support – from design and project planning to installation, commissioning, technical training and follow-up services. Its high level of quality comes from the organisation's paramount resource: a motivated workforce of highly qualified and trained employees. As a result, Anzett is always at the forefront of the industry, wherever there is a demand for technological know-how, quality and service.
Furthermore, Anzett has been certified to the quality standard ISO 9001 since 1996. This certification monitors the quality processes across the whole business including the areas of design, engineering, manufacturing, testing, commissioning and maintenance services. The company aims to continue to focus its attentionon the development of its quality processes so it can constantly produce premium and innovative products. This in turn will also improve the company's turnkey solutions, sound work processes, long-term customer relationships and its focus on a 'right first time' philosophy.
Through its outstanding offering, Anzett has added most of the leading worldwide oil and engineering companies to its reference list. These are managed from either the branch office in the UK or directly from head office. Furthermore, all design and fabrication is carried out at the company's premises near Stavanger. Jan comments: "We work very closely with the end users and talk to them regularly. As a result, we gain feedback from our clients with respect to product performance, usability and service. This feedback is then implemented into our offering, which allows continuous improvements. Furthermore, we are actually often advising our customers on optimum solutions based on this extensive experience worldwide."
The company is now looking to focus also on the after-sales market. Jan continues: "In the future, the main opportunities lie within the maintenance and modification sector. As oil prices rise, building new equipment is becoming increasingly expensive, therefore, we want to strengthen our position in after-sales, as there will always be activity in this area."
Looking at the conditions of the oil and gas market at present, Jan is confident that Anzett can continue to expand. "The amount of activity in the sector is very high at the moment. We have many good competitors that we have to match if not better in terms of our service. If we can do this there is a great deal of potential for growth, especially as the niche oil and gas markets seem to be consolidated. We expect that consolidation in the product and system supply market will also continue," he comments.
Anzett has grown continuously from day one and will continue to do so in the future. The company believes it will develop through a combination of organic growth and structural movement, such as mergers and acquisitions, primarily focusing on its three main business competences – hydraulic control systems, chemical injection and fire fighting systems.
Looking to the future, Jan concludes: "There is no doubt that our success is very much dependent on our partners and suppliers. They will be very important for us in the future and we will be looking to strengthen and further develop those relationships, as well as increase the size of our product portfolio. I believe we can become the industry leader in the Norwegian sector and experience further growth in selected areas of the international market. Looking forward we have to be more specific and focused about which regions of the world we would like to focus the business on."
Anzett
Products: Hydraulic, chemical and fire fighting systems