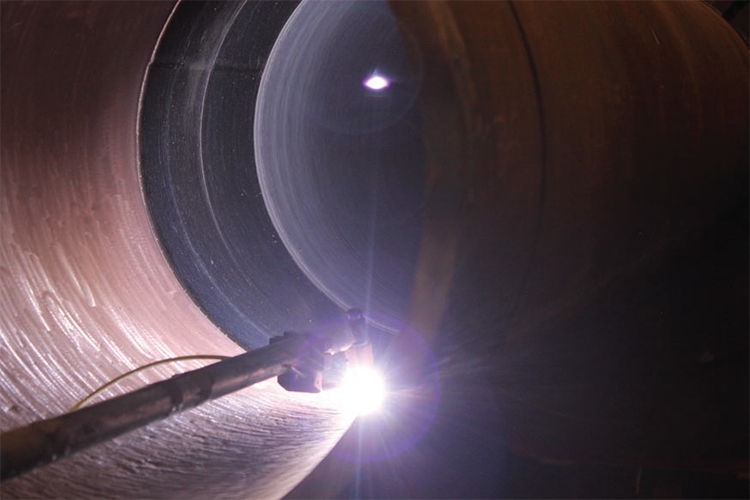 A bespoke service
Founded by international and European welding engineer Alan Robinson in 1994, Arc Energy Resources began its first year of trading with four staff and resulted in a turnover of £1,148. Since then the highly efficient and quality conscious firm has developed into a multi-million pound organisation with 70 competent and knowledgeable staff and regular contracts with blue chip companies across the globe. Having achieved its ISO 9002 accreditation in 1995, Arc Energy witnessed rapid growth over the coming years, which resulted in a relocation to new 15,000 sq ft premises in Eastington, Gloucestershire, in 1999. With more capacity to grow, the company continued its trend for success, achieving ISO 9001 and ISO 3834-2 certification in 2002 and hitting sales in excess of £2 million for the first time in 2004. In 2008 turnover exceeded£5 million and the environmental standard ISO 14001 was achieved in 2010, followed by OHSAS 18001 accreditation in 2012; one year later, the company achieved the Investors in People Bronze award and became one of only seven UK firms to offer ASME U2 services.
Today recognised as specialists in the supply of corrosion resistant weld overlay cladding and the manufacture of specialist fabrications for industries including oil and gas, nuclear, renewable, water & waste water and naval, Arc Energy is renowned for its expertise and bespoke attitude towards customer requirements, as Andrew Robinson, director at Arc Energy, notes: "The core of our business is weld overlay cladding, a process that deposits a layer of corrosion resistant alloy onto traditional carbon steels and other steels. It can be used on the inside of pipelines, valves and seals of various components. It is a niche market, with approximately six other companies offering the same service in the UK, but we are well recognised and do a great deal of work in the oil and gas industry.
"As quality is no longer a competitive edge, but more of a standard expectation, we no longer use our focus on quality as a differentiator and instead deliver a bespoke service to our customers. Because contract specifications are becoming increasingly stringent, we treat every order as a new order and go through it with a fine tooth comb to ensure we do exactly what the customer wants. This is integral to allowing our clients to serve their clients properly." Although 80 per cent of its market share is within oil and gas, Arc Energy is keen to further diversify its customer base and take advantage of the estimated £60 billion investment in the UK's next generation of nuclear power plants, becoming one of the first SME manufacturing firms in the south west to earn ready-to-supply status via the Fit for Nuclear programme. Having received guidance from the Manufacturing Advisory Service and Nuclear AMRC on meeting standards within the nuclear sector, the company has boosted production efficiency and created a code of continuous improvement in advance of EDF Energy's plans to build two new reactors at Hinkley Point, Somerset.
"Being in close proximity to Hinkley Point is a major bonus for us; our closest competitor is in Middlesbrough and they want to use a local supplier where possible. Because the UK hasn't built a power plant for more than 20 years there is confusion with regards to where companies will fit in the supply chain at the moment, however we believe there is going to be quite a lot of cladding and pipework involved; we view this as a massive potential growth area, right on our doorstep. Furthermore, Hinkley Point is supposed to be a template for a further 11 plants in the UK, so we anticipate there will be an additional growth market there," highlights Andrew.
Celebrating its 20 year anniversary in 2014, Arc Energy looks set to continue thriving as it maintains a diverse customer base and focuses on significant investments in machinery, premises and people, as Andrew notes: "We are currently looking to further expand our premises in response to how full our order books are, which puts us in a strange position considering the oil price has plummeted and the oil and gas industry has slowed down with projects. However, we are absolutely rammed with work and expect to be until the end of 2015 so we decided this was the prime time to expand as the space we have is full. A planning document is being worked through for new premises, which will be a new building on the site we currently operate on; it is anticipated to be up and running by the end of this year."
The additional space is certain to come in handy as Andrew, who is set to take over as managing director when his father steps down in 2015, has created a five-year plan that is targeting 15 per cent growth year-on-year. "It is an exciting time for Arc Energy and I am looking forward to implementing my plans over the coming years. It will be a challenge, but we have a number of strings to our bow that will make this possible, such as diversity in the market and a new focus on nuclear, defence and power generation. With these industries in our sights we are investing in new machinery, which will allow us to implement the next generation of welding technology and stay ahead of the game with regards to quality, fast turnaround and efficiency," concludes Andrew.
Arc Energy Resources
Services: Corrosion weld overlay cladding and specialist fabrications
Issue 122 July 2015