Making a difference
Focused on safe, efficient and effective well delivery and well performance, Archer is a global oil services company with a heritage that stretches back over four decades. Operating in 40 locations over 19 countries, Archer's 4500-plus employees help it to provide a comprehensive range of services, including well integrity and intervention, plug and abandonment, engineering and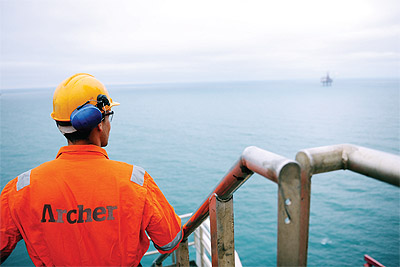 decommissioning operations.
Archer's founding company of Norwegian origin has an offshore platform drilling history which dates back to 1977 when it drilled its first offshore platform well in the demanding fields in the UK sector of the North Sea. Through acquisition in 2011, Archer's Latin America land drilling history stretches back even further to 1965. Currently Archer's drilling and workover teams secure production on more than 45 offshore assets globally and operate over 81 mobile rigs in South America, leveraging decades of experience on pioneering projects.
Archer's expertise rests in delivering better wells and optimising productivity for its clients. To do this, the company helps to not only create new wells, but also equips those currently in service to produce oil and gas profitably, and safely, by extending the life of the well, with no harm caused to people or the environment. This degree of specialism has led the company to become established and active in the major basins within North and South America, the Middle East, Asia Pacific and Europe.
Within the UK, Archer's head office is located in Blackburn, Aberdeenshire. The company currently employs over 700 onshore and offshore personnel, and is the largest provider of platform drilling operations and maintenance services on the UK Continental Shelf (UKCS). As Vice President for Platform Drilling for Archer UK, Kenny Dey explained when we spoke to him previously: "This includes drilling, maintenance, and plug and abandonment operations relating to 22 platforms, as well as operations and management support to a MODU tender barge located offshore Greece, with the provided products and services including drilling facility engineering, survey and inspection, drilling equipment rentals, oil tools, and wireline services."
Contract wins
A review of Archer UK's client portfolio reveals a list of globally recognised industry players. These include, but are not limited to Apache, Chevron, Fairfield Betula, Marathon Oil, Shell, Repsol Sinopec Resources and Energean Oil & Gas. Elsewhere within the North Sea, Archer also provides extensive operation support services to market-leading operators within the Norwegian sector such as Aker BP, ConocoPhillips, Repsol and Statoil, as well as offshore operations for Statoil which are supported locally from Rio de Janerio.
Just prior to our last conversation with the company, in 2016 Archer announced a two-year extension to its contract to provide drilling platform services for Statoil. This included the provision of onshore management teams and offshore drilling and maintenance personnel for Statoil's Statfjord A, B, and C platforms. In addition to this, Archer was awarded further assets as part of the re-bid exercise and these include Njord, Sleipner A, Snorre A, Snorre B, and Visund. These additional assets have been under Archer's contract since October 1 2016.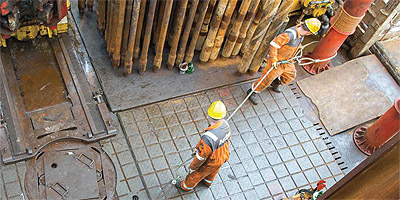 During 2017 further contract awards and renewals were secured including Shell U.K. Limited, Chevron (UK), Marathon Oil (UK), Repsol (Norway), Energean Oil & Gas (Greece), and Statoil (Brazil).
At the turn of 2018, the company announced that it had been awarded a new three-year contract by Apache for the provision of platform drilling management services, which include operations and maintenance on its Forties Alpha, Bravo, Charlie and Delta platforms, as well as the Beryl Alpha and Bravo platforms. In addition to the firm contract term, two two year extension options are available.
Operational performance
This new contract is reward for the highquality services provided by Archer to Apache on the Forties and Beryl fields since 2004 and 2012 respectively. The new contract ensures Archer's continued operations for Apache on the UKCS until at least the end of December 2020.
"We are delighted to have been awarded this three-year contract. It is recognition of the hard work and commitment from all of our personnel by consistently maintaining a safe environment for all those engaged on the Apache's operations, whilst ensuring a high level of operational and technical efficiency," Kenny stated at the time of the announcement. "We look forward to continuing our working relationship with Apache through the duration of the new three-year contract."
Across these various assets Archer provides drilling and maintenance personnel, and the onshore management of all of the drilling facilities. Meanwhile, for the operational assets, Archer provides the core operational drilling personnel to carry out all of the client's well programme activities safely and efficiently, while the support of its maintenance teams ensure that the drilling facilities deliver consistently strong operational performance. Where the asset is non-operational, Archer's offshore maintenance personnel, supplemented and supported by key designated operational support, maintain the drilling facility, to ensure that the assets are available as and when required to support remedial well intervention work and that a return to or from operational mode is conducted effectively.
Archer UK Ltd
Services: Offshore platform drilling and engineering