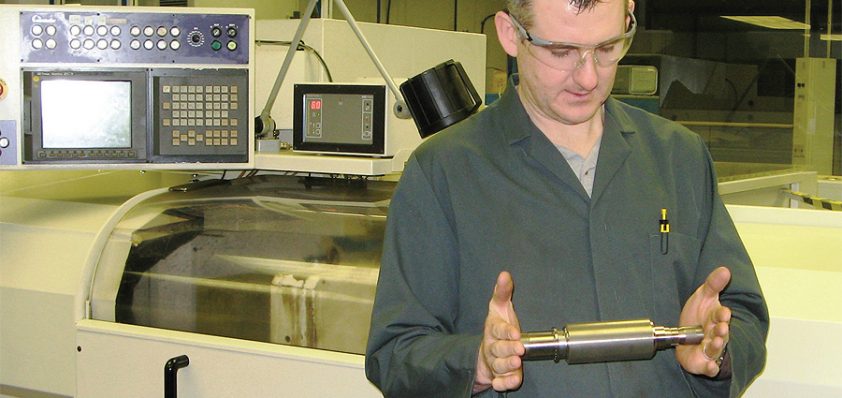 Arnold Magnetic Technologies
Focus on expansion
Headquartered in New York, the Arnold Magnetic Technologies Corporation is privately owned and comprises five strategic businesses.
The company manufactures a wide range of permanent and soft magnetic products and assemblies at facilities in the US, the UK, Switzerland and China. It has thousands of customers within markets ranging from consumer, industrial and medical, to military, aerospace and telecommunications.
The UK division of Arnold specialises in added value, precision magnetic assemblies and devices, as well as the manufacture of the magnets that go into those items, with a particular focus on rare magnet materials.
Martin Satur, general manager, outlines the history of the UK division: "A 2007 merger of two companies (Precision Magnetics and Swift Levick Magnets) formed Arnold Magnetic Technologies in the UK, and these two companies had over a century of experience when they joined. When you combine this with the long history of the Arnold organisation, there are now over ten decades of experience in magnetic technology condensed into our products."
He continued: "We're based in the UK, but Arnold's global reach means we can transfer technology from one division to another. Within the oil and gas sector Scandinavia, the US and Scotland seem to be the hubs for design and we are ideally placed to service all of those places."
Greg Erskine, sales manager, discusses the company's main sectors and the division's work in oil and gas. "Our main markets are oil and gas, aerospace, automotive and medical. There are a staggering number of markets where our products could be used, but we don't concentrate on commercial applications, instead choosing to target professional high integrity build requirements.
"In the oil and gas industry, we cover a variety of areas. In downhole motors (both rotary and linear) we build elements for driving pumps and drilling heads. Our capabilities also include downhole generators, steering mechanisms and product for well bores."
He continues: "We supply to nuclear magnetic resonance (NMR) analysis equipment manufacturers as well, where rock samples are taken and the amount of oil held in that material is analysed by NMR."
Greg elaborates on Arnold's activities: "The work that we do, particularly with motors and generators, generally deals with the rotor, this being the centre most part of the product. Owing to the environments in which these devices operate, and a general desire to increase speed, containment of magnets by precision grinding and interference fitting of metal or carbon fibre sleeves is required to overcome centrifugal forces. Our most recent investments in CNC cylindrical grinding improve both our capabilities and capacity. With the increasing demands of rotor dynamics, the technologies that we have to consider are becoming more cutting edge."
In fact, Greg identifies the company's engineering excellence as its main strength: "Many of our customers come up with a principle or initial design and request that we re-engineer for manufacture. To contribute to the design phase, we use 2D and 3D FEA magnetic modelling software, which optimises performance."
Martin notes that Arnold's involvement with emerging technologies in power generation has helped the company ride the recent recession: "As we saw our business contract in some areas, the oil and gas industry growth helped us achieve our business plan and maintain operational performance. When the oil price is high, companies spend a lot of money developing new technologies and, as they go deeper into the ground, we find that there's an even greater need for our types of product."
Going forward, Martin and Greg agree that Arnold will see further growth. "There are many emerging markets that we're working very closely with, such as oil and gas. All sorts of green technologies are being developed, including renewable energy, using very high-speed machines. One example is heat recovery systems for engines, where the heat can be converted into electrical or mechanical energy. Another is aerospace where there is an increasing focus on weight reduction and replacing heavy hydraulics on with localised electric drives," reveals Martin.
The development of electric vehicles and wind turbines has increased demand for a material called neodymium iron boron, as Greg highlights: "This is one of the most recent of all permanent magnetic materials, and we need to get a handle on our supply chain to avoid future supply issues. Arnold in the US has a joint venture agreement to develop mining of metal and production of magnets in the US as an alternative to Chinese material. That will be of particular interest to US users, particularly the US military, but it will affect the global supply as well."
Another pioneering area that Arnold is prioritising is enabling work at higher temperatures down holes, as Martin explains: "With increased temperatures downhole, and with motors and generators working harder, magnet performance at temperature is vitally important. Neodymium iron boron can handle up to about 200°C and Samarium Cobalt up to approximately 350°C. We have now developed grades of samarium cobalt that can handle up to about 550°C, and this is an area where Arnold's leading the way."
As a result of its innovative approach and breakthrough technologies, Arnold Magnetic Technologies UK is seeing significant success in the oil and gas arena, which is something Martin and Greg are keen to increase in the coming years. Martin concludes: "We're trying to expand our oil and gas business from being UK-based to cover the whole of Europe, focusing on Scandinavia, and our ongoing strategy will reflect this."
Arnold Magnetic Technologies
Products: Magnetic assemblies and devices