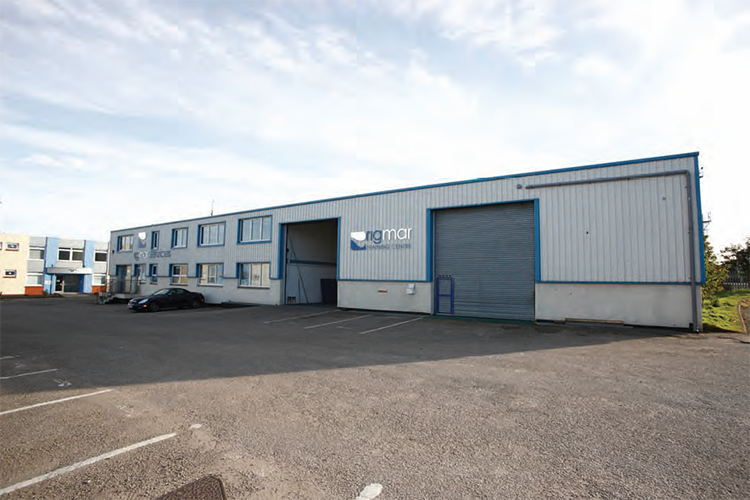 An array of competences
Embodying over 120 years of combined offshore and onshore experience, Array Training Ltd (formerly Rigmar Training Centre) was founded to provide the North East of Scotland with a leading facility dedicated to non-destructive evaluation (NDE) and Industrial Rope Access Trade Association (IRATA) rope access training and consultancy.
Rigmar Training Centre was established in August 2012 and in just under three years the company has grown rapidly and enjoyed significant success. By December 2012 for example, £500,000 had been invested into the facility to provide state-of-the art NDE and Rope Access Training facility covering capabilities at all levels. The facility presently covers some 7000 sq ft and has been furnished the latest apparatus and technologies to create the best possible learning experience for all candidates. Today the centre's array of accredited courses have developed to cover areas in NDT familiarisation and awareness; Magnetic particle inspection; Liquid Penetrant Inspection; Ultrasonic Testing; Radiation Safety; Eddy Current Testing and many others including Rope Access that are delivered to clients across 27 countries.
The company recorded an equally positive year during 2014 and has further distinguished itself as an industry leader through the gradual implementation of its ground breaking In-Service Inspection training courses. "The in-service inspection side of the oil and gas business has been one of the biggest developments for Array Training Ltd and one of the most exciting areas for the company to expand into," elaborates managing director, Ray Wilson. "Of course everything else is great and exciting, but the oil and gas industry has been trying for the past 30 to 40 years to get in-service inspection training programmes, examinations and so on put into place.
"This is a training course that will be available within accredited establishment shortly through the British Institute of NDT (BINDT) to provide personal certification in NDT, specific to the Oil & Gas sector soon to be made available. The BINDT have worked closely together with various established trainers throughout UK, especially with a committee formed in Aberdeen for the oil and gas industry who shared an approach and invested interest to establish this new sector within the BINDT with the intention of putting an examination and qualification into the market tailored to the in-service inspection operations. The aim is to get technicians trained, examined and qualified, and thereafter be deemed competent on detecting and interpreting results from in-service conditions inspection, especially corrosion and erosion in onshore and offshore modules, assets and refineries and so on."
Presently Array Training Ltd is working in close collaboration with the BINDT as well as other training organisations around the UK to discuss the parameters, goals and objectives of getting the programme and new sector for in-service inspection training in place. This will include looking at examination requirements, timescales, the arrangement of modular examinations, as well as the necessary training materials. As such the investment in capital as well as in industry experience into the establishment of in-service training courses has been significant, as Ray explains: "There is a huge amount that we have contributed to the programme in terms of research and development. I have counted between £100,000 and £150,000 of investment into this new sector as well as the investment of staff member's time. Our own principle consultant Bernie Steel in particular has a wealth of experience in the field of In-Service Inspection in particular with corrosion and erosion where he has been developing the training materials as well as the course presentations and notes, with a huge support from colleagues such as Bill Brown, Malcolm Miller and various others within and out with the BINDT North East Scottish Branch in Aberdeen and BINDT head office in Northampton, which without, would not allow us to move with this very important and long awaited development."
In addition to working to increase its portfolio of courses to better suit the needs of the oil and gas industry and beyond since it was last profiled during October 2014, Array Training Ltd has also undergone a significant transition in separating from the umbrella of the Rigmar Group. "During the past six months we have broken away from the Rigmar Group and looked at rebranding and establishing a new identity for the company. We are currently going through the final stages of that process and have changed from Rigmar Training Centre to Array Training Limited, so that will give us a unique name and identity as a training organisation," Ray says. "The rebrand has opened up some opportunities to get our own unique name and brand out there as a specialist training services provider and on that basis we have taken steps in finding a name and a logo, registering through Companies House, arranging the banking side and the separation from that group structure, which has now been completed."
With the introduction of highly sought after training courses and a new lease of life as an independent training centre in its own right, Array Training Ltd will embody its new brand moving forward and continue to expend to cater to national and international clients. "We want to push competency training and put more in place, as such we are setting patents for competency training that are been used by major companies," Ray adds. "We started with three members of staff and have since grown to 11 employees – we have just taken on another admin person as well as another tutor and we are still looking for a trainer. We are also looking at material following the rebrand that really demonstrates the move from Rigmar Training Centre to Array Training Limited."
Ray concludes: "In addition to the above exciting news, we have also secured projects around the UK on providing training and certification at a variety of customer's locations and in addition to that, overseas work in Norway, Angola, Nigeria, Kazakhstan and Houston have promising contracts with a favourable award."
Array Training Ltd (formerly Rigmar Training Centre)
Services: NDT and rope access training
Issue 122 July 2015