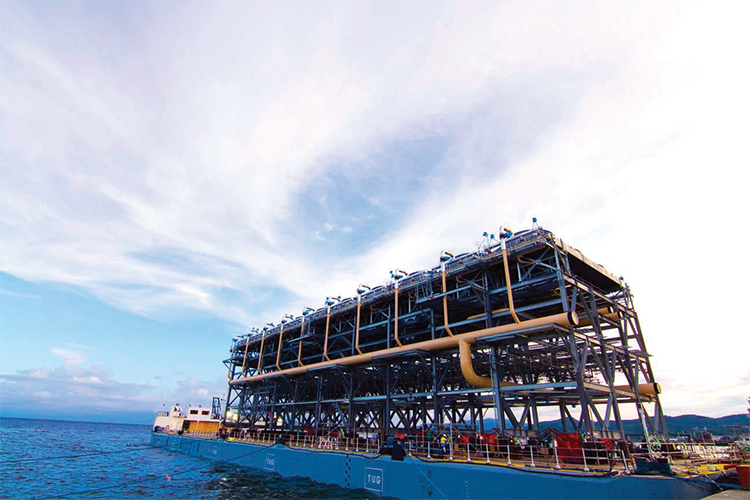 Atlantic Gulf & Pacific Company (AG&P)
In demand
Established in 1900, the Philippines headquartered Atlantic Gulf & Pacific Company (AG&P) has grown over the years to become synonymous with the country's construction industry and a recognised pioneer in benchmark design, engineering, fabrication and construction services. Having built the country's first steel bridge and other major infrastructure, such as Manila's water and sewage system, which still exists today, the company enjoyed decades of steady growth before it was purchased by its current investors in 2011.
Following this development, AG&P has witnessed a period of aggressive growth and modernisation, resulting in it becoming the only multi-national organisation in this sector with headquarters in the Philippines. As part of this growth strategy, AG&P expanded its module fabrication yard capacity from one million square metres to 1.5 million square metres. On top of this, the company's Bauan Yard, one of the largest fabrication and assembly yards in Southeast Asia, is in the process of being upgraded to enable multiple and much larger contracts; by the end of 2015, the yard will have a handling capacity of 10,000 tonnes, in comparison to the current handling capacity of 6500 tonnes. Meanwhile, AG&P's second yard, located in Batangas City, is located less than ten kilometres from the Bauan yard; it measures over 500,000 square metres and can support two major projects at any time, with up to 25 modules being worked on simultaneously.
Speaking with Energy, Oil and Gas magazine in October 2014, AG&P's chairman, William Ottiger said: "AG&P's growth is a testament to the hard work of our outstanding people and is an example of the confidence the world is showing toward the Philippines. AG&P looks forward to building complex and exciting modules to the highest levels of safety and quality in our state-of-the-art yards outside of Manila."
Demand for AG&P's services stems from the company's long-term experience of serving a comprehensive range of blue chip companies within the oil and gas industry, all of which have benefited from AG&P's mission to accelerate construction through the delivery of its purposedesigned Modstruction solutions. Moreover, the company also provides holistic, competent personnel who are highly trained and thus capable of executing optimum quality services for the most complex of projects.
Over recent months the trend for workforce expansion has continued for AG&P, with the company announcing in May 2015 that it is to hire more than 2000 local workers to service major LNG projects in Russia and Australia. No stranger to the LNG market, the company has worked on major projects in the past, such as the $152 million contract that it was awarded in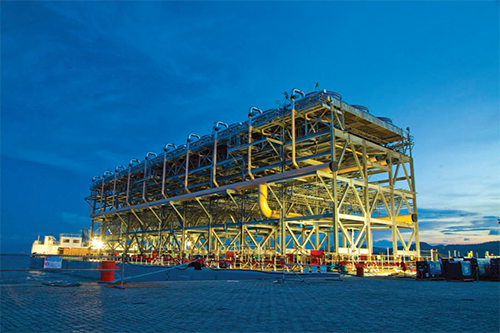 October 2012. For the vital project, which involved providing the 'electrical backbone' of the Inpex Corp led Incthys LNG project in Australia, AG&P was contracted to build 26 local electrical rooms (LER) as well as local instrumentation rooms (LIR) to support the largest private investment in Australia's history.
During this major project, the company was also working in partnership with ALE through Australian-based consortium, AG&P ALE Ventures Pty Ltd., to create a world-first mobile port solution that is capable of delivering combined loads of up to 22,000 metric tonnes, regardless of tidal conditions. After extensive research, AG&P, in partnership with ALE, an international heavy transportation and lifting company, developed and constructed the Hydro Deck. The Hydro Deck uses a proprietary water ballast and air tank system to provide buoyancy control, which allows it to compensate for both rapid tidal variations and load balancing as massive modules move across its deck.
Following a competitive tender process in October 2014, AG&P was awarded one of the largest export contracts in the history of the Philippines to deliver among the biggest LNG modules ever built.
With AG&P announcing this major contract win, it is anticipated that the company will create thousands of jobs for both local and overseas applicants ranging from structural welders, quality inspectors, engineers, electrical technicians, structural fitters, project engineers, safety personal and project managers. Moreover, the company's Filipino workers who are currently working overseas will have the opportunity to come back to their loved ones while working on one of the world's largest LNG undertakings.
As the innovative company continues to work with global organisations to develop critical construction solutions for challenging infrastructure projects, AG&P looks set to flourish over the coming years thanks to its stringent commitment to operational excellence, quality and safety. To complement this strong focus on innovative, safe and efficient operations, the company will also provide world-class training to its ever-growing workforce, which will thus further establish AG&P, and indeed the Philippines, as leaders in advanced industrial process outsourcing services.
Atlantic Gulf & Pacific Company (AG&P)
Services: Fabrication, assembly, modularisation and asset management
Issue 122 July 2015