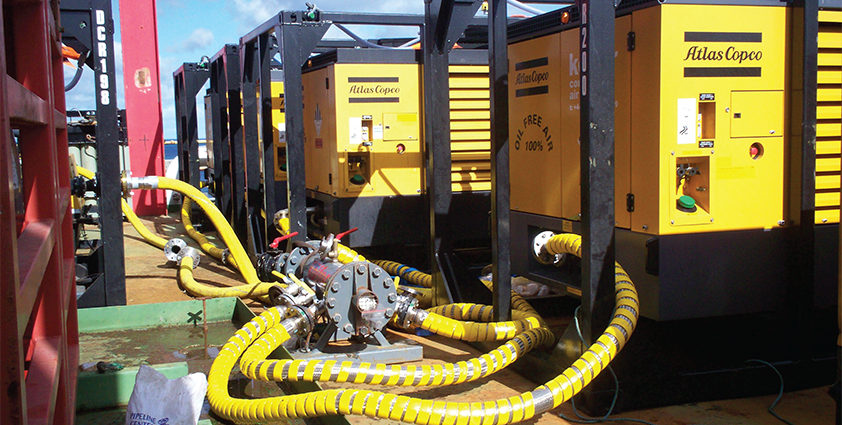 Dressed to compress
A small but essential component of any platform, pipeline or refinery is the air/gas compressor or booster, which can be used for a wide variety of applications such as pipeline dehydration or well drilling.
Atlas Copco is one of the world's leading compressor manufacturers, selling oil-free and oil-injected models to almost all of the major operators throughout the world. However should a client have emergency need for units, or if they require one only on a temporary basis, the company has created a hire division to handle these tasks – Atlas Copco Specialty Rental (ASR).
President of ASR, Horst Wasel, discusses the division in greater detail: "It was created in January 2007, integrating what was previously departments of many different divisions into a singularly focused rental solution provider within the oil and gas industry amongst others. We concentrate on portable compressed air and compressed gas, but also supply generators, steam boilers and other accessories largely manufactured by our sister companies. ASR has an annual revenue of 200 million euros, employing around 760 staff in customer service and rental offices all around the world."
At the heart of the company's business is its ASRrange of oil-free air compressors, a unit in which no lubricating oil comes in contact with the compressed air or gas. The advantages of being oil-free are that it requires less maintenance, is more environmentally friendly, less likely to affect quality, and crucially that the risk of fire is greatly reduced. "It is a model that we define as our core business across all horizons, not only in oil and gas. For example, for years now our compressors have been used in reactor dome pressure tests at nuclear power plants," comments Horst on the range.
Marketing vice president Gathuru Mburu talks about its applications: "What is important is that it is portable, meaning if a customer has a breakdown or scheduled maintenance on the oil-free compressor already on site, or simply requires extra capacity to complete tasks, we can deliver a unit on a short-term rental basis when and where needed. Today, we have the largest fleet in the world of oil-free portables and it is the mainstay of our business."
Oil-free compressors are supported with a range of other products, including traditional oil-injected compressors, a five million BTU steam boiler and two-stage nitrogen boosters. ASR also recently brought the Zone 2 compressor to the rental market, an explosion-proof and flame-retardant unit that has been designed to high ATEX Directive 94/9/EC safety requirements for operation in hazardous environments.
ASR provides its services to customers across the globe and at every stage of the production process. General manager of the UK branch, John Spink, highlights some of the most important clients: "Such are the practical applications for our products and services that today we find ourselves as leading suppliers to a diverse client base, from world leading subsea contractors to the world's biggest integrated service companies."
There have been a number of structural changes regarding Atlas Copco's rental service over the last few years. Until January 2007, for example, there was no dedicated hiring division, clients instead engaging with each individual company that they were renting from. The creation of a specialised branch has given ASR the time and resources to refine the service, developing new procedures for the benefit of both customer and ASR itself. Following this, the division was unified further at the beginning of this year. "We have now rebranded our companies working in local markets," Gathuru explains. "We took the local companies such as US branch Atlas Copco Prime Energy, Mexican branch Atlas Copco Prime Equipment and Australian branch Atlas Copco Rental Products and rebranded all of them under a single global name: Atlas Copco Rental. Because a lot of our customers are large companies that work in multiple markets, they prefer the familiarity of a single global brand so we delivered on what they wanted."
Establishing a single rental company has been incredibly successful for Atlas Copco, enabling the service towards customers to flourish and begin generating notable advantages on its own terms. "Since setup we have developed hugely," says Horst. "We have put new IT systems, people development and customer service methods in place, and this has led to an increased level of customer focus and fleet optimisation. Customers are open to investment once more and we have the opportunity to grow."
The market is currently in rapid fluctuation with new advances in technology and drilling methods enabling deeper wells in new regions of the world whilst, at the same time, environmental regulations become increasingly stringent. Atlas Copco has a 137 year history of focusing on innovation to drive increased efficiencies and effectiveness for customers, impacting their 'bottom-lines' in a positive way. Hiring or renting of equipment is an increasingly popular cost-saving measure that many organisations are leveraging today.
Gathuru highlights the areas of most interest for the company: "There are two. Firstly, the demand for environmentally friendly products is clear and there is need for equipment that has a minimal impact on the environment. We will soon be introducing engines for our oil-free compressors that have even lower emissions than the current generation as part of our ongoing dedication to the cause. Secondly, safety is part of our ethos and we will continue to extend our explosion-proof range."
John, meanwhile, comments on future prospects: "From 2011 onward, the market prospects are beginning to materialise as contractor tendering activity increases and front end material orders are placed. With exploration and production activities expanding into new regions, it will be our objective to service and support our customers in the most competitive way possible."
"There are several countries where we have established new business in the last two years," Horst adds. "We had a special focus on BRIC countries which are footholds in areas where we want to expand further. The company in South Africa, for example, has a clear mission to extend its business further north into countries such as Zambia, Zimbabwe or Botswana. In South America, we are already strong in Brazil and Chile and want to extend this to other countries with big potential like Columbia."
He goes on to conclude with confidence in ASR and Atlas Copco as a whole: "Our service is more than picking-up and dropping-off equipment. We are a recognised provider of technical solutions with operations on-site and development managers that work with customers to find the best solutions. There is still more to do to help future customers understand the true value they can realise when they rent from ASR. The positive word of mouth and referrals from current customers are only one reason why we are seeing a profitable renown."
Atlas Copco Rental
Products Compressors and accessories