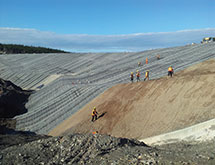 A subsidiary of Paris, France-based Axter S.A.S., Axter Coletanche Inc. is a Canadian company based in Montreal that distributes the Coletanche bituminous geomembrane internationally.
Parent company Axter specializes in roofing, structural waterproofing and solar PV. It is part of Colas Group, a major French civil engineering firm operating in more than 50 countries.
Coletanche is manufactured in an ISO 9001 certified plant located in Courchelettes, France, near the border of Belgium. Coletanche is a composite membrane, combining the advantages of a non-woven geotextile reinforced structure for mechanical resistance, a glass fleece for thermal stability and a specifically designed bituminous waterproof binder adapted for use on all types of terrain and environments. The liner has been utilized on various civil engineering projects in Europe for more than four decades. This includes transportation applications such as road and rail. The subsidiary Axter Coletanche Inc. has been growing the Canadian and North American market share for the past five years.
"Our main clients are mining companies," says Bertrand Breul, managing director. "Most of them are based in Canada."
The product is resistant to aging, mechanical impact and can be used under concrete and other coatings. It is the optimal solution in environmental protection, irrigation, mining and hydraulics, manufactured in a controlled environment that offers an integrated quality system controlling manufacture, installation and after-sales service network, the company says.
"It is mainly used to waterproof structures of the mine," Breul explains.
The Coletanche range of products is 21 percent wider to facilitate a greater diversity of applications and to reduce the number of seams with installation and after-sales services provided.
Two Axter Coletanche engineers are available for training, quality control and installation assistance, Breul says. They teach how to cut, patch and weld the liner for better use of the product.
Product Advantages
There are many advantages to Coletanche compared to others, Breul explains. "It has high puncture resistance and good resistance to chemicals," Breul notes. "It can be installed at very low temperatures." This is especially helpful in Canadian mining. "(Coletanche) can be installed in temperatures as low as 45 below zero Celsius," he says. This advantage increases revenue and helps a project meet deadlines since the installation time is extended compared to other liners.
The product is "very different compared to other types of liner," Breul says. It has the strongest properties compared to any other type of geomembrane. For example, polyethylene liners require multiple layers for protection.
Axter Coletanche also excels with outstanding customer service, Breul says. "We are very responsive and are usually able to answer any questions within 24 hours. That is one thing our customers probably like best about our services." The company has been increasing new sales since last year, he adds.
The Diavik Diamond Mine has had great success using Coletanche. Coletanche is installed at the Diavik Diamond Mine in a region of continuous permafrost on East Island in Lac de Gras in the Northwest Territories.
Following diamond extraction, the remaining processed Kimberlite material is permanently stored in a processed Kimberlite containment area circumscribed by dams, which have a waterproofing geomembrane. These dams are based on the permafrost and are built following the evolution of the mine. The design and construction of the dams have been modified from using HDPE liner, with the use of bituminous geomembrane.
Coletanche allows the use of a variety of sealing materials and can be installed under a wide range of temperatures. Coletanche liner grades have been used because construction bedding materials ranged from coarse sand to till and crushed rockfill material.
The geomembrane in this project promotes:
+ Installation in extreme weather conditions with rainfall, wind and freezing cold temperatures below -40°Celsius;
+ A wider range of materials to be used for the liner bedding and cover zones;
+ Easy installation and repairability, and high resistance to puncture and tearing.
"Coletanche liners have been installed throughout the year, even during winter conditions at the Diavik site," the company says.