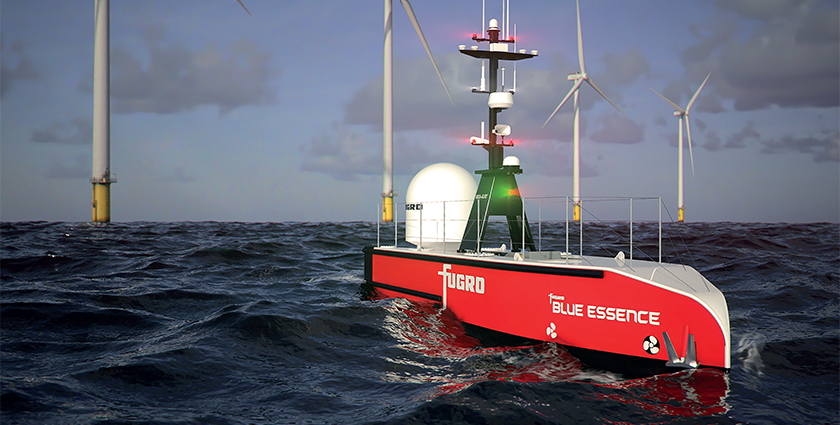 The Geo-data service industry is undergoing a period of transformation. Demand for renewable energy is soaring, and the Geo-data requirements of these emerging industries are rapidly changing how geophysical and geotechnical data, is acquired and analyzed.
Offshore windfarms especially have advanced rapidly as operators, governments and society alike demand clean, secure and low-cost domestic energy. An increasing number of new projects and expedited timelines for existing projects have dramatically increased the volume of data that is required.
A challenging offshore environment
The holding costs of licenses awarded in the recent global license rounds increases the pressure on developers to accelerate timelines. This is happening across the globe as the geography for the offshore wind farm market is growing; the Mediterranean is opening up and around Northern Europe projects are expanding beyond just the North Sea. Additionally, floating wind projects are currently being bid for aggressively and require an entirely different blend of Geo-data to minimize risk in their foundation design, installation and operation.
There is also an increasingly acute challenge emerging between offshore developers and electrical companies when it comes to the issue of connectivity and energy supply. There have been recent innovations focused on addressing this challenge, in 2021 Denmark announced the construction of the world's first energy islands, creating better connections between energy generated from offshore wind and the energy systems in the region. While this is an important step forward, these connectivity issues will continue to present an ongoing challenge to the delivery of a fully integrated energy industry.
Across these challenges one theme is clear – the need for efficient and effective Geo-data acquisition and analysis. Without reliable and timely Geo-data offshore windfarm developers could put project timelines and economics at risk.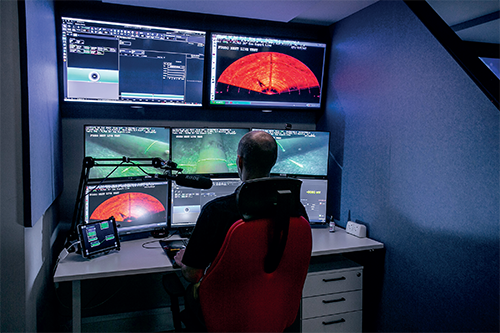 The Geo-data parameters to measure and how much to acquire also needs to be critically assessed to meet time and cost objectives. The increasing scale of wind farms and the variable foundation design options, compounded by the new theme of floating wind, demands the need for Geo-consultants to be integrated as early as possible with the operation team. There is no single global solution. The correct combination of geophysical and geotechnical data is key when considering the ground conditions and the proposed foundation types. This will dictate the investigation and characterization plan for the site.
Better insights faster
There is a time related cost associated with all offshore development projects – and developers need innovation to drive better insights faster. The demand for accurate data, delivered at speed, is fueling an industry wide shift towards remote solutions, powered by technology.
Remote and autonomous, uncrewed surface vessels (USVs), are at the forefront of this technology shift. These uncrewed vessels have obvious HSE benefits, reducing the need for engineers to go offshore with the elevated risk this brings and instead work from the safety of remote operation centers.
While improved safety and overall carbon reduction are fantastic benefits of these vessels, another key aspect is the way they are changing entire processes and people's roles within them. Geoscientists are now able to sit onshore, analyzing data in real time as it is collected by the remote vessel, allowing their time and expertise to influence more projects.
A future powered by remote technology requires exceptional data management and data communication from acquisition teams through to decision makers. The data captured by these vessels can be delivered in almost real-time, in the form of a 3D visualization of the seabed and the sub-surface. This 3D model is continuously updated as more data is captured, reducing uncertainty and project risk. Ultimately driving improved decision making and shorter project timelines. It is a far cry from waiting for and having to decipher insights solely from a written report.
Keeping up with the pace of change
Technology advancement is not the only need. Laws, regulations, and certification also need to move quickly. Operating uncrewed vessels requires significant licensing and government approvals. The traditional rules for crewed vessels, developed over centuries of crewed operations, are not fully applicable to the new uncrewed solutions.
By integrating the acquisition teams, Geo-consultants and turbine installers, OWF developers can be confident that the data acquired has the right quality assurance. Any new technology will face some hesitancy, but clients are keen to make these digital transitions due to the significant sustainability benefits. Change, however, takes time and the right partnerships based on trust and cooperation are key to success.
A future powered by technology
Only ten years ago hard copies of data from vessels were the norm. Digital delivery has revolutionized the speed of delivery and made it easier to consume. As little as five years ago, insight was only delivered through interpretive reports. Today these are complemented by integrated 3D earth models, which combine all the available Geo-data. This isn't just an end-of-project handover either, but a continuous process throughout the project lifecycle.
The pace of change is being driven and celebrated by the operators and service companies alike. Attitudes are positive, open and collaborative. Together we are building businesses that embrace transformative change and we are starting to deliver the energy mix society demands. In the near future, Fugro aspires to have minimized its offshore crew by up to 50 per cent. And in ten years, at least half of its surveys could be fully uncrewed.
The industry is heading towards entirely robotic fleets, digital delivery and evergreen 3D earth models. A future state in which technology fully leverages talented experts. In turn, we'll see an acceleration in project turnaround and more ambitious project goals, as better insights are delivered faster.
JAMES FAROPPA
James Faroppa is Service Line Director, Marine Geoconsulting, Fugro. Fugro is the world's leading Geo-data specialist, collecting and analyzing comprehensive information about the Earth and the structures built upon it. Adopting an integrated approach that incorporates acquisition and analysis of Geo-data and related advice, Fugro provides solutions. With expertise in site characterization and asset integrity, clients are supported in the safe, sustainable and efficient design, construction and operation of their assets throughout the full lifecycle. Employing approximately 9000 talented people in 59 countries, Fugro serves clients around the globe, predominantly in the energy, infrastructure and water industries, both offshore and onshore.
For further information please visit: www.fugro.com