Silver service
For more than 30 years BIS Salamis has been a leading international services contractor, with a strong reputation, and a proven track record of providing integrated, multi-disciplined support services and maintenance solutions to customers in the energy, petrochemical and industrial markets.
BIS Salamis, which prides itself on customer service and dedication to safety and the environment, aims to protect its clients reputations and operations by maintaining their assets and facilities to ensure optimum uptime and maximum production.
Sarah Glover, HSEQ manager at the company, elaborates further: "BIS Salamis was originally established in 1973 as a traditional fabric maintenance company, providing a range of services that included scaffolding, painting, specialist coatings and thermal insulation, to the on and offshore oil and gas sector. After quickly establishing itself, the company started to branch out and expand, by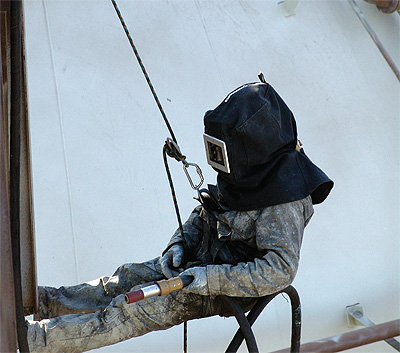 offering more and more services. Today, these include inspection services, alternative access solutions, decommissioning, deck and rigging services, specialist cleaning services, and fire and blast protection systems. More recently, inspection capabilities have become an increasing part of our portfolio."
Sarah explains that the nature of BIS Salamis' services means that the company's employees are vital to its success: "The key strength of the company is its people, because that is essentially what BIS Salamis provides. As the services that we offer are extremely people intensive, the ongoing management and development of our workforce is the core strength of the company. We currently have between 1500 and 2000 employees at any one time, and the supervisors and front line managers that we have within our core crew are some of the very best that I have ever come across. All of our employees are extremely dedicated to the operations, and to ensuring that health and safety remains the prime consideration.
"For this reason, training and people management is an enormous part of the company's continuous development," Sarah continues. "For example, a great deal of the key project managers that we supply to our customers have been with the company for many years, and have been promoted internally. This means that they have been in the industry, have the correct understanding of the operations that they are carrying out, and of the business and the people who are working for the company."
Throughout all of its operations, the key drivers for BIS Salamis remain the safety of its personnel, the customers' personnel, and the protection of the environment. Sarah elaborates on the company's dedicated approach to health and safety: "It is vital that we always focus on health and safety. It is one of the hungriest requirements that you will ever find, and it constantly needs energy, total focus and resources, and if you ever think that you have it covered, and become complacent, then you are heading for a massive fall. In our industry, you can never afford to take your eye off health and safety issues. Furthermore, for it to be successful in your business, it is something that you really have to be passionate about, and that you have to show you are passionate about to everyone within the company.
"Because we have a remote workforce that operates in a number of geographic locations at any one time, we can never rely on the fact that everything is going to go well," she continues. "To implement the best possible practices, we have an extremely robust management system that has been built up, and evolved over a number of years, which gives the backbone of the safe working procedures that we practice."
Sarah believes that her role as HSEQ manager means that she has to continually look to implement new practices: "On top of the basic health and safety management system that we have in place we regularly introduce new practices to support our staff, and to remind them that health and safety should always remain the paramount concern. Most recently, we have launched a new safety campaign called 'Mission Possible: licence to be safe'. Using the spy/secret agent theme, the campaign is based around the underlying premise that everybody has the right to go to work, and return from work safely and unharmed, and to reiterate that people are not paid to take risks or be injured.
"It may seem like a basic message, but it is that message that we believe to be very important in terms of health and safety," she continues. "We want to ensure that everyone knows that they are empowered to work safely. No-one will get into trouble for asking questions or for stopping work if they believe something to unsafe. For this to be successful, it is important to ensure that communication is easy for everyone, and that it is something that is actively encouraged. When we are on clients' sites they have their own management systems and different methods of trying to
ensure health and safety, so our workers have to be aware of the need for communicating any problems that they have."
Sarah is pleased with the results of the campaign to date: "It has been received very well so far. We developed a safety alert card that we issued to all of our staff, and we brought the supervisors together to discuss the campaign and the plans for health and safety. In doing this, we decided that we would concentrate on the importance of communication and talking freely about health and safety initiatives. We took them out to a local place where we spent the morning concentrating on the critical factors, and after the meetings we spent the day doing various activities. It really helped to talk about these topics informally, and encourage communication.
"One of the main challenges in continuing to implement health and safety is to constantly find different and interesting methods of communicating the simple messages, and to alert them to the issues and hazards that they need to be aware of," says Sarah. "We have issued a number of posters around the 'Mission Possible' theme. A new one is issued each month, as rather than bombarding our employees all at once, it is far more important to constantly remind them of the key, important points that they need to remember, and the general importance of health and safety issues.
"We will follow this by visiting all of the sites and carrying out a number of audits to ensure that safe operations are being upheld," Sarah continues. "To enforce communication, employees are asked during these audits if they have any issues that they would like to highlight, and to give us feedback on the success of the campaign."
Due to the environments in which they work, Sarah explains that there are a number of risks that commonly face BIS Salamis' employees: "Because we operate decks, one of the key risks that our workers face is the dangers associated with lifting activities. The highest potential hazard is dropped objects during lifts, but the manual element of the job means that manual handling, trips and falls are also very real dangers.
"To this end, our deck crews are fantastic as they regularly complete a number of very difficult lifts in extremely challenging conditions every day," she says. "Additionally, at this time of the year, another risk is confined space entry. As it is shutdown season we are currently carrying out a lot of vessel entries, including cleaning and de-oiling vessels. To address this, at the beginning of June we started a mini campaign based on confined space entry."
Since its establishment, BIS Salamis has continuously expanded its range of services and solutions with the aim of being the preferred industrial services provider to major blue-chip clients in the on-shore and offshore sectors. Today the company offers a diverse portfolio of innovative, and cost-effective solutions designed to suit customers' individual requirements. The company's team of multi-disciplined, experienced operators provide solutions throughout the design, construction, maintenance and decommissioning stages of a project.
For corrosion management the company provides a vast range of services, including surface treatment such as application of coatings, and access solutions, including conventional scaffolding, system scaffolding, powered access, rope access and proprietary access systems. Furthermore, BIS Salamis' environmental services include specialist cleaning, LSA/NORM removal and waste management services, and water jetting and cutting equipment. Additionally, the business is experienced in the decommissioning of both on and offshore facilities.
BIS Salamis is also reputed for its project management solutions. For example, the company offers its own pressurised online solids removal (POLSR) services, which includes removing solids from vessels whilst the facility remains fully operational. Additionally, the business carries out the specification, procurement, application and protective covering of insulation materials, and pylon, tower and mast services.
Sarah elaborates on some of the company's more recent services: "One of our most recent additions is inspection services, including non destructive testing (NDT). It is an area that we entered in 2006, and is a sector that is growing considerably. Together with this, the range of environmental cleaning services that we offer is continuing to expand. These include vessel cleaning with decontamination, pipe working and associated services. At present, these are the main areas of forecasted growth for the company, which by no means denigrates the traditional foundations of the business."
Looking to the future, Sarah believes that the current market conditions indicate further success for BIS Salamis: "I think the oil and gas market looks very good at the moment. The nature of our operations means that there are always going to be opportunities. Furthermore, the emergence of new entrants into the offshore market has been a superb boost, as they have revitalised and regenerated a lot of the existing platforms.
"In terms of emerging markets, decommissioning is on a lot of operators'agendas, and is something that we can expand into very naturally," says Sarah. "It involves a lot of lifting, cleaning, cutting and drilling, which are areas that we are already very strong in. BIS Salamis is always looking to expand its markets and has a strong focus on overseas operations for the future. We have operations in the US and in Canada, and both of those are doing very well. I see the general picture as being very positive, and I believe that BIS Salamis can continue to be very successful in the future due to the strength, and determination of our workforce. I have worked in the oil and gas industry for ten years and I genuinely believe that we have some of the best people that I have ever come across here, they are well trained, they are well motivated, and they really care about what we do," she concludes.
BIS Salamis
Industry Multi-disciplined service contractor