BK Engineering A/S & BK Aalborg A/S
Steaming ahead
Based in Aalborg, Denmark are two entities of the Brix and Kamp name – Brix and Kamp Engineering (BKE) and Brix and Kamp Aalborg (BKA).
Serving the global energy market these businesses offer a portfolio of services ranging from complex FPSO installations to the front end of the development of sophisticated solar power plants with capacities from 50 – 140 MWe.
BKE has roots dating back to 1930 when it acted as an engineering consulting company. Today the business supplies engineering within the maritime sector, the industrial sector, and the boilers sector and for solar powered steam generation plants.
The company has engineering capabilities to perform design support for topside installations for FPSOs including steam producing skids. This work requires comprehensive structural engineering and 3D modelling of the steel structure, process piping and equipment and BKE has the facilities to supply these services. CEO Per Jørn Nielsen explains: "We have made complete production drawings for several plants in this field."
Alongside its engineering services, BKE works closely together with BKA in developing and supplying solar powered energy plants as well as oil and gas fired power plants.
BKA takes on projects involving the supply of components, equipment or even turnkey systems supplies, mainly within the energy sector. A typical project could include the supply of three oil and gas fired 60 T/h water tube boilers for a Russian oil field, or 2 x 50 MWe steam generator lines for a parabolic trough solar power plant.
Peter Badstue Jensen, sales manager of the companies, outlines the various business locations: "We have a main office in Denmark, a representative office in Spain, and co-operative partners in Jakarta and China. With this setup, we improve our efficiency, capability and competitiveness. The major factor is that we continuously improve our products to remain ahead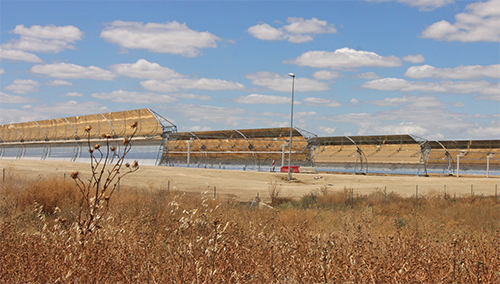 of our competitors, and this is partly made possible because we are globalising the business all of the time. As Denmark is a small country we are already used to trading on a global scale, and so we are able to offer competitive prices. We don't have our own production facility, but instead we rely on manufacturing partners to whom we can outsource.
"BKA is currently producing at Aalborg Industries here in Denmark, as well as in Spain and China, but we are also looking into the possibility of extending our manufacturing operation to the US and Mexico. This is because there is a rapidly growing American market for this type of solar energy following the renewable energy legislation that President Obama is currently working towards. We are already doing our utmost to be at the forefront of this growing market, and we are participating in Solar Power International 09, which is taking place in California in October 2009."
In recent years the company has moved into the area of solar energy. Peter elaborates: "After being awarded a contract from a Spanish energy producer to develop second generation solar energy capabilities, we developed our first receiver for the solar tower power plant. We also develop and supply standard steam-generating equipment for parabolic trough systems. There are basically two different kinds of high-pressure thermal steam solar power plants that we produce – the tower solution or parabolic trough solution. Moving into the solar power market has been incredibly successful for the company."
In this field BKA can deliver the complete design and supply of turnkey solar receivers for solar towers or thermal oil heated steam generator plant. The steam generators for this purpose are specially designed in close co-operation with the company's partner Danboiler.
BKA is responsible for the project, and secures successful results through tight project management and control of the quality in all phases, from basic design and procurement to site management and commissioning. "We maintain very strong relationships with our subcontractors," elaborates Peter. "We maintain these relationships by, as far as possible, being faithful to our suppliers. We put a lot of effort into selection of the right suppliers and co-operation partners in our supply chain."
Alongside developing solar capabilities, BKA and BKE are looking to expand the current product range. Peter comments: "We are investigating several options in terms of developing our product portfolio. One of the heavy projects under development is to be able to offer solutions to store thermal energy from the solar fields in such a way that make it possible to produce electricity from solar energy, even during the night."
As the business moves forward, Peter outlines its geographical expansion and the company's outlook in light of the recent financial crisis: "We are looking at expanding into the worldwide area of solar power – this is the most important segment for our company now. However, the oil and gas sector is still important – there are three cornerstones to our business – the first is thermal solar power plants, the second is oil and gas fired boilers, and the third is engineering services. We will still be a preferred engineering supplier within the oil and gas project arena and will continue to develop our oil and gas business in general through offering our engineering expertise as well as the supply of oil and gas fired steam boilers. In terms of the recession, we were quite lucky that our order book was full when the crisis started, and so far the credit crunch has not had a serious impact on us. We have even been able to expand our business further in the last year moving to new office locations and hiring more people during the crisis.
"The move into solar power has helped both BKE and BKA to grow – the oil and gas business has slowed right down, but solar power has been expanding the business. The vision of the company is to grow – the prediction of the world market for solar energy is that it will reach the same magnitude as wind power, and we intend to be one of the key players for steam generation equipment so that is our main focus. Renewable energy is the future and we want to be at the forefront of this industry."
BK Engineering A/S & BK Aalborg A/S
Services: Engineering, industrial boilers and solar powered steam plants