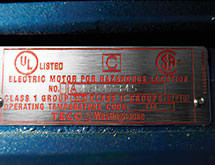 Celebrating 85 years as an industry leader in the electric motor repair industry, Bradleys Inc. also provides 24-hour on-call service worldwide. Recently, the company received one of those late-night calls from a customer in the petroleum industry, requesting a pickup of his motor to perform a quick repair. The unit was down, costing the customer productivity and profit. A synopsis of the call is below:
Bradleys: "Is your motor an explosion-proof motor and will you need this motor UL re-certified?"
Customer: "I don't know, our other shop never asks about this and we just get our bearings replaced, but there is a tag on the motor that has a UL rating on it with a UL number."
Bradleys: "Have you had this particular motor repaired before?"
Customer: "Yes, many times, in fact, just last week by another motor shop."
Bradleys: "Did the other shop replace the old UL tag with a new one?"
Customer: "No."
Bradleys: "You may not be able to UL re-certify it. "
Customer: "What do you mean I can't UL my motor?"
A motor repair facility qualified to rebuild a hazardous-duty motor for UL Re-Certification must be confident and assured that the motor, when received, meets UL specifications. If the motor has been rebuilt without the proper UL re-certification considerations, then full knowledge and certainty that all UL Standards for those repairs that were made is compromised. This may render the motor no longer able to be UL Rated or recommended for use in hazardous locations. The motor owner must verify their repair facility is authorized by UL to re-certify their motor and follows the proper procedures every time they repair it.
The UL re-certification process takes added time, so don't expect to receive a motor that requires a UL rating to be repaired and ready to return to service the next day. Completing the paperwork and receiving UL approval with the UL number can take several days. In some cases, the local UL representative may audit the motor repair along with procedural documentation before issuing the new UL tag and number.
Electrical testing of the motor windings and auxiliary components must meet all UL specifications. All motor enclosure joints and shaft openings must be measured to ensure proper fits and clearances to meet UL specifications. All OEM-manufactured junction boxes equipped with the motor must be checked to ensure properly mated surfaces. These are just a few of the items that will be inspected by the UL representative.
Does It Qualify?
If the motor or generator does not meet these few requirements and it will be operating in a hazardous environment, then consider purchasing a new UL-rated motor.
1.Both the UL tag and the original OEM name plate must be on the motor upon arrival at the repair facility.
2.The motor must be complete with junction boxes and intact.
3.There should be no major damage to the motor housings, end bells, or j-boxes/connection boxes that is not repairable.
4.The motor information on the tags must be legible and complete.
Many years ago, design engineers for industrial plants designated all motors within the plants to be UL certified for hazardous environments as a safety precaution. Today, some areas of a plant may have been reclassified as non-hazardous areas, so the motors may not require the UL re-certification process. Verify this with your company's safety and other appropriate operations and management personnel before making a decision to remove the UL tag in an attempt to return the motor to service more quickly.
Finding the Right Fit
Here are five steps to select a repair facility to UL re-certify your company's electric motors:
1.Go to www.ul.com and search the Online Certifications Directory for UL category code, enter PTKQ (motors and generators, rebuilt for use in hazardous locations), and enter U.S. state (optional). Search will provide a list of repair facilities authorized by UL.
2. Audit the repair facility. Your company's safety and quality teams may want to attend this on-site audit.
3. Review the facility's UL certification documentation logs for motors rebuilt for UL re-certification. The UL-authorized facility that rebuilds motors and generators for use in hazardous locations must keep an updated log listing of every motor repaired for UL re-certification. A rebuilt motor's UL tag will be updated with a new UL tag, which is documented in their log. If the UL tag is removed, the motor is no longer UL rated.
4. Review their UL re-certification documentation with the facility's UL-authorized personnel. The motor rebuild documentation must correlate with the UL specifications based on the motor, its application and environment. This documentation is audited by the local UL representative. Older motors must be re-built to meet new UL standards.
The UL representative visits and communicates with their re-certification rebuild facilities often and may choose to be on-site during any given UL re-certification motor rebuild.
Regarding the rebuilder's records, the UL Standard for Safety Follow-up Service Procedure Manual says: "During each visit to the rebuilding location, the Field Representative shall determine that the rebuilder is maintaining the records described in Appendix D on this Procedure. If the rebuilder is not maintaining these records, a Variation Notice shall be issued."
Regarding the calibration of testing equipment, the manual says: "The rebuilder shall calibrate or have calibrated all measurement equipment used having direct readings such as outside/inside micrometers, Vernier calipers or dial calipers, against a Standard traceable to the National Institute of Standards and Technology [or equivalent in foreign countries], at least once a year. As an alternate, the rebuilder may calibrate or have calibrated micrometer standards only, which are then used to calibrate the direct reading measurement equipment. A log is to be kept showing the date of calibration of each instrument involved, and Standard used. The instrument itself may be marked with the last date of calibration and the log kept elsewhere, including at a commercial meter and instrument calibration laboratory."
5.Review the repair facility's measurement equipment calibration log.
Oftentimes, a repair facility will develop repair specifications based on the UL standard requirements for a motor rebuild that exceed the UL standard.
Some examples of improvements of repair specifications may include:
+ Machine work completed on the motor: Metalizing shafts, welding procedures on shafts, sleeves or install bushings. All repairs should be completed with equivalent material as manufactured or better.
+ Adopting electrical testing specifications with more stringent pass or fail standards.
+ Adopting improved windings procedures and use improved winding material.
+ Improve final test procedures for motors and augment documentation.
There are no shortcuts to UL re-certify a motor or generator for use in hazardous locations. Once you have accepted the motor, liability for it and its operating location rests on you. Review your motors and verify their hazardous location status.
Select a motor repair facility that meets all of your needs for repair, and is an authorized UL-recertification rebuild facility. Safety always comes first – your life and the lives of others depend on it.