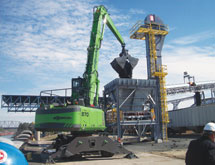 Though it's had a presence in the mining and energy industries for more than a century, Bramco Inc., the parent company to Brandeis Machinery & Supply Company and Power Equipment Company, is still finding itself on new fronts. Bramco, a large distributor of mining, construction and industrial equipment, purchased the 16-year-old JFT Precision Fabrication and rebranded it under its family of companies as Bramco-MPS (Material Processing Solutions).
Bramco-MPS coupled with Brandeis' existing relationships in the coal mining industry, has resulted in a new turnkey solutions provider. Brandeis continues to supply material handling equipment and mining equipment as it has done since 1908 while Bramco-MPS designs, fabricates and installs processing facilities. Together, the sister companies now provide turnkey processing facilities.
"We are concentrating on being a single source for our customers," explains Gary Hirsch, vice president and general manager. "Our customers want a knowledgeable and trusted source to assist them in determining what they need and also someone with the expertise to design, manufacture and install it. They are looking for that single-source responsibility rather than breaking the project up to into smaller groups."
When Bramco-MPS was created last August, it focused on producing facilities for aggregates production. Its new parent company knew that these same skills would translate well into other industries such as the mining industry – specifically coal mining.
"[Brandeis] has been around for more than 100 years, but Bramco-MPS is a new entity, so we're kind of the new kid on the block that's 104 years old." Hirsch says. "We took on some projects which combined our skill sets and capabilities [to] promote the fact that we can get deeper into project work."
Bramco-MPS fabrication capabilities include: plant layout, flow design and analysis; structural support and conveyor engineering implementing AutoCAD and 3-D designs; light to heavy structural fabrication in a facility equipped with computer numerically controlled manufacturing equipment; field installation crews; and a replacement parts warehouse and service technicians. For equipment, Bramco-MPS leverages the product offering of Brandeis and Power.
Total Solutions
Bramco-MPS recently completed a turnkey project for a utility processing limestone for their scrubbers by renovating a portion of the facility and bringing in new mobile and stationary equipment. Bramco-MPS removed an old machine and replaced it with a new electric Sennebogen 870 R-HD material handler and installed new timbers for this barge-mounted application. It also designed and installed a new hopper with removable liners and wing walls for the customer's existing conveyor system. In addition, catwalks for the machine were designed, fabricated and installed.
With another project, the company assembled and installed a high production material handler for a new coal load-out facility. The electric Sennebogen 880R-HD feeds a conveyor unloading coal for a prep plant.
The company also used 3-D modeling and line boring skills to fabricate replacement buckets for a continuous barge unloading system to move coal onto a conveyor that feeds a power plant.
These projects prove that Bramco-MPS has the ability to design exact solutions. However, Hirsch explains that within the mining and power generation sectors there are common trends.
The power generation industry is imposing more stringent safety standards for contractors. "We are being asked to perform more work because many local companies that used to do it can't qualify under the intense safety requirements now," Hirsch says.
For the mining industry, Hirsch says customers are looking for deeper partnerships. More mining customers are interested in entering into agreements with Brandeis to continously maintain the equipment and maximize up-time.
Bramco-MPS keeps a watchful eye on these trends to stay relevant in its industry and make sure its customers stay relevant in theirs. "We have had some early successes and right now we are focused on developing within our current footprint," Hirsch explains. "We want to cultivate our existing customer base and help them maximize their effectiveness and profitability." EMI