A drilling future
For more than 30 years Cebo Holland has produced and delivered high quality industrial minerals and additives to customer specification.
The products are distributed directly from its base in the Dutch port of IJmuiden, where the headquarters, production facilities and main logistics centre are all based. One of the company's major areas of expertise is as a supplier of minerals and additives for the oil and gas drilling industry in the North Sea.
Outlining Cebo Holland's operations, Paul Schouten, the managing director, says: "We are a supplier of commodity chemicals to the oilfield; to produce drilling fluids a company will need to use a number of commodity and speciality chemicals in the formulation process. Cebo specialises in the production of barite and bentonite, which are the main commodity ingredients for the fluids. We are producing those in large volumes so we are grinding a combined total of about 200,000 tonnes a year."
The bentonite mineral is natural clay that has a large swelling capacity, viscosity, absorbency and plasticity. Such properties make it a valuable product for application in drilling fluids used for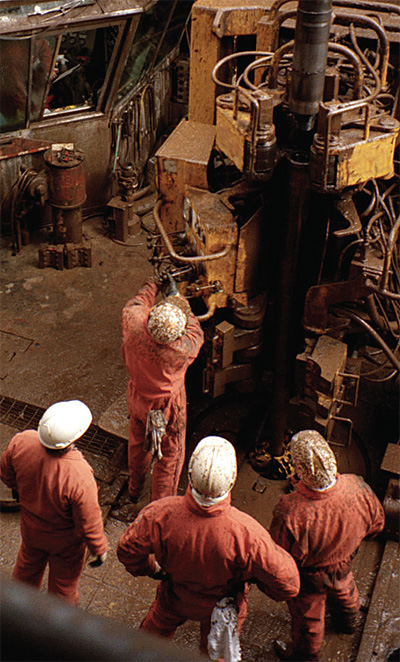 oilwell drilling, as well as horizontal directional drilling because of its use as a filler and a binder. Barite, on the other hand, is particularly suitable for use as a weighing material in drilling fluids because of its high dispersity, significant density and chemical inertion.
Cebo Holland imports the materials in their raw form from Africa, the Mediterranean and the USA to its production site where it is milled, sieved and packaged. Cebo typically carries about 30,000 MT of raw material and another 10,000 MT of the various grades it produces. Such a large quantity of stock enables the company to store the minerals to be delivered as efficiently as possible once an order is placed. As Paul explains, the area of logistics is one in which the company excels. "We apply the principle that we are there for our customers at all times – we deliver 24 hours a day, 365 days a year – so the standard of infrastructure and logistical solutions that we offer is superb. We move around 200,000 tonnes a year, which in practice means that we have two seagoing vessels constantly serving various logistic centres for our customers in the North Sea. We are also able to deal with 120 trucks at our production facility everyday," he says.
This specialist system also supports some of the company's other business activities, such as the Cebo UK operations. The company's locations in Aberdeen and Great Yarmouth service a large part of the British area with oilwell cement, another typical drilling bulk commodity. The UK locations are supplied from the continent by Cebo's specially designed bulk carrying ships, which are also used to deliver direct to customers. As well as delivering oilwell cements to the drilling sector in the UK, it also supplies typical general offshore equipment such as hoses and couplings.
The specialist mud sector of Cebo Holland's operations is set for strengthening in the near future as the company steps up its plans for expansion. "The mud plant in IJmuiden is very large and we will soon be opening a further facility in Den Helder. One of the main reasons we have done that is because a lot of the offshore logistics activities in Holland have moved to that area. What we have also done is start a cooperation with MSCY to provide a logistics platform for some of the smaller operators in IJmuiden. That has started well and we have just secured our first customer, which is an independent company based in Canada."
The agreement is possibly a glimpse into the future as Paul and his team are keen to broaden the horizons of Cebo Holland. "We are currently in the process of starting a new production facility in Morocco, it will concentrate mainly on the grinding of barite and gives us the opportunity to serve companies in the West of Africa. The vision is to take our concept – which is to provide infrastructure to all the combined companies and operators – to other drilling arenas across the world," he reveals.
Such a desire to secure a foothold in the growing territories of the oil and gas industry is a reaction to the relative slowdown in the North Sea – although as Paul is keen to stress, the company won't be turning its back on its traditional market any time soon. "The general outlook for the oil sector is very good although the business in the North Sea has levelled out," he says. "In Holland, however, there are a number of smaller independent companies with lean levels of staff that are starting up. That should obviously increase the amount of opportunities, not just for first tier service providers, but also for second tier companies such as us."
With such a sought-after product offering and a first class logistics service, Cebo Holland certainly has the credentials to take advantage of a number of prospects both home and abroad. Looking to the future, Paul concludes: "I would like to see the company offer a broader package both in the North Sea but also further afield. We will be looking to expand, certainly into West Africa and I would hope Russia as well."
Cebo Holland
Products: Minerals and additives for drilling