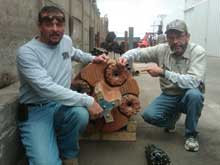 There are not many firms that can say that they helped save lives during a major disaster, but Center Rock Inc. can. The Berlin, Pa.-based drilling product company assisted in rescuing the trapped Chilean miners this fall. President Brandon Fisher explains that he founded Center Rock operations in 1998 as a horizontal drilling company. Over the years, the operation grew to become a manufacturer of drilling products for the oil, gas and construction markets, as well as performing mine dewatering, deep geothermal drilling and water wall drilling.
According to the company, Fisher and his high-tech engineering and design team have developed a company that is different from its competitors with its products and service capabilites. "Center Rock provides 24/7 assistance to customers with sales, service and customer support," it says.
Fisher says one of the largest factors in the company's success is its philosophy of focusing 100 percent on customer needs and service. "We design our products around specifically what the customer is looking for," he says.
Helping Hand
This fall, Center Rock earned praise for its participation in the rescuing of the Chilean miners. In August 2010, 33 miners survived the collapse of the San Jose Mine in the Atacama Desert near Copiapo, Chile.
When Center Rock learned that the rescue was expected to take until
December, the company took action, Fisher recalls. It began working with Cadelco, the mining agency in Chile, and the U.S. government.
"Ultimately, we were able to make contact with the ambassadors and mining officials," Fisher says, adding that Center Rock educated about how its products could be used to rescue the miners sooner.
After receiving approval and designing a plan, Center Rock sent 50,000 pounds of its equipment to Chile and teamed with Driller's Supply SA to begin drilling. Approval arrived on Aug. 26 and they arrived in Chile on Sept. 4. On Oct. 9, a 26-inch LP drill broke through to the miners, who were each rescued in 25-minute intervals on Oct. 12 and 13.
Fisher notes that achieving success on the project was gratifying, considering lives were at stake. "It was the most stressful time in our business careers," he says, adding that he traveled to Chile with Richard Soppe, manager of DHD sales and product development.
He also praises the work of Driller's Supply SA, which is owned by Greg Hall, who lives in Cypress, Texas.
"I am particularly proud of how Driller's Supply SA and Center Rock were able to make that happen in Chile," Fisher says.
Fisher notes that this is not the first time Center Rock has come to the aide of others in an emergency. For instance, in 2002, the company helped rescue nine miners who were trapped in a flooded mine in Somerset, Pa.
"Since then, we at Center Rock have been working on developing a mine rescue plan and procedure," he says. "We've been phasing at both the state and federal level a team that can be on standby."
He adds that the company has been developing this for the last eight years. "That is a personal project that I've taken on," he says. "That's something we don't have in our country right now – a rescue team for drilling."
Seeing a Comeback
Recently, Center Rock has seen a decrease in volume in the drilling market due to the economic downturn. "We're starting to see a little bit of a comeback in the national gas drilling market in the states, but as a whole, the entire drilling market is down from what it was three years ago," he says.
However, the company plans to cope by developing new products and providing the proper client support. "I do hope, in the future, we will have some kind of drilling mine rescue system established," he says. "I see a lot of growth in this company over the [coming] years."