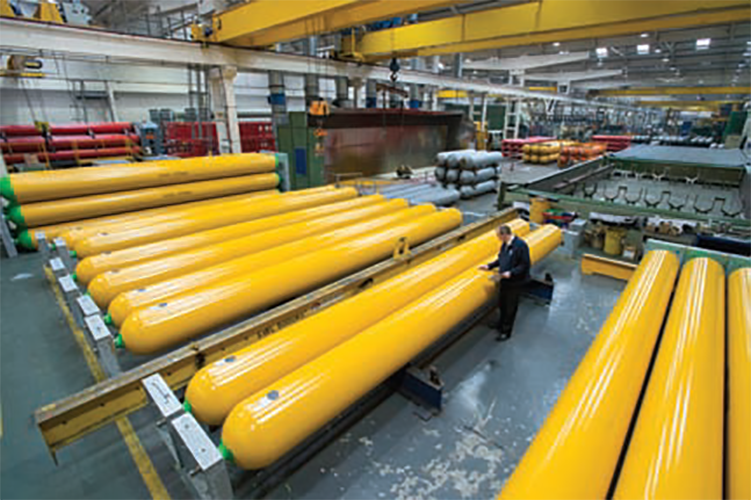 Chesterfield Special Cylinders
World leading supply
Chesterfield Special Cylinders (CSC) is the world's leading supplier of high pressure gas cylinders and services to oil and gas sector.
The award-winning company has been a leading supplier of high pressure gas cylinders to the global oil and gas sector for over 100 years. Designing, manufacturing, inspecting and testing these safety-critical vessels, CSC works closely with the leading operators to deliver bespoke systems that meet the exacting needs of rigs and service vessels working in the harshest conditions.
Providing high performance turnkey solutions to the main international accreditation standards, CSC's experience in the most challenging environments globally sets it apart, resulting in the company exporting 80 per cent of its products.
CSC's sales director, Lee Lawrence, explains: "Manufacturing cylinders of up to 2600 litres and up to 1000 bar, CSC is now a truly global supplier, providing rigs and ships with safetycritical gas cylinders in every territory."
The company is a subsidiary of Pressure Technologies plc, an AIM stock exchange listed company, and has established its reputation across the oil and gas sector since it began manufacturing in the late 1800s.
CSC designs and manufactures entire pressure vessel assemblies for motion-compensating systems deployed on deepwater offshore cranes, deepwater semi-submersible rigs and drill ships, as well as offshore support vessels and other service ships. These applications include ultra-large air pressure vessel systems for deepwater offshore platforms and ultra-large air pressure vessel systems for heave motion compensated offshore cranes. Furthermore, the systems provided by CSC include full ancillary products, meaning the company can design and manufacture complete 'plug and go' systems.
Innovation and vision
Working in the world's most demanding sectors, Chesterfield Special Cylinders applies an innovative approach to customers' needs, with technical know-how, engineering capability and commercial performance enhancing every product.
Capability
Chesterfield Special Cylinders meets even the most demanding specifications with a full 'plug and go' service. The company's in-house design centres, in the UK and Germany, respond quickly and creatively to customers' specifications, delivering solutions that save the customer time and money.
Partnership
Chesterfield Special Cylinders' effective, quickresponse service is due to its in-depth knowledge of the sectors it serves, resulting in long-term partnerships across the globe.
By delivering systems direct to end users globally, Chesterfield Special Cylinders takes responsibility for the entire delivery, installation and testing process, removing another burden from the customer's schedule.
CSC key facts:
Product Capacity  0.6 – 2,600 litres
Working pressures up to 1,000 bar
Delivery to end users worldwide
Complete 'plug and go' systems
Seamless vessels and full ancillary products
In-house industry-focused design teams
Global integrity management service
Manufacturing to global accreditations and standards, including ISO 11120 & 9809, DOT 3AA & 3T, AD2000, ASME, MIL Specifications
New Integrity Management service:
The oil and gas sector also benefits from CSC's Integrity Management Team, which is working globally with owners, operators and classification bodies to take responsibility for the continued safe performance of high pressure gas vessels by inspecting, testing and managing them while they remain installed.
Its 'cradle-to-grave' philosophy includes the design, manufacture, installation and ongoing inspection, testing and service for optimum performance. The service is being used by:
Owners and operators
Underwriters
Classification bodies
Industry bodies
Services include:
Periodic inspection and testing
Visual examination
Acoustic emission (AE) testing
Rectification
Ultrasonic examination
Remote inspection
Failure investigation
Standards
Pre-design/retrospective optimisation
Write scheme assessments
Condition monitoring
Certification
Replacement cylinders
Training
Life extension
Prototype testing
Rectification
This new service benefits the offshore support sector through:
i) Budget-saving – because the only alternative to testing to the recommended standard while the cylinders remain in place is removing them through a hole in the hull or deck. This would be expensive and the downtime required would be hugely prohibitive;
ii) Highest industry-wide safety standards – operators can be confident they have taken every measure possible to ensure the high pressure gas cylinders on their vessels pass the most rigorous test regime;
iii) Optimal operating standards – after In Situ testing and re-certification, the safetycritical gas cylinders will be working to the optimum standards.
CSC continuing to thrive worldwide
CSC as a business is continuing to thrive. Between 2011 and 2013 the business increased its size by a factor of 50 per cent and 2014 was another highly successful year. Its unique delivery of turnkey system design solutions, cylinder manufacturing, testing and refurbishment and its growing portfolio have allowed CSC to win contracts with the oil and gas sector's leading operators.
Chesterfield Special Cylinders
Services : High-pressure gas cylinder solutions