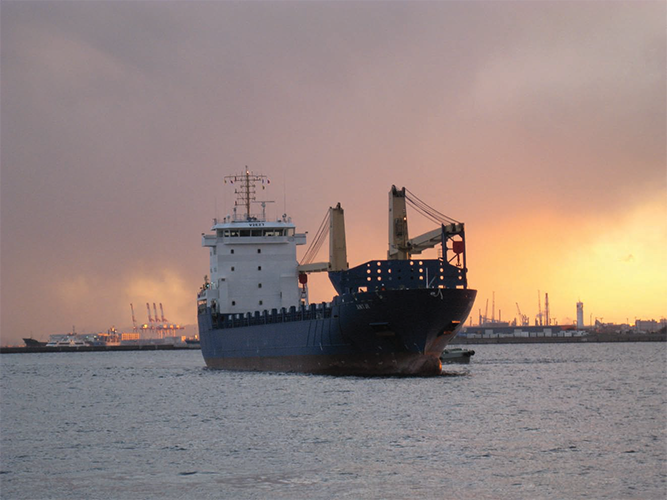 Fantastic four
Founded in 2008 when ship manager Reederei Broehan and shipbroker HHR Shipping GmbH & Co. KG joined forces, Concord Shipping benefits from the merged experience and knowledge of its two parent companies and thus delivers a high level of competence.
Currently managing four 8000 dwt multipurpose vessels, the company is proud to deliver the whole ship management process, from technical and commercial management services, to construction supervision and ship design. On top of this, the company can provide accounting and crew management services while remaining focused on maintenance, environmental protection and cost effectiveness.
"Since our foundation six years ago we have operated four multipurpose vessels that are quite unique," says Hans-Herbert Rancke, director of Concord Shipping. "These vessels have a large 87 metre cargo hold, with a breadth of 12.80 metres; they also have two cranes, each with a limit of 80 tonnes, which gives us a combined carrying level of 160 tonnes. Our business involves carrying goods, general cargo, break bulk and heavy lift goods across various parts of the world. Our ships are slim and use less fuel than the competition, up to four to five tonnes a day in fact, which makes us an attractive option for customers. Our vessels also have a high ice class."
Presently chartering three of its vessels to a major US-based multipurpose chartering company, Concord Shipping is providing a high level of service to oil majors and private clients operating between the US, South America and the Caribbean. The forth vessel is successfully employed in co-operation with a Danish operator in the spot market. However, the vessels have also been used to carry cargo from and to areas such as Europe, Asia and Australia, as Hans highlights: "Our vessels are more fuel efficient and they also have a four stroke engine and a tank capacity that allows us to sail in SECA areas with no problems burning gas oil, which is a major advantage for companies bringing break bulk to Europe, Asia and Australia.
"Our large cargo hold also means we have been involved in some major projects; the largest cargo we have transported was a crane, which had large parts up to 83 metres. It was loaded in Ireland and, because of our deep 11.4 metre cargo hold, we were able to carry the major quantity of the crane in the cargo hold. This is a great strength as it means companies don't have to worry about their goods being damaged by sea water."
Although Concord Shipping offers a range of competitive advantages to customers, as a German based firm it has been affected by the falling oil prices and competition in the market, as Hans discusses: "Furthermore, here in Germany we are in competition in the windmill market with bulk owners; our vessels are suitable for this line of work, but other companies may offer to do the job cheaper. Another issue for us is the low activity in North Africa and places such as Libya, Iraq and Palestine where there is currently a great deal of turmoil."
Despite these challenges, the company benefits from the support of its parent companies, HHR Shipping and Reederei Broehan. Established in 1922 by Hans' grandfather, Hinrich Rancke, HHR Shipping has long-term expertise in building ships up to 1400 dwt. However, HH Rancke`s know how grew by being employed as a managing director in a classification society and building supervision of cruise liners, roro, fishing, container, bulk and multipurpose vessels. Furthermore, since 2004, Mr Rancke has been acting as a broker for new building, ship repairs and S&P. The company's relationship with ship owner Heino Broehan, the managing partner at Concord Shipping, also allows HHR Shipping to provide ship management services for other ship owners as well as its own fleet. Meanwhile, Reederei Broehan boasts long-term expertise as it has been operating as a ship management firm since 1965.
Moving forward, Hans believes an increase in the oil price would enable further investment in the oil and gas industry and also provide banks with the confidence to begin financing new building projects. "We need to have improved freight rates that can enable us to save money for new building because no bank in Germany is willing to finance these sorts of projects; presently this is not the case, however, the benefit of this is that there is very little tonnage built in our size of 8000 dwt, which gives us a strong edge in the market," he concludes.
Concord Shipping
Services: Ship management