Providing total satisfaction
Founded in June 2001, COSCO Shipyard Group is a subsidiary of the China Ocean Shipping Company (COSCO).
In itself a large enterprise, the company specialises in the building of large vessels, marine engineering constructions, providing ship repair and building services and offshore engineering.
Based on the success of COSCO in the ship repair and conversion field, and in view of the positive atmosphere in offshore marine engineering, COSCO Shipyard Group partnered Sembcorp Marine Group of Singapore – the world best ship repair enterprise – to operate COSCO Shipyard jointly to develop the market of offshore marine engineering.
As a result COSCO Shipyard invested a huge amount into the construction of COSCO (Zhou Shan) Shipyard and for offshore blocks fabrication in COSCO (Da Lian) Shipyard. Since this division was established, COSCO Shipyard Group has successfully completed FPSO (Nan Hai Kai Tuo) and semi-submarine drilling rig (Kan Tan 3) repair and conversion work, as well as pontoon fabrication for Singapore Jurong Shipyard, living quarters fabrication for Singapore PPL shipyard and MPF 1000 FDPSO Construction for MPF Corporation.
One of the most celebrated contract wins for COSCO Shipyard in the offshore sector was the construction of the newbuild deepwater drilling rig Sevan Brazil. This was of the same design as Sevan Driller and was delivered on 6 March 2012. Sevan Brazil is contracted to Petrobras S.A. on a six-year contract for drilling operations offshore Brazil, with expected start-up in the second quarter of 2012.
In recent years COSCO Shipyard Group has also completed detailed risk assessments and quality control programmes in relation to LNG repairs. Furthermore, a special LNG ship repair team has been established and trained in SCM Sembawang Shipyard in order to learn the best practices, safety standards and cleanliness control methods that go alongside LNG repair work. Today the department employs over 100 technicians and engineers, some originally hailing from Japan, Korea and Singapore, who together have helped make the company one of the world's most distinguished offshore marine fabricators.
By working to a business model that promotes professional services and a strong, modern management style, COSCO Shipyard Group has become the preferred partner for many of the biggest offshore oil service providers and shipping companies in the world. Working out of locations including, Nantong, Dalian, Zhoushan, Guangdong Province, Lian Yungang and Shanghai the company is a domestic leader in its sector and maintains a strong presence internationally.
At present COSCO Shipyard Group has a total of 13 working docks, ranging in size from 50,000 DWT to 300,000 DWT, access to over ten kilometres of deep-water coastline and is able to carry out approximately 600 large ship repairing and rebuilding projects in a single calendar year. These facilities allow the company to undertake the entire spectrum of conversion and repair works on a diverse range of vessels, from LPG tankers to container vessels and VLCC's.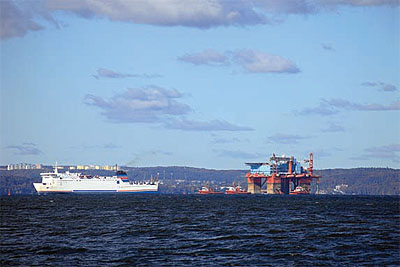 Of the many different offshore projects built by COSCO Shipyard Group, some of the notable examples include an accommodation barge for Exmar Offshore, an ultra deepwater drillship for Dalian Developer, three self-erecting tender assisted drilling rigs for Seadrill, two premium jack up rigs for KS Drilling Pte Ltd and top side modules for ATP Oil & Gas (UK) Ltd. It has also recently won contracts for four new platform supply vessels and an offshore wind turbine installation vessel.
It is clear that the expertise of the company extends from marine projects that included the world's first drilling production storage oil vessel, to cylindrical rigs, self-drilling platforms and semi-submersible offshore oil platforms.
Since the first shipbuilding corporation of COSCO was established in Nan Tong, in 2001, the company has accumulated a wealth of knowledge and experience in this area, while building a pool of experts and engineers who specialise in repairs and construction.
As a part of COSCO Shipyard Group's strategy to achieve sustainable growth it has spent the last decade investing heavily in its technology department, one that helps it differentiate itself through the manufacturing of new products and innovative processes. The engineering office of the company was opened in August 2002, and is made up of experts from the company's engineering office and those of several subsidiary companies.
In order to be recognised as a true one-stop-shop, providing its customers with total satisfaction, COSCO Shipyard Group works to not only upgrade its own services, but also establish strategic partnerships with specialised service providers who themselves are well known in the maritime and offshore industries. On top of these efforts, COSCO Shipyard Group also possesses voyage repair facilities and employs teams based in several major ports along the Chinese coast that are able to provide quick and professional voyage repairs and after sales services to all of the company's customers.
With so many high profile projects underway, and many more in the pipeline, it seems certain that COSCO Shipyard Group will continue to thrive in a market that it has embraced and flourished in since it was established.
COSCO Shipyard Group
Services: Vessel repairs, conversion and maintenance