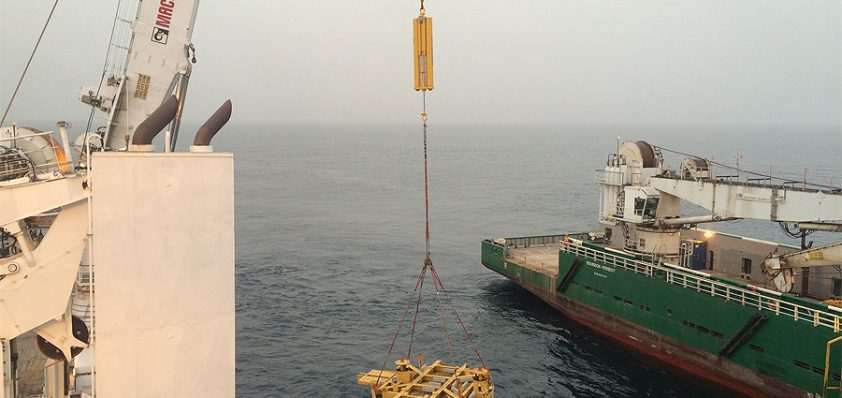 Function through innovation
Since the company began operations during 1983, Cranemaster has established a three-decade proven track record as the leading supplier of shock absorbers and passive heave compensators for offshore lifting operatio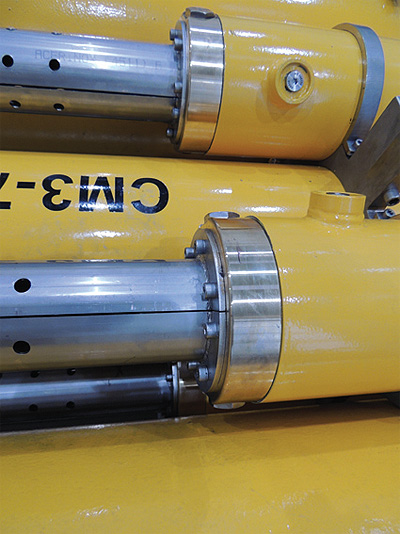 ns. The business was founded by Ernst Børge Johansen, who perceived a gap in the market following an increasing number of lifting accidents in the North Sea.
Today through its marketing brand Cranemaster, Ernst-B. Johnansen A.S. has developed a leading position in the provision of innovative shock absorbers and passive heave compensation systems. "Although we were founded in 1983, Cranemaster struggled to gain acceptance in the industry until the 1990s. Following steady growth during this time, business then began to boom in the early 2000s as companies became increasingly stringent towards issues such as safety and weather operability during heavy lift operations," explains Product Manager, Kristian Helland. "Our operations are focused on one key area – we supply Cranemaster units, which are mainly rented out to offshore operators to reduce the effect of wave induced movements. On top of this, we provide lift engineering services related to lifting operations we supply to and also work on spinoff projects that build on the same technology."
Within the niche market of shock absorbers and passive heave compensation, innovation and continual product development is at the heart of the Cranemaster operational philosophy. Therefore the company is committed to the expansion of its fleet as well as the introduction of new products to meet the increasing needs of the offshore oil, gas and energy markets. "We are currently expanding our fleet of passive heave compensation (PHC) units based on the requests coming from the installation industry, where clients are undertaking increasingly complex heavy lifting operations. We have conducted lifting operations of over 1000 tonnes and down below 2000 metres. That is a trend that will continue," Kristian says. "A further important development for the company is the ongoing shift to adaptive units. During the last years we have developed and constructed units that adapt to the different lifting phases during heavy-lift operations to support and improve efficiency and operability."
During June 2015, it was announced that Cranemaster had introduced its new CM3- 75T-4000-A/DC (CM3-75T) system. The unit was specially designed for demanding subsea operations in shallow and deep water and can be equipped with Cranemaster Adaptive passive heave compensation technology. This allows the CM3-75T-4000-DC units to provide optimum weather window improvements for splash zone crossing, resonance avoidance and seabed landing. By increasing its fleet of adaptive PHC units Cranemaster is able to offer its clients several cost-saving benefits, including reduced rigging height, reduced possibility for re-contact during lift off from supply vessel, improved splash zone performance, further decrease in subsea landing speed and an improved operational weather window. Furthermore, these units provide increased functionality in various applications including:
Rigging height reduction via remotely controlled piston locking/opening in air
Quick-lift in air using internal pressure to retract piston rod to avoid re-contact during lift-off; automatic stroke correction in air
Landing compensation mode. Reduce probability for re-lifting during landing
Automatic external temperature compensation in air and in water
Advanced splash zone mode
Automatic stroke correction in water to compensate for wet-weight, inaccuracies and buoyancy
Depth compensation through balanced piston design and/or intelligent stroke control, removing the effect of the hydrodynamic pressure on the piston rod
Logging of all critical data, including forces and movements
ROV monitoring and control, for example subsea piston locks
Automatic piston lock and/or release at predefined depth; and advanced subsea landing mode. Cranemaster uses all on board accumulators during landing mode, giving unsurpassed landing speed reduction capabilities
Cranemaster conducts comprehensive research and development activities at its in-house facilities, as well as in conjunction with major subsea installation companies and industry regulatory bodies. As operations in deep waters become increasingly important, the company continues to invest in units equipped with depth compensation systems. For standard units, the hydrostatic pressure on the piston rod will reduce the subsea stroke and non-optimal settings are therefore normally required. The implementation of a depth compensated unit allows the stroke to remain constant independent of depth.
Two different principles are employed by Cranemaster to compensate for depth. The first principle is based on releasing pressure in the active accumulators, typically controlled by valves and sensors. The second principle is based on patented mechanical compensation, where one or more pistons counteract the hydrodynamic pressure experienced in deep water. Often a combination of these two principles is employed, the pressure release system additionally compensates for temperature variations and changes in buoyancy, while the mechanical system excels in its simplicity and ability to compensate for ultra-deep water.
With its growing fleet of innovative lifting equipment, Cranemaster has rented PHC units to leading subsea operators such as Technip and Subsea 7 across the globe. In recent years the company has enjoyed great success with operations on oil fields throughout Africa, Australia, Gulf of Mexico, the North Sea and more. It is now further also increasing its presence within the renewable energy market. Despite the challenging market conditions created by the present low price of oil, Cranemaster is keen to increase its equipment portfolio and further develop its market presence.
"Like anyone involved in offshore oil and gas sector, we are influenced by the tough conditions in the market. We have to adapt our operations, our prices and the company's approach to the market in relation to the present conditions," Kristian observes. "However, we still enjoy strong business and have no intentions of reducing our operations. We are developing our operations because we trust that our activities and our presence in the industry will be valuable in the time to come. Cranemaster products deliver the potential to reduce installation and operating costs with the offshore market."
Thanks to the company's comprehensive rental fleet and three decades of industry experience, Cranemaster has earned a reputation as a world leader in passive heave compensation systems and associated services. As the offshore oil and gas and renewables industries continue to evolve, Cranemaster will continue to develop its passive and adaptive technologies and seek to further increase its presence in new markets such as Brazil and the Gulf of Mexico. Indeed, once the market trading conditions begin to improve, the company will be on hand to assist in lifting the value of the offshore industry as a whole.
Cranemaster
Services: Supplier of shock absorbers and passive heave compensators for offshore lifting operations. Specialists in offshore lift engineering calculations