Vaporizing the competition
At the forefront of cryogenic vaporizer development since 1968, Cryonorm employs a combination of technology and production techniques to satisfy a wide range of vaporizing applications for liquefied gases and LNG. Having built a reputation for unsurpassed customer service over the course of its history, today Cryonorm remains a partner of choice for anything from standard vaporizers, all the way through to custom, detailed and highly complex vaporizing solutions.
Like most businesses across the world, Cryonorm has battled against the Covid-19 pandemic over the last 12 months, but despite experiencing a degree of disruption, the company has performed
well and kept its turnover on track. In line with government regulations and new company protocols, manufacturing, installation and maintenance work have all continued at Cryonorm throughout the crisis.
"For me, as a sales guy who usually drives about 60,000 kilometers a year and makes 30 to 40 flights, a year of almost nothing has been very strange," explains Business Development Director Jos Glorie. "It's not been easy, but our technicians have continued to visit customers. Hotels and places to eat are hard to come by, and a negative Covid-19 test is required for each visit, but our people have persevered.
"Production has continued because it has to, but we have installed hygiene procedures like facemasks, social distancing and testing," Jos adds. "Office staff like myself are working in shifts or at home, and aside from wishing we were back in the office, we have really not suffered as a business. The whole world is in the same boat at the moment and hopefully it is just a matter of time before everybody is vaccinated and everything gets back to normal."
Increased demand
In recent times, much of Cryonorm's work has been based in the marine sector, where the company has been involved in the supply and installation of LNG systems onboard newly built vessels, as well as vessels in the process of conversion. In 2020, the company began converting five vessels for Spanish ferry operator Balearia and aims to complete the last two retrofits by the end of 2021.
With demand for low emission systems increasing across Europe, Cryonorm received an order from Concordia Damen Shipbuilding in November 2020 for 40 LNG marine fuel systems for eco-friendly barges. Designed for inland waterways, the tanker vessels will boast a CO2 reduction of 25 per cent as they transport materials between Rotterdam and Switzerland.
Alongside the marine projects, Cryonorm has been building and installing a number of LNG filling stations used to fuel trucks driving on natural gas. At present, the company is working on 30 filling stations in Germany, 20 of which have already been commissioned. At the end of 2020, the company received its first orders for filling stations in Poland, Slovakia and France.
"It's an area of the business that has been growing since 2018. Before then, we only had one or two LNG filling stations in the Netherlands, but sudden interest in Germany really got things going," Jos says. "When the German government announced that natural gas vehicle drivers would not have to pay road tax, demand for filling stations in Germany really grew. The moratorium was a huge incentive for truck drivers to go with LNG.
"The environmental push towards low emissions has really accelerated our growth," Jos continues. "The price of natural gas is currently lower than the price of diesel, which certainly helps, but also, Cryonorm is known for its quality and reliability, so we get a lot of repeat business.
"As more alternative fuel methods come under consideration, we are keeping an eye on industry consensus and trends. Hydrogen is becoming a popular option, so our R&D department is already working on designs for hydrogen filling stations that could be rolled out in the future."
Headquartered in the western Netherlands, Cryonorm engineers and manufactures its products from two main sites – one in its hometown of Alphen aan den Rijn and another in Hungary. As part of a recent investment program, the company has grown its Projects Department and now employs 25 team members to oversee engineering and project management.
Unlike many of its competitors, Cryonorm has the capabilities to build and test complete filling stations onsite, meaning minimal installation work is required at a customer's location before a facility can be commissioned. The company also benefits from collaboration with its sister firm, CryoTek.
"CryoTek Services, a Dutch subsidiary of Cryonorm, is involved in site work for us, so not only installations, but also commissioning, training, the operation of stations, and aftersales services like maintenance, repairs and spare parts," Jos reports. "There's such huge demand and all our customers want to eliminate downtime – if there is a truck to be filled, it must be filled – so we are now signing service and maintenance agreements with customers that offer remote monitoring and 24/7 helpdesk support."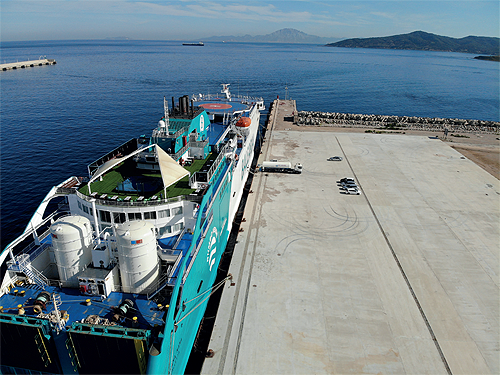 Knowledge & support
For Jos, the persistent quality and performance of Cryonorm systems, as well as a complete aftersales service, are some of the stand-out differentiators for the business. Aftersales is especially important for brand-comnew developments in a market, like LNG filling stations, where specialist knowledge and support is required.
"Sometimes, if you build an LNG filling station for a customer who previously had a petrol station, they think it is very much the same thing, but LNG is a much more complicated animal," Jos reveals. "It has a shorter holding time, needs lower temperatures, and necessitates a host of unique systems, nozzles, hoses, and pipelines. That's why we pride ourselves on taking our customers by the hand, training them on how to use the new equipment and leading them through the whole project.
"Good aftersales means that Cryonorm customers can be confident in the knowledge that, if they buy an LNG filling station, we can do the servicing. Our success in this area is borne out by the fact that we are now signing service contracts for LNG filling stations and LNG systems on vessels built and installed by our competitors."
Building business
Having negotiated its way through the worst of the Covid-19 pandemic, Cryonorm has made a strong start to 2021 – a year in which it expects to experience more growth. Expanding the company's services department, CryoTek Services, will be an area of focus, as will the continued success of Cryonorm's world-renowned vaporizer offering. With LNG vaporizer popularity increasing, and a rise in demand for oxygen vaporizers for hospitals due to Covid-19, the company hopes that interest might also grow to similar levels for its nitrogen and argon equivalents.
Unsurprisingly, LNG will maintain its place at the center of Cryonorm's work in 2021 and the company is currently in the process of contacting ship owners interested in retrofitting their vessels for LNG systems. LNG filling station projects are set to continue too, as Cryonorm develops and installs more sites for customers in new regions, as well as building on its established presence in countries like Germany.
"Germany is our main market for filling stations right now, but we are expanding the business across eastern Europe as we speak," Jos declares. "At the moment, we will carry on building filling stations for LNG, but if the energy market shifts towards hydrogen or electricity, then we will pivot towards that.
"Over the next five years, our mission is to start building hydrogen filling stations, and in the shorter term, we will be focusing on biogas. We already have a contract to liquify biogas from green waste, which is a completely emission-neutral new energy that comcould act as a replacement for LNG coming from Qatar or Algeria. If building biogas liquefiers is a success, we want to grow that business and sell more of those. As you can see, we have many avenues for strong future growth."
Cryonorm BV
www.cryonorm.com
Services: Cryogenic vaporizers and LNG systems