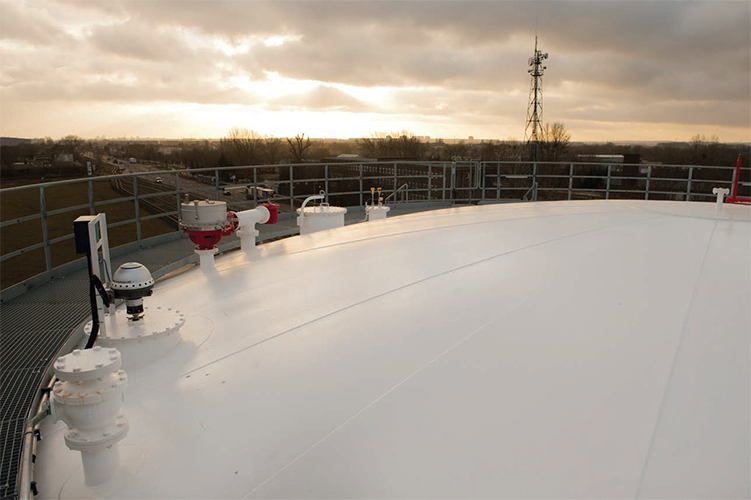 CTA Chemie-und Tankanlagenbau GmbH & Co KG
Cool under pressure
Founded in January 1990, CTA Chemie-und Tankanlagenbau GmbH & Co KG (CTA) Berlin is a plant construction company with a focus on planning, delivery and site assembly.
Presently the company is based in Altglienicke, Berlin in premises encompassing approximately 10,000m2. It operates with over 140 employees, including 20 graduate engineers and around 80 welders that undertake all of the company's works totally in-house. Services include structural analysis; design; procurement; installation and on-site testing, making CTA a one-stop shop for clients operating within the oil, chemical, power generation, food and pharmaceutical industries.
Inside the oil and gas market the company's clients include globally recognised brands such as Shell DEA; Total; BP; Gulf; Exxon; PCK Schwedt; Vopak and Unitank, all of which benefit from CTA's high level of expertise through years of experience. Furthermore, clients are able to enter into contracts with CTA in full confidence knowing that the company is fully accredited to industry standards such as ISO 9001:2008, encompassing design, planning and construction of tank facilities, pipelines and steel structures, as well as facility inspections and drafting reports; SCC**:2011, covering design, planning, construction, and maintenance of tank facilities, pipelines and steel structures as well as certificates for conformity; DIBt1 accreditation for double bottom tanks; EN1090-1:2009, which encompasses structural components and kits for steel structures to EXC3 according to EN 1090-2; and EN1090-2:2008,
which covers all provisions concerning welding as described in technical specifications where applied. Additionally CTA maintains an independent quality and inspection service department, which ensures that at all, levels, CTA delivers first-class technical solutions to it clients without fail.
"CTA offers an all inclusive service," says managing director, René Spangenberg. "This mean that we are able to provide a total solutions package including; static calculation (DIN4119, EN14015, AP1620/650), proposal, delivery, erection onsite with our own staff, turnkey projects as well as later service like recurring inspections, expert opinions, repair, maintenance and remodelling. This is supported by sophisticated technology like floor mapping devices such as top and bottom surface defects discrimination, as well as remote access ultrasonic crawler – for cost-effective A and B-scan imaging on aboveground ferromagnetic structures such as storage tanks."
With an all-inclusive service package, CTA has undertaken a number of complex and challenging projects for its clients, as René explains: "One of our most interesting and sometimes pretty exhausting projects in recent years was work that we carried of for a locally based subsidiary of a German plant manufacturer. The project called for the engineering, delivery and erection of two cryogenic tanks for liquefied oxygen and nitrogen. These products are stored at a temperature of -196°C in a vacuum-insulated stainless steel tank. This kind of containment houses equipment like control valves and measurement equipment and is insulated with perlite (amorphous volcanic glass). The perlite has a relatively high water content and through heating it has the special property of greatly expanding to become a kind of powder with excellent heat isolation."
Today the company is preparing to embark on the single largest project in its history – a 36-metre heat storage tank just outside of Berlin. This promises to be a complex project, but one that CTA is ready to take on. "CTA has realised several different hot water storage tanks in the past," observes René. "This year we start the erection of a 45,000m3 storage tank in Potsdam near Berlin. The dimensions are 36 metres in diameter and a top height of approximately 50 metres. Hot water at a temperature of 96°C is stored close to vacuum in a layer above cooler water stored at 65°C. The spread between the temperatures is used for storing energy. In phases of too much heat from the power plant water is heated up and ducted from top to bottom into the tank. The trick is that cold and hot water are not mixed due to special internals. These prevent water from uncontrolled flow and a boundary layer forms. This layer moves between inlet and outlet according to the level of hot and cold water. It is a very robust method with an absence of complicated control technology."
Presently CTA has orders that will maintain it for the remainder of 2014 and well into 2015, with a projected turnover of 35 million euros for 2014. Although the impact of the 2008 financial crisis continues to reverberate around the world, CTA is confident that it will remain busy well into the future as René concludes: "The economic situation in Europe is tense at this time. Even if tank construction is largely independent of general economic development we believe in a positive outlook for the coming years. There are a lot of old facilities with repair needs and the EU facilities work abroad and internally. One large problem remains in that value-added tax is not harmonised, but we are able to cope well."
CTA Chemie-und Tankanlagenbau GmbH & Co KG
Services: Plant planning, delivery, construction and assembly