Cummins Africa and Middle East
Power to the people
Cummins is an organisation specialising in diesel generators, engines and associated parts, ancillary products, distribution and other industry related services. Its products and services cover a wide range of sectors from mining and transportation to maritime industries, with numerous applications within those businesses. With third quarter revenues up to $5.3 billion and end of year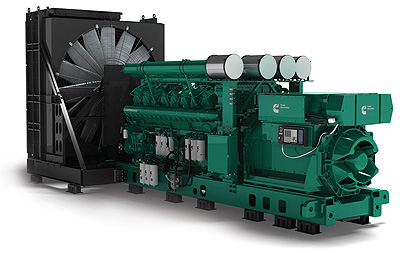 estimates suggesting this could be an increase of up to 15 per cent this has been a very positive time for the group. Managing Director for Cummins Distribution Africa and the Middle East Rachid Ouenniche believes that this is due to a crucial change in strategy: "These have been our best results for the last six or seven years and this has been due to a combination of strategic initiatives and improvements in certain markets."
A good example of this is how it has looked into sectors away from Cummins' core product range, recently acquiring battery pack producer Brammo Inc, opening up the electrified power market for the company: "We are looking into areas we can grow through acquisitions, gaining new knowledge and technology as we do so. While we will continue to develop our core products, there are also other areas such as working on electric power-trains that we will be ready to launch in 2019," he announces.
Structure
The Cummins organisation is built around segments and regions. The four segments comprise of engines, power solutions, components such as fuel systems and filtration and distribution. The regions include India, China, Europe and Latin America. Originally the Middle East and Africa operated separately but the decision was made to combine the two. Rachid believes that this unification was important in order to further develop in both of these regions: "It is not really what I would call a merger, it is more an internal structural change. At the start of 2017 the decision was made to combine both areas because it was felt this would leverage their respective capabilities and better manage the core structure of our business moving forward. For example, our power generation capabilities in the Middle East proved beneficial in Africa and likewise there are strengths in the African region that are transferable to operations in Qatar, Kuwait and so forth," he explains.
One area Rachid feels passionate about is the benefits of diversity, an area he strengthened by increasing the ratio of female employees from ten to 22 per cent, an achievement that resulted in Cummins receiving the Empowerment of Women in the Community Award in September 2017. 'This achievement recognises; existing sustainable community initiatives to alleviate poverty through skills training or to create business opportunities for women in poorer communities.'
It is important to note that this is not just a box ticking exercise or a PR move in order to self-promote Cummins. Rachid is enthusiastic as he extols the benefits of increasing the number of women in the workplace: "Companies that do not hire female employees are missing out on a huge talent pool and a wider range of expertise. Research shows that more women in senior leadership means the business performs better. However we do not need to see any studies because the results are something that we have witnessed first-hand," he insists.
Community
A motto on the Cummins website is 'Making people's lives better by powering a more prosperous world'. Rachid takes each element of that phrase and breaks it down: "This is our vision and each part is important. The 'making' aspect reflects the fact we make things and that our products can improve how people live. This can include providing power where utilities cannot reach, improving this can be vital to economies around the world. The 'power' aspect is also applicable with regard to how we provide energy, while 'a prosperous world' reflects our commitment to social responsibility and contributing to local communities. This is core to who we are and has been since first being established over 100 years ago," he states. The community spirit also extends to Cummins' employees: "Our workplace empowers our staff, helping them become the best we can be. This means very little turnover, allowing us to retain experience. This combined with a drive toward diversity, means better solutions for our customers."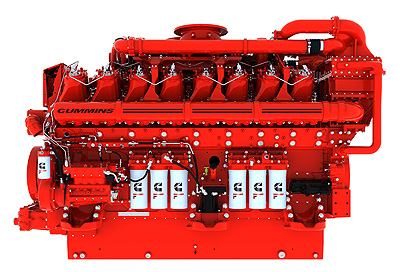 Social responsibility also extends to the environment and the responsibility towards reducing emissions and a consistent sustainability policy: "This is a core factor to what we do, looking at greener solutions. Cummins is the leader of this aspect not just in terms of the design of our products, but also through operations such as reducing waste in our plants. When governments brought in tighter emissions targets some of our rivals struggled, whereas a conservation policy was something that we could adapt to, allowing us to emerge as a market leader," he summarises.
Growth
Rachid believes that increased growth in the newly merged Middle East and Africa sector is not just important for the countries involved, but also for Cummins as an organisation overall: "In the next 12 months we will focus on development in these areas, starting with two new distributor facilities. As well as looking to expand into other countries there is also the opportunity to grow in the regions that have already been established, so what is initially a small presence becomes much larger. In the next five years or so we believe these economies will be growing at a rate faster than others around the world," he details. Cummins is preparing to take advantage of this with some additional investments during that time period. "There will be investments in Morocco, Nigeria and South Africa. After that Cummins will be investing in developments around Qatar and Saudi Arabia. In each instance there will be progress throughout the regions."
It is fascinating to see how Cummins' desire to expand and develop is also tied with a sense of social responsibility and how one feeds into the other. In short, as well as providing energy for countries and businesses it will also empower the customers, communities and nations that will ensure its progress. As Tom Linebarger, Chairman and CEO of Cummins sums up this approach: "As always, when markets are ready, Cummins will bring our customers the right solution at the right time to power their success."
Cummins Africa and Middle East
Services: Engine and energy solutions specialists